Harley Quinn's Sanaa Lathan Weighs In On The X-Rated Scene Cut From The HBO Show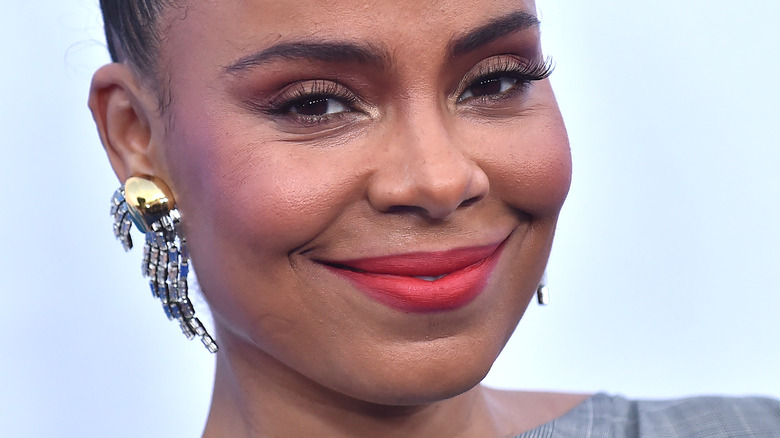 DFree/Shutterstock
Fans went berserk when they discovered that Batman is apparently a selfish lover in 2021's most hilarious controversy. In a 2021 interview with Variety, Justin Halpern, executive producer for the HBO Max animated series "Harley Quinn," revealed that DC refused to let them include a scene in which Batman is performing oral sex on Catwoman. "DC was like, 'You can't do that. You absolutely cannot do that,' recalled Halpern. "They're like, 'Heroes don't do that.' So, we said, 'Are you saying heroes are just selfish lovers?' They were like, 'No, it's that we sell consumer toys for heroes. It's hard to sell a toy if Batman is also going down on someone.'"
Fans had a lot of fun making fun of DC's perceived prudishness. "Heroes only do missionary with the lights off," wrote a Reddit user with a now-deleted account. "And only to have children," responded u/CaBBaGe_isLaND. "With no enjoyment whatsoever. Afterwards you must pray for forgiveness and repent for your sins," replied u/SonOfMetrum. Not many fans had anything serious to say about the decision, opting instead to make jokes. Still, one Reddit user in the r/HarleyQuinnTV subreddit made one good point about the inconsistency of DC's standards. "I'm trying to reconcile this with the fact that DC had no problem with Batman sleeping with Barbara, his protégé who is like a daughter to him, in the Azzarello-penned adaptation of The Killing Joke, and I'm frankly baffled," wrote u/LaertesExtravaganza.
Fans weren't the only ones to weigh in. Director Zack Snyder, who has worked with the Batman character multiple times, said in a tweet that the controversial scene was canon and attached a mature graphic. With so many people weighing in, what did Sanaa Lathan, who voices Catwoman, think of the cut scene?
Catwoman does what she wants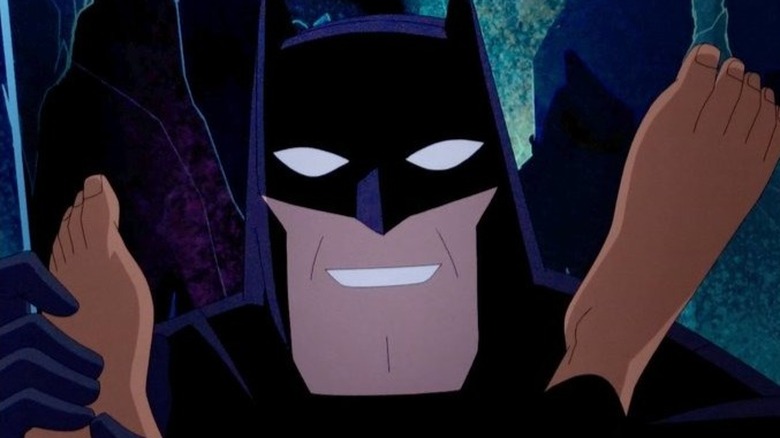 Sanaa Lathan has voiced the character of Catwoman since the first season of "Harley Quinn," playing her as an aloof anti-hero. Lathan told ET that the late Catwoman actress Eartha Kitt was like a godmother to her and a big inspiration for how she plays the character. When asked by ET what she thought about the cut scene, Lathan simply emphasized Catwoman's hedonistic philosophy. "Catwoman doesn't worry about what she wants to do," Lathan explained. "If she wants that from a man, she's going to get it."
Well, it doesn't seem that Catwoman got what she wanted in the end, as TVLine reported that the scene was replaced with one of Batman giving Catwoman a foot massage in the episode "The 83rd Annual Villy Awards." Diedrich Bader, who plays Batman on "Harley Quinn," made light of the controversy when the episode dropped by tweeting out a picture of the foot rub scene with the caption "What makes a hero? Find out in the new season of @dcharleyquinn."
The show hasn't toned down its sex and violence in the least, though. The Season 3 opener, "Harlivy," did begin with two adult film actresses playing Harley and Ivy in a parody film about their romance. In fact, in the episode immediately after "The 83rd Annual Villy Awards," Harley and Ivy infiltrate an "Eyes Wide Shut"-style orgy in "A Thief, A Mole, An Orgy." And, with The Hollywood Reporter reporting that "Harley Quinn" will stay on for at least a fourth season, there will be plenty more opportunities for the series to corrupt fans' innocent minds.