The Real Reason T. J. Miller Exited Silicon Valley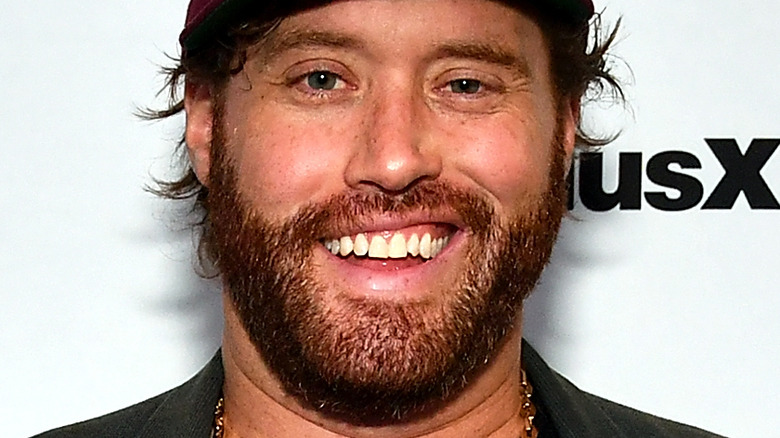 Slaven Vlasic/Getty Images
While HBO has been known for a number of dramas, such as "The Sopranos" and "Game of Thrones," their reputation for comedies has also increased over the years. One of the shows that helped with that was "Silicon Valley." Created by Mike Judge, who previously made "Beavis and Butt-Head" and "King Of The Hill," the show revolves around a group of programmers trying to create their own tech company and the issues they face.
The show's cast at its beginning included Thomas Middleditch, Kumail Nanjiani, Martin Starr, and T.J. Miller. Miller, who also appeared in "Deadpool" and "Deadpool 2," as well as "Ready Player One," played Erlich Bachman, an entrepreneur who owned a stake in the company Pied Piper, founded by Richard Hendricks (Middleditch).
Miller, however, left the show at the end of the fourth season, with Bachman being left behind in an opium den, the operators of whom were given enough money to keep him there for five years. Many wondered about Miller's departure, but here is the real reason T.J. Miller exited "Silicon Valley."
Miller wanted to move on to other things
In an interview with The Hollywood Reporter, T.J. Miller gave his perspective on the exit, saying that he opted to leave the show rather than accept a reduced role in the fifth season. One of the reasons he cited was that he had a hectic schedule, which initially led to the offer for the reduced role.
"[T]hey had to move the production schedule around. That's how heavy-duty my schedule is," Miller said, in response to why the producers wanted to reduce his role, "Even the most successful comedy next to 'Veep' on HBO was like this thing that I had to — I'm doing stand-up, and I come back and I didn't sleep at all."
Miller, however, went on to note that he has a general disinterest in acting as a whole, noting that he would rather do something new that's funny instead of staying in the same cycle. He spoke about people questioning his decision to walk away from the show, given the steady paycheck and potential for fame, saying he'd rather " parasail into the Cannes Film Festival for 'The Emoji Movie' because that's the next new funny thing that will make people laugh."
Miller did, however, feel that the ending for his character, Erlich Bachman, was a well-needed shakeup. He pointed out that many of the show's criticisms revolved around how nothing fundamentally changed from season to season. Bachman's sudden disappearance, however, altered the show's dynamics in a way that can't be reversed.
The show's team found his presence disruptive
In another interview with The Hollywood Reporter, series creator Mike Judge also spoke about Miller's departure, noting that his disinterest in the show became an active hindrance near the end of his run. He mentioned that a day of shooting would end up scrapped as a result of Miller's actions, wasting the time of other dedicated cast and crewmembers through no fault of their own.
Even when Miller did come to set, there would be issues, as he wouldn't do the necessary preparation for table reads ahead of shooting and would fall asleep on set. Showrunner Alec Berg added that, while Miller was a key part of the show, he wasn't indispensable, and he had faith in the comedic talents of the other performers to be able to keep the show at a high quality even with his departure (via Vulture).
Later in the interview, Judge also spoke about his desire to keep the shooting environment comfortable for everyone, citing his work on the 1999 film "Office Space" for shaping his attitude. He spoke about how the woman who was cast as the body double for Jennifer Aniston for a sex scene hadn't been told what the scene would entail, something Judge only learned on the day of shooting. The way the crew behaved further upset Judge, who realized that he didn't want sexual inappropriateness on his set.
While he doesn't cite Miller when talking about the incident, Miller himself has sexual assault allegations against him, which may have further led to, or solidified the decision.