The Real Reason These Reba Costars Haven't Done A Scene Together On Young Sheldon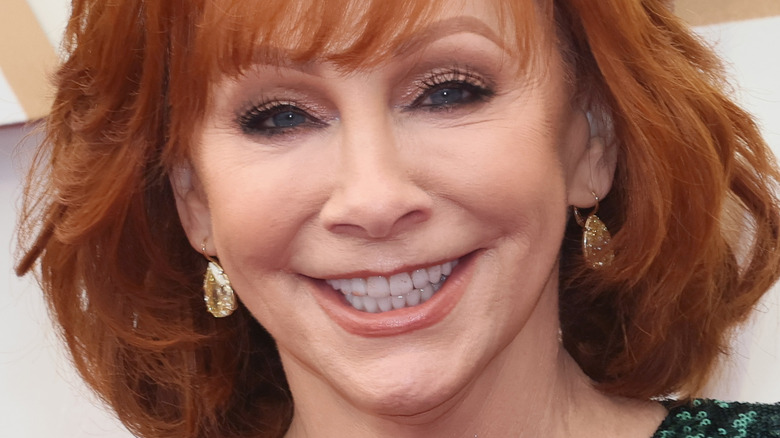 David Livingston/Getty Images
"Young Sheldon," the faithful prequel to "The Big Bang Theory," has featured an abundance of notable guest stars, including cast members of the original series (via voiceover), Jason Alexander, and Richard Kind. The hit comedy series continually references its predecessor and even other popular film and media like "Star Wars" and "Star Trek." Sheldon even donned his signature "The Big Bang Theory" look — a short sleeve shirt over a long sleeve usually embellished with a superhero logo like The Flash — in the Season 5 finale of "Young Sheldon." 
These references even bleed into the guest stars themselves with an almost unspoken long-running joke involving beloved country singer/sitcom mom Reba McEntire and her fellow "Reba" cast member Melissa Peterman. On "Reba," McEntire's titular character seldomly tolerates Peterman's Barbra Jean as her ex-husband Brock's (Christopher Rich) new wife, and the tension between them is often palpable. Reba finds herself in a similar situation on "Young Sheldon" as Dale's (Craig T. Nelson) ex-wife June when she befriends Sheldon's "Meemaw" Connie (Annie Potts), who was dating Dale.
Reba's reoccurring role and main relation to Dale has so far kept her out of the Cooper household where she could've run into her "Reba" co-star. The Cooper's next-door neighbor is Peterson's character Brenda, who recently got a job at a local bar and restaurant. With a potential reunion possibly on the horizon, "Young Sheldon" executive producer Steve Holland shines some light on the situation, including whether or not the two will ever have an on-screen moment together. 
Why haven't we seen a Reba reunion on Young Sheldon?
In the age of comedy reunions and reboots like "Friends," "Fuller House," and "Will & Grace," it's almost expected at this point that nearly every series could potentially see new life one day. That idea alone naturally led "Young Sheldon" fans to crave a reunion between Reba and Melissa Peterson when the iconic redhead first appeared on the show in 2020. With TV Line, executive producer Steve Holland teases a possible future scene between the two.
In addition to the story logistics of it all, he credits the main reason for the absence of a scene together to Reba's increasingly busy schedule. "We'd love to have her more often than we're able to have her on the show, but I think at some point they'll share a scene. It was never intentional for us to keep them apart; it's just the way the stories fell out. I don't think we realized it, but Melissa realized it and went, 'Are you ever going to let us be on screen together?" Peterson echoes the cries of fans yearning for a mini "Reba" reunion. The heartfelt sitcom always stood out from the rest with themes of acceptance and unconditional love prefaced by Reba's musical theme.
To fuel nonexistent internet rumors, Holland cheekily jokes that there's a feud between the former co-stars explaining their separation. His levity and optimism give "Young Sheldon" fans hope that the two may actually reunite soon.