The Narcos: Mexico Character You Likely Didn't Know Bad Bunny Played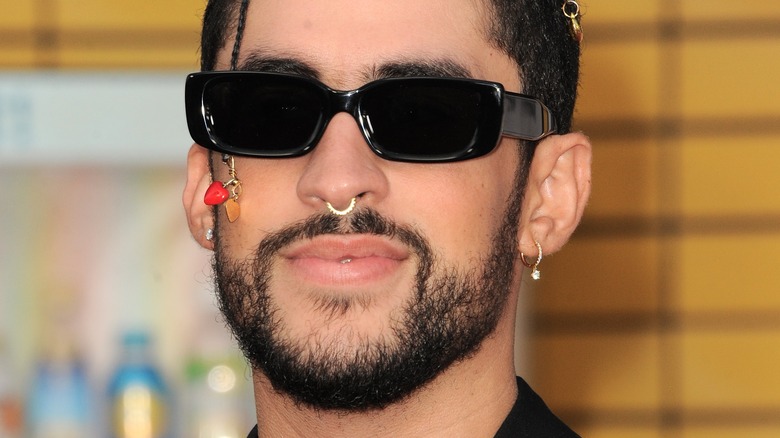 Tinseltown/Shutterstock
Bad Bunny (Benito Antonio Martínez Ocasio) has helped define the crossover appeal of both Latin Trap and reggaeton ever since he started his singing and rapping career in the mid-2010s. His unique sound and compelling delivery and lyrical content quickly caught the eye of American record producers, which led to his memorable feature spot on Cardi B's popular 2018 song "I Like It." His music and stage performances have been praised for breaking down language barriers and biases, in addition to strengthening the diversity of gender norms and archaic prejudices associated with hyper-masculinity in rap music (per Vulture). The importance of his artistry is aided by incredibly catchy hooks, beats, and a natural inclination to bring the local music flavors of Puerto Rico into mainstream pop music.
Moving into acting from the music world is nothing new for many recording artists, and this proved to be a smooth transition for Bad Bunny. He landed a supporting role in the Brad Pitt-led "Bullet Train." But in the most unique twist of career circumstances in 2021, he was labeled a WWE superstar by Randy Orton shortly after the rapper competed in a match at WrestleMania 37. That same year, he landed a recurring role in the final season of Netflix's "Narcos: Mexico" playing a character you likely didn't immediately recognize him as.
Bad Bunny starred as Arturo 'Kitty' Paez on Season 3 of Narcos: Mexico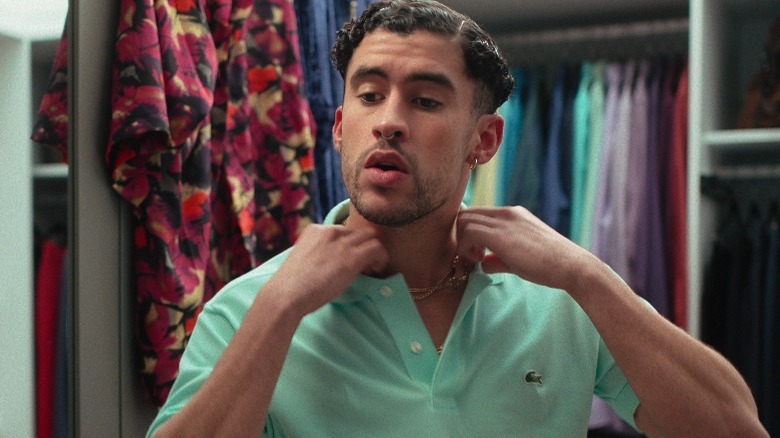 Netflix
"Narcos: Mexico" Season 3 turned out to be the last season of the explosive Mexican crime drama series. The show explored the rise of Mexican drug traffickers during the 1980s. Bad Bunny played the character of Arturo "Kitty" Paez, a member of the Narco Juniors gang run by Ramon Arellano Felix (Manuel Masalva). The gang consisted of middle-class Mexican teenagers who regularly committed crimes to prove their worth and loyalty to the Arellano Felix family. Kitty Paez is charismatic, but can also be unhinged and explosively violent when engaging in his crimes. 
In a 2021 interview on The Tonight Show Starring Jimmy Fallon, the host asked him if it was tough to act so mean when he is such a nice guy in real life, Bad Bunny replied, "I'm a good guy, but it was fun. And the character is a cool guy, a young guy. I'm a cool guy, I think so. I don't know [laughs]." While speaking to TVLine in 2021, "Narcos: Mexico" co-creator Carlo Bernard talked about Bad Bunny playing Kitty and stated, "It felt like a fun way for Bad Bunny to lean into his charisma," Bernard shared. "He was terrific and had a really great time. All the cast and crew really liked working with him." With so many of his co-workers singing his praises, it is safe to say Bad Bunny is certainly a cool guy.