How Ana De Armas Physically Transformed Into Marilyn Monroe For Netflix's Blonde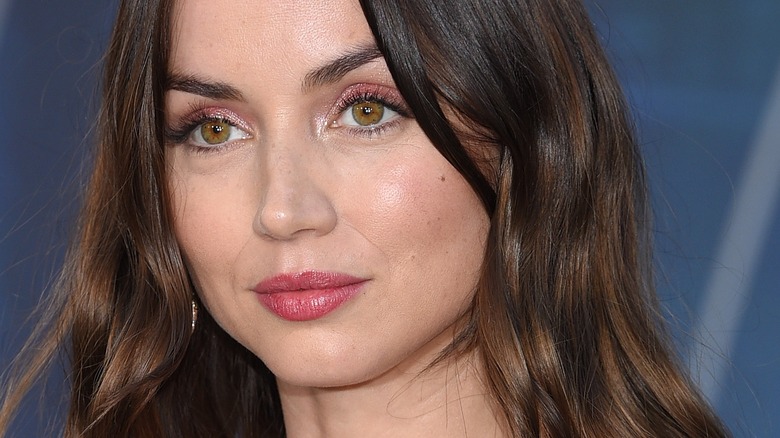 DFree/Shutterstock
The new Marilyn Monroe film chronicle "Blonde" is receiving a lot of criticism from critics and fans (via Rotten Tomatoes) for its depiction of the brutality the late film icon endured. However, star Ana de Armas' performance as Monroe and her real-life persona Norma Jeane Mortenson is still garnering praise. With the controversial NC-17 film's new streaming release on Netflix, there's no doubt that talk of de Armas' performance is coming just in time for awards season, and if all goes right, she'll be in serious contention for a best actress nomination come Oscar nomination time. Awards prognosticator Scott Feinberg of The Hollywood Reporter already has de Armas listed as a favorite for the top acting prize, which is good news for the production considering the reception of the film as a whole.
Based on the author Joyce Carol Oates' best-selling novel of the same name, "Blonde" is a fictionalized look at the screen siren's life and career, yet they are rooted in several real events. Among the real-life events reimagined through the lens of director Andrew Dominik is Norma Jeane's early years, as her single mother struggles to raise her daughter amid a battle with mental illness. Later, the film keys in on the behind-the-scenes goings-on with her marriages to baseball star Joe DiMaggio (Bobby Cannavale) and famed playwright Arthur Miller (Adrien Brody). "Blonde" also recalls her private encounters with President John F. Kennedy (Caspar Phillipson), as well as the physical trauma she suffered throughout her life — including sexual abuse, miscarriages, and her conflicted feelings while undergoing abortions — and ends with ultimately her untimely death at age 36 in 1962.
Naturally, the role of Marilyn Monroe was not an easy one for de Armas to step into in "Blonde," so the actor, according to Netflix's TUDUM, went through an enormous amount of preparation to look, sound like, and capture the essence of the late film legend.
Ana de Armas lived and breathed Marilyn Monroe during the production of Blonde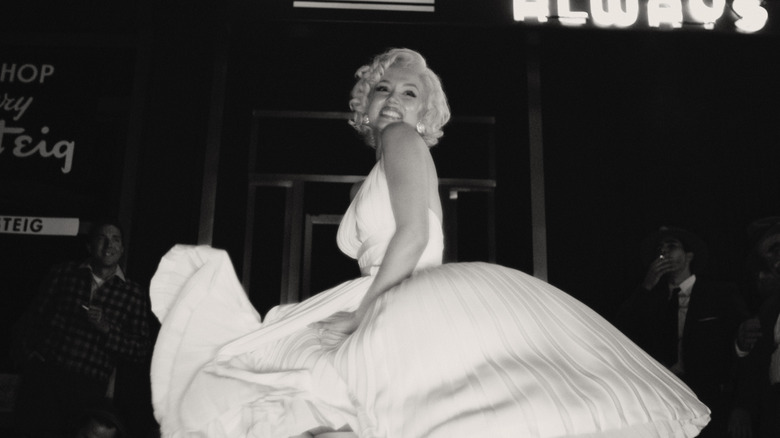 Netflix
According to TUDUM, part of Ana de Armas' prep work for slipping into the role of Norma Jeane Mortensen and Marilyn Monroe was having the films of Monroe playing in the background as hairstylists and makeup artists took up to three hours a day during the film's 47-day shoot to transform the actor into Monroe. Naturally, the actor came away from the production with some Monroe favorites, naming "Some Like It Hot" and "The Prince and the Showgirl" in a tie for her top film, telling TUDUM, "She is hilarious and so effortless. She has this quality that she's incandescent. She's just so bright that ... you can't ignore her."
While the publication said de Armas learned to apply her own lipstick at the end of the makeup process, hair experts gave the actor different shades of blond wigs to replicate Monroe's various looks throughout the film. Recalling the process, "Blonde" hair department head Jaime Leigh McIntosh told TUDUM, "The key to transforming Ana into Marilyn [was] putting that blond wig onto Ana and seeing her with the makeup. That was 'Boom,' for me."
While hair and makeup experts helped de Armas transform physically into Monroe, the actor worked with "Blonde" sound designer Leslie Shatz to achieve the star's "breathy voice," according to Variety. In addition to working diligently to hide her Cuban accent, Shatz detailed how technology aided in de Armas' replication of Monroe's unique voice as it actually sounded back in the day.
"Ana wanted to perfect the voice of Marilyn in post, and she devoted much time and energy to it ... We were using a ribbon mic and a way that the instruments record her, using equipment and processing to give it a period feel," Shatz told Variety.
"Blonde" is streaming exclusively on Netflix.