Get Your First Look At Nafessa Williams As Thunder In Black Lightning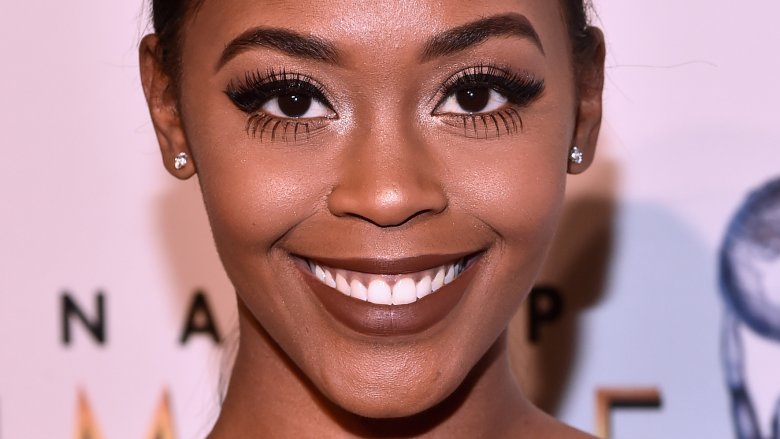 Getty Images
When the Thunder rolls, the Lightning soon follows. 
In preparation for the January 16 launch of Black Lightning, the upcoming DC Comics-based superhero series, The CW has unveiled the first look at Thunder, also known as Anissa Pierce. 
Code Black actress Nafessa Williams suits up to play the twenty-something daughter of the titular Black Lightning/Jefferson Pierce, played by Hart of Dixie star Cress Williams. Anissa splits her time between attending medical school, serving as a part-time instructor at the high school where her father works as principal, and dealing with the chaos and complications that come with having a holds-no-bars vigilante as a parent. But there's something extra special about Anissa: she's got the same spark and crimefighting prowess her father possesses, and will hone in on that energy to become her own hero, Thunder. 
The one-sheet image (posted below) of Anissa/Thunder shows her decked out in a denim-blue and gold costume and a slick pair of yellow-lensed goggles. By all interpretations, Williams will definitely bring the Thunder to the villain-filled streets. 
Black Lightning also stars China Ann McClain as Jefferson's youngest daughter Jennifer, Christine Adams as Jefferson's ex-wife Lynn, James Remar as Jefferson's friend Peter Gambi, Marvin Jones III as the antagonist Tobias Whale, Edwina Findley as Tobias' sister Tori, Chantal Thuy as the bartender Grace Choi, and Jill Scott as the enigmatic funeral parlor owner Lady Eve. 
Here's the full synopsis for the series: "Jefferson Pierce (Cress Williams) is a man wrestling with a secret. As the father of two daughters and principal of a charter high school that also serves as a safe haven for young people in a New Orleans neighborhood overrun by gang violence, he is a hero to his community. Nine years ago, Pierce was a hero of a different sort. Gifted with the superhuman power to harness and control electricity, he used those powers to keep his hometown streets safe as the masked vigilante Black Lightning. However, after too many nights with his life on the line, and seeing the effects of the damage and loss that his alter ego was inflicting on his family, he left his Super Hero days behind and settled into being a principal and a dad. Choosing to help his city without using his superpowers, he watched his daughters Anissa (Nafessa Williams) and Jennifer (China Anne McClain) grow into strong young women, even though his marriage to their mother, Lynn (Christine Adams), suffered. Almost a decade later, Pierce's crime-fighting days are long behind him... or so he thought. But with crime and corruption spreading like wildfire, and those he cares about in the crosshairs of the menacing local gang The One Hundred, Black Lightning returns — to save not only his family, but also the soul of his community."
Black Lightning will strike down on January 16 at 9 p.m. ET on The CW. 
Where there's #BlackLightning, there's Thunder! See @NafessaWilliams in the series premiere January 16 on The CW. pic.twitter.com/wXY87dQf7t

— Black Lightning (@blacklightning) January 4, 2018