The Office's Phyllis Smith Pinpoints A Small Moment From The Show As Her Favorite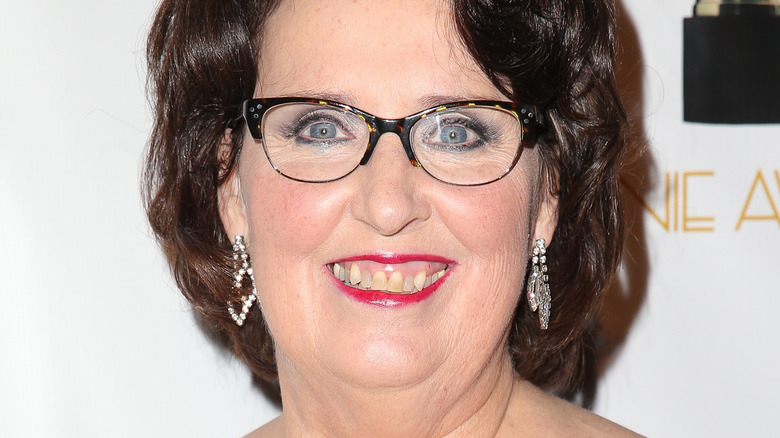 Imeh Akpanudosen/Getty Images
Remember that time when "The Office" aired its series finale, leaving many fans feeling like a piece of their soul had been permanently cut off? That was because most believed there was never going to be anything quite like it again. Fast forward to today, where it feels as if enough time has gone by for the sense of loss to have worn off. Now, streaming channels allow us to drop in and revisit Michael Scott's (Steve Carell) crew anytime we please.
And whether it's throwing on a random episode, airing on cable at that very moment, or seeking out specific ones via streaming, fans have plenty of opportunities to land on one of their favorite moments. It makes you wonder if the cast members of the show do the same thing. Well, back when Phyllis Smith did an interview with DenOfGeek to discuss Pixar's "Inside Out," she was asked about her experience on "The Office" and if she had a favorite moment of her own. Surprisingly, the moment of the show Smith chose did not involve her character, Phyllis, at all.
When asked what her favorite "The Office" moment was, Smith chose a scene in Season 3, Episode 7 ("Branch Closing"), which is about the Dundler Mifflin–Scranton branch being picked to close down due to budget cuts. Although this seems like a pretty morbid episode for Smith to choose, the scene that's her favorite happens to be one of the series' best moments.
Phyllis Smith's favorite moment came from a simple reaction
For fans, choosing a favorite "The Office," moment can be pretty difficult. Phyllis Smith chose one between characters Michael Scott and Dwight Schrute (Rainn Wilson). Despite this scene taking place during an episode where it seems like the Scranton office branch is permanently closing, it's actually the moment when Michael and Dwight celebrate a sudden change in plans that Smith enjoys the most.
In "Branch Closing," the team is visited by Jan (Melora Hardin), who explains that the Scranton office will be shut down and the majority of the employees will be let go. With Michael being one of the heads on the chopping block, he and Dwight decide to figure out a way to save the branch and their jobs. Of course, the duo's plan (like parts of the show) is completely unscripted. But behind the scenes, a different branch's manager decides to jump ship, leaving the Scranton branch safe.
Once Michael and Dwight hear the good news, their reaction cements its place as one of Smith's favorite moments. She lays out the scene by saying, "They chest bump each other and they're so happy. And then they go, 'What did we do?' 'Well, I don't know.' [Laughs] It's a stupid little scene, but I loved that." Plenty of fans loved it too — and the knowledge that the Scranton branch would live on, just like the many episodes of "The Office" do, as well.