The Real Relationship That Informs Harley Quinn's Bond With Batgirl On The HBO Show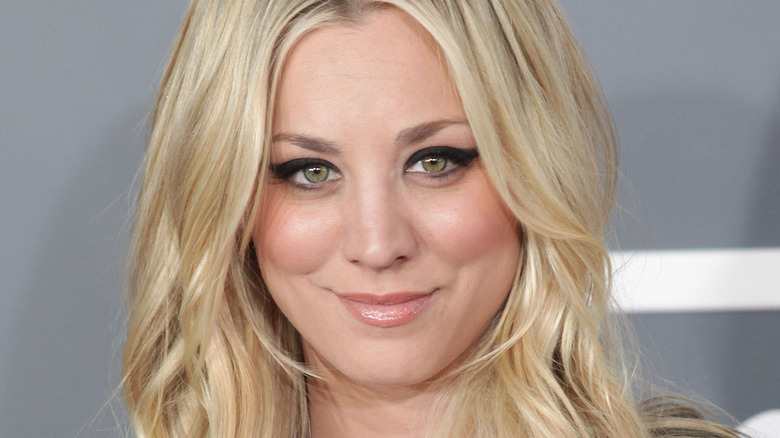 D Free/Shutterstock
Warning: This article contains spoilers for "Harley Quinn"
Besides all the people involved in its production, most viewers had no way to predict how good the animated series "Harley Quinn" would be when it first debuted on HBO Max in 2019. Previous portrayals of the sassy killer clown may have seemed a bit off the mark for some fans, but this series takes the character's story to a whole new level with its spot-on humor, intelligent writing, and unique plot lines. Most importantly, "Harley Quinn" zeros in on the many fascinating character relationships, taking time for them to properly develop, rather than simply glossing over to get to the action.
Fans of the show, who have been on board since the first season, know how the complex and entertaining relationship between Harley (Kaley Cuoco) and the Joker (Alan Tudyk)  played out, with that being just one example of the many ongoing bonds between different characters. Of course, most recently, Harley's friendship-turned-romantic relationship with Poison Ivy (Lake Bell) turned the usual DC villain world on its head, with fans pleasantly surprised with the fascinating change in the storyline.
However, in season three, overshadowed by Harley and Poison Ivy's sometimes tumultuous relationship, fans got to witness a surprising new bond between villain and hero. This is when Harley and Batgirl (a.k.a. Barbara Gordon), find themselves possessing similar goals, leading to an unexpected partnership. These two characters, when together, create a certain dynamic that pops off the screen. And the behind-the-scenes reason for that may surprise you.
The voices behind Harley Quinn and Batgirl have a unique connection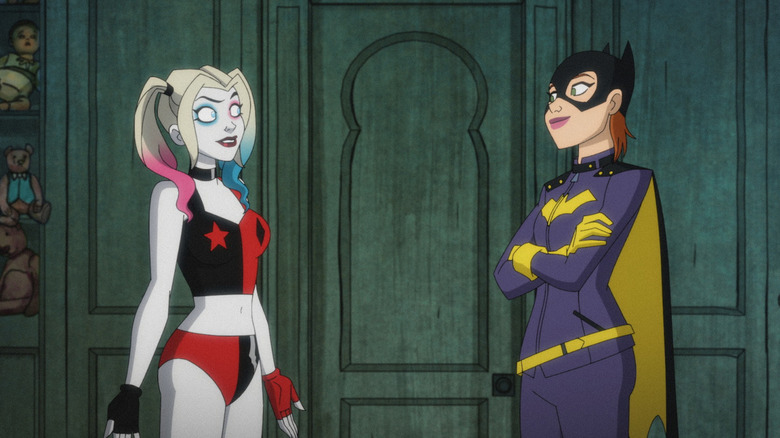 HBO Max
Fans of HBO's "Harley Quinn" dove into Season 3 expecting to see the next phase in Harley's relationship with Poison Ivy. That's exactly what viewers got, but many were surprised to see an additional connection between Harley and Barbara Gordon, secretly known as Batgirl. Despite the excellent writing of the series leading to one great character interaction after another, scenes between Harley and Batgirl have an extra spark to them. The reason is that the voice of Batgirl is Kaley's real-life sister, Briana Cuoco.
Before it was official, during a 2020 dual-interview with Metro, Kaley revealed that her sister, Briana, would be voicing Batgirl. "Bri is playing Batgirl on Harley Quinn Season 2," Kaley confirmed. "How about that for a little extra info?"  Sometime later, both fans and Harley Quinn were introduced to the new character. This new connection continues into Season 3 and during a ScreenRant interview, writer and producer Patrick Schumacker describes why he thinks the dynamic connection between the real-life sisters surely came through on the colorful screen. "They're so alike in their cadence and in their speech, that I think it works out," He said. "Especially this season in the show, where we start to see Harley and Batgirl become closer and find that commonality."
The end of Season 3 surely hints that Harley Quinn's partnership with Batgirl will grow, and based on the show's ongoing style, most likely will become more complex. With this sibling dynamic behind the voices, these future moments will surely be enhanced. As Schumacker continued, "I think it really underscores that theme, and that idea with those two characters that they are kind of sisterly — because they literally are."