The Unexpected Inspiration Behind The Title Of T.J. Miller's Comedy Special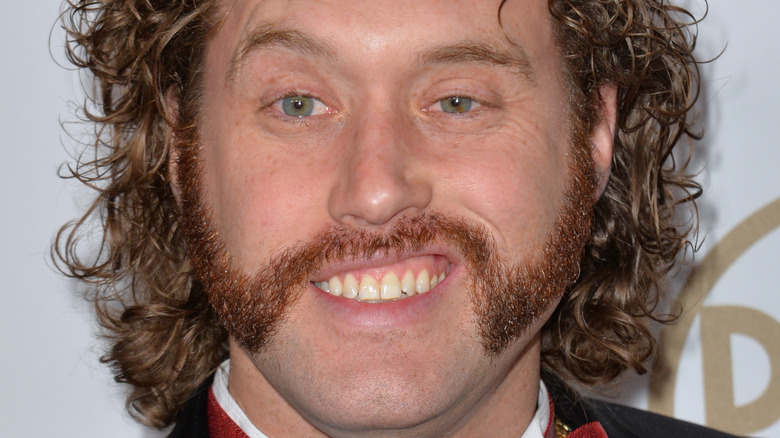 Jaguar PS/Shutterstock
T.J. Miller is back with a brand new stand-up special. Though Miller is most well-known for his appearances in franchises like "Deadpool" and the television series "Silicon Valley," the star has a medley of comedic specials under his belt like HBO's "Meticulously Ridiculous." Following his cinematic debut in "Cloverfield," Variety dubbed Miller as one of "10 Comics to Watch" in 2008. Thanks to the success of "Cloverfield" and the "Deadpool" franchise, Miller has become one of Hollywood's most bankable comedians, with his films bringing home over $4.5 billion at the box office (via The Numbers).
Despite his success on the silver screen, Miller doesn't seem moved by the perks of being a movie star. "I know it's hard for people to understand, but I don't really care about movies or TV," he revealed in an interview with Vulture. "Stand-up is always going to be the foundation of what I do. If Hollywood fired me tomorrow, I would be like, 'Finally, I can relax.'" After a wake of controversies, including sexual assault allegations (via The Daily Beast), Miller has largely stepped away from Hollywood, losing his role in "How To Train Your Dragon: The Hidden World" (via Insider).
How is Miller occupying his time now? During the peak of the COVID-19 pandemic, Miller created a comedy special, which he recently released on YouTube. The special, titled "Dear Jonah," is perhaps the controversial comedian's most empathetic and intimate work yet. The special was originally titled something broader, but thanks to a synchronous conversation, Miller changed the title of his come-back special.
If you or anyone you know has been a victim of sexual assault, help is available. Visit the Rape, Abuse & Incest National Network website or contact RAINN's National Helpline at 1-800-656-HOPE (4673)
He changed the title to reflect his bond with an audience member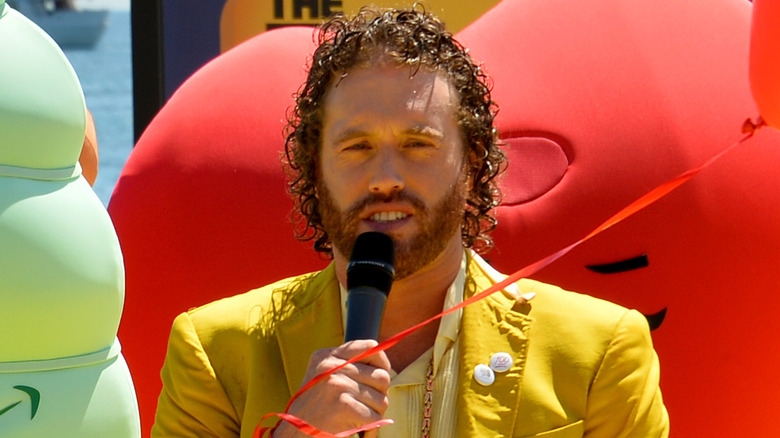 false/Shutterstock
In an interview with Steve-O, T.J. Miller opened up about his special, which he filmed in Nashville, Tennessee, at an intimate venue. The comedian originally had plans to call it "The Pandemic Special." Miller told Steve-O that while filming, he felt elated at the audience's reception until he was interrupted by a man in the front row. "I was like, 'Ugh, why is this guy heckling?'" Miller told Steve-O on his podcast "Wild Ride!" The "Yogi Bear 3-D" star went on to discuss how he assumed the man was drunk, pointing out how he would continue to loudly commentate. Realizing that the man was "ruining the special," Miller decided to create a one-on-one dialogue with him.
"So, he's wearing cargo pants and I go 'Oh you're wearing cargo pants. What kind of cargo you got? What are you hauling? What's your freight?'" Miller said. "And he's like, 'I just like cargo pants even though I don't keep anything in them,'" Miller continued, revealing that the man in the front row was neurodivergent, "not a drunk heckler." The comedian then went on to announce to the audience that he wouldn't be making fun of the individual. While filming, Miller continued to shift positive attention to the man and engage in banter with him. "As the show goes on, he becomes more and more incorporated into it," the comedian said. "By the end of the show, he's kind of the star of it. And so I changed the name of it from 'The Pandemic Special' to 'Dear Jonah' because it sort of ended up being a love letter to this guy."