The Big Reason Anne Fletcher Agreed To Direct Hocus Pocus 2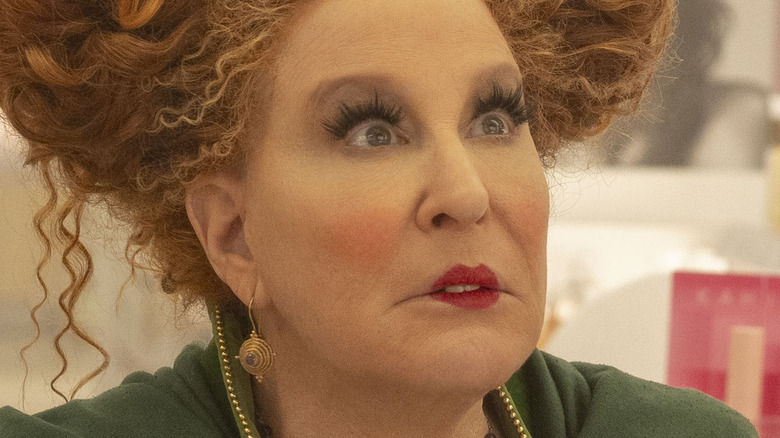 Disney+
A tease that fans have been hanging on for 29 years has finally paid off with the release of "Hocus Pocus 2." In 1993, the original Halloween howler that starred Bette Midler, Kathy Najimy, and Sarah Jessica Parker as the wicked Sanderson sisters hinted at their eventual return with the blinking of Winifred's spellbook (affectionately named "Book"). That very same pageturner with recipes containing rats tails and lizard legs plays a significant part in the new installment, which also explains how it came into the sisters' possession.
This is the first considerably interesting step taken for the new film that avoids "Hocus Pocus 2" being just another cash-in of a nostalgic favorite. The new movie sees the Sandersons up and about once again, causing trouble for a new trio of kids that meddle with magic they shouldn't have handled (yes, there's another black flame candle). 
Besides adding her mix to a special potion and having the creative freedom to keep Salem's three most feared witches in check, it was the history of the Sanderson sisters that director Anne Fletcher has the most fun with.
The origins of the Sanderson sisters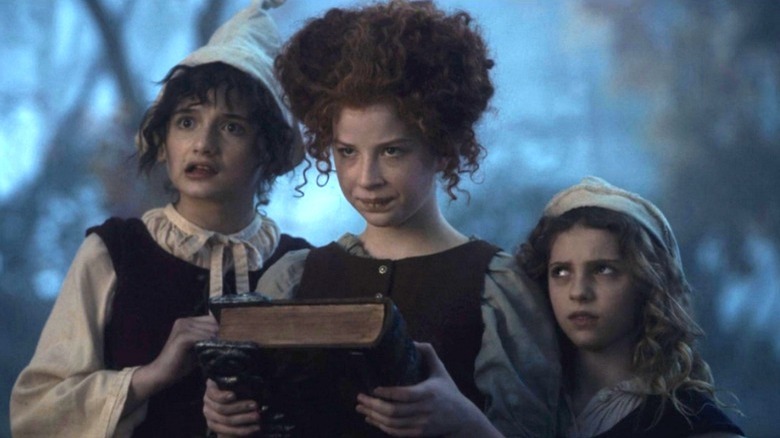 Disney+
Talking to Metro, Fletcher revealed that the idea of exploring Sanderson's childhood was what most attracted her to "Hocus Pocus 2." Regarding the origin of this terrible trio, Fletcher explained, "Those are the things that I love the most — within the grounding you can be silly and stupid, and over the top and crazy." 
The opening of "Hocus Pocus 2" is all of the above but still handled in the best way, with young Winifred (Taylor Henderson), Mary (Nina Kitchen), and Sarah Sanderson (Juju Journey Brener) crossing paths with a witchy maternal figure, played by Hannah Waddingham. Fletcher saw this as a treat for the fans they'd been waiting almost three decades for. "Now the fans get a little peek into the earlier years of our witches, which to me is a blast. So I took the movie for that particular reason."
It was a decision that paid off. Currently "Hocus Pocus 2" has earned a fairly decent score of 63% on Rotten Tomatoes. Praised for its welcoming level of nostalgia, it'll be interesting to see how much it puts a spell on audiences on Disney+. Also, with the additional post-credits tease like the original film, there's every chance we could get another visit from the Sandersons in the future — and if there's anyone that can handle them, Fletcher certainly can.