The Actress Who Played Wendy Corduroy In Gravity Falls Is Gorgeous In Real Life
The Emmy-winning series "Gravity Falls" was undoubtedly a creative endeavor to explore for fans with some wickedly funny surreal comedy that made it successfully stand out from the competition. Among the many things to love about the Disney title, the well-crafted story and the wonderful array of unique characters are among the many highlights the cartoon has to offer.
"Gravity Falls" was incredibly popular with fans. In 2015, it solidified its legacy by being the highest-rated Disney XD show (via Broadway World) over "Star Wars Rebels" and capped off its reign of dominance with its record-breaking series finale. Overall, the series that magnificently chronicles the adventures of twins Dipper Pines (Jason Ritter) and Mabel Pines (Kristen Schaal) as they attempt to unravel the mysteries of the titular town has resonated well with fans and critics. 
Every entry offers up all kinds of fascinating characters, some of which were based on family members of the show's creator Alex Hirsch. While Dipper and Mabel are the obvious stars, several other characters often steal the spotlight when they enter the frame. One of which is most assuredly Wendy Corduroy. The friendly Mystery Shack part-timer has been along for the ride for almost every episode. She is the main pair's loyal companion, and her easy-going, hip persona adds an interesting dynamic to "Gravity Falls." But many may not realize that the actress that voices her is drop-dead gorgeous.
Linda Cardellini voiced Wendy Corduroy in Gravity Falls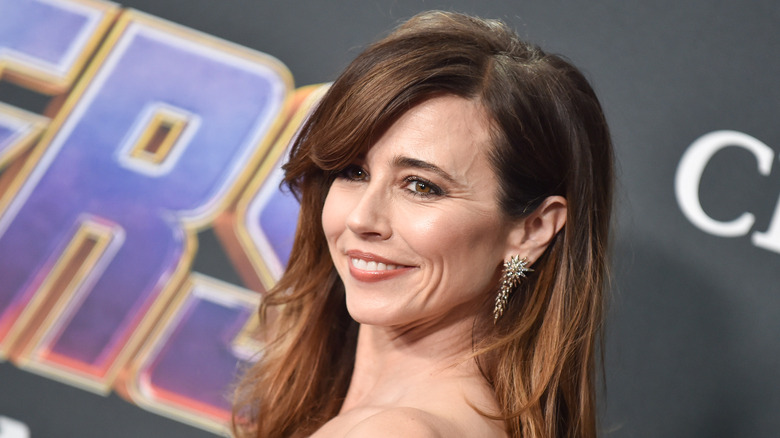 DFree/Shutterstock
The beautiful and incredibly talented Linda Cardellini voices Wendy Corduroy in "Gravity Falls." According to IMDb, she has done so for a total of 31 episodes. Her other voice work includes credits like "Regular Show," "Scooby-Doo! Mystery Incorporated," and "Sanjay and Craig."
The stunning Emmy-nominated actress has had a very prolific career in live-action as well, and she is known for playing former Agent 13, Laura Barton, the wife of Hawkeye (Jeremy Renner), in the MCU. Her early days in the industry saw her star in "Freaks and Geeks" and play a pivotal role in "Boy Meets World." Cardellini's other notable small screen credits include the drama series "Bloodline" and "Dead to Me." Some big screen affairs she has been a part of include comedies such as the live-action "Scooby-Doo" films and "Grandma's Boy."
It seems she does a fair amount of serious and silly projects. When she was asked during an interview on AOL Build Series (via YouTube) by an audience member whether she enjoyed doing drama or comedy more, she responded, "I really like them both, and I'm so fortunate to get to work in them both ... I'm so lucky I get to go do something fun and really different, I really love them both though, and it really boils down to character."
The gorgeous actress has arguably done an amazing job with the personas she has chosen to play in both genres throughout her illustrious career, and many "Gravity Falls" fans would agree that Wendy Corduroy is one of her absolute best.