Why Bros Director Nicholas Stoller Doesn't Primarily See The Movie As A Romantic Comedy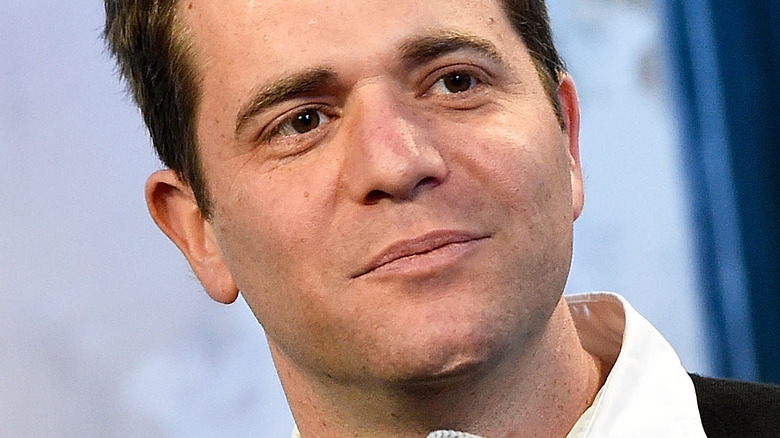 Slaven Vlasic/Getty Images
"Bros," the latest comedy film from director Nicholas Stoller, is finally bringing some relative freshness to the romantic comedy genre by featuring two gay lead characters as the focal point. While this might not seem like a new thing in a world where Hollywood has become slightly more inclusive, "Bros" marks only the fourth time that a major studio has produced an LGBTQIA+ romantic comedy. It's also only the second movie to feature openly LGBTQIA+ actors in every role, with the other film being "Fire Island" (per Variety).
"Bros" tells the story of Bobby Lieber (Billy Eichner) and Aaron's (Luke Macfarlane) journey toward romance after Bobby is hired to pen a romcom centering around a gay couple. This all seems like the perfect formula for a modern take on romantic comedies, which is a genre that Stoller knows very well. The director also helmed films like "Forgetting Sarah Marshall" and "The Five-Year Engagement." 
However, Stoller doesn't actually consider "Bros" to primarily be a romantic comedy, and for very specific reasons.
Bros' Nicholas Stoller considers the film more of a Billy Eichner comedy
During a recent interview with IndieWire's Filmmaker Toolkit podcast, "Bros" director Nicholas Stoller offered an interesting perspective on his upcoming comedy film, and claimed that he doesn't actually see it as strictly a romantic comedy. "I think of ['Bros'] as more of a comedy vehicle for Billy Eichner than I think of it as a romantic comedy about two gay men," Stoller said. "It's about Billy. I mean certainly he's thought a lot about gay life and gay love, and it has all that in it, but it's his point of view on all of that."
While it's not exactly a novel idea to have a film be more of a conduit for an actor rather than actually fit into a specific genre, it's definitely a fascinating idea for such a trailblazing entry like "Bros." Stoller elaborated further on this, saying that it was vital for him and Eichner to have Bobby be an actual adult character who isn't actually in need of love to be a complete person. 
In fact, Stoller believes that the central issue of the film should be something that exists outside of the love story. "That to me is the goal is to try to have a character who's dealing with something, some sort of problem in their life and then they figure it out by the end," he said.