The Latest Suzume No Tojimari Trailer Has Fans All Laughing About The Same Unlikely Romance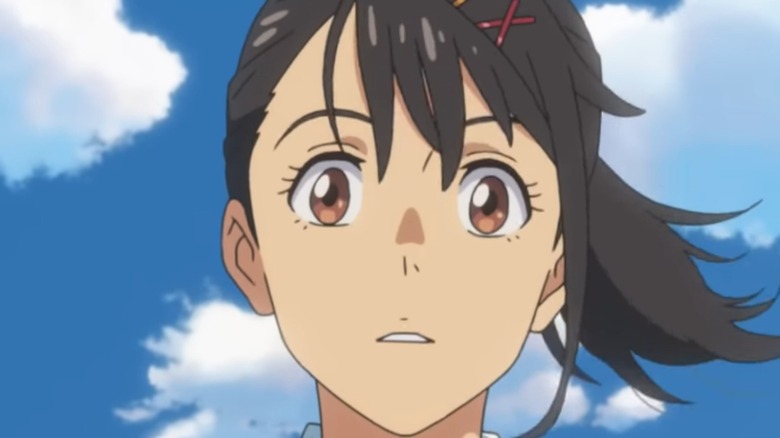 Toho
Since its earliest origins in the 1960s, anime has always blended Japanese artists' exquisite aesthetic illustrative designs with unique and dazzling storytelling. The genre allowed artists to explore a range of esoteric topics and themes thanks to the freedom of animation over the limitations of live-action filmmaking. The most bizarre Japanese anime typically includes journeys through Japanese spirituality, nature, the duality of good versus evil, and even unorthodox romance through a range of strange characters and partnerships. One such anime that excels within this sub-genre is Makoto Shinkai, with films such as "Weathering with You" and "Your Name." Both of these titles are romantic fantasies, which is one of his preferred narratives to work within. 
The director's upcoming "Suzume no Tojimari" has a premise that effortlessly evokes the weirder side of the moviemaker's canon. The release of the film's second trailer (via Anime News Network) already has fans laughing about the unlikely romance revealed in the clip. Let's explore why.
The trailer teases a possible romance between Suzume and a chair
The trailer for "Suzume no Tojimari" plunges the audience right into the main story as Suzume (voice of Nanoka Hara) meets Souta (voice of Hokuto Matsumura) in a wide-open outdoor space. He asks her if there is a door nearby, and then it appears in an abandoned building, where Suzume enters it. We then see Suzume and Souta trying to close the door, which is releasing powerful swaths of ominous-looking red energy into the world. He confirms that the opened door brings disaster upon the world, and then ... he mysteriously turns into a chair. The rest of the clip shows the two of them trying to save the world, all while Suzume experiences growing romantic feelings for Souta in chair form.
In true Makoto Shinkai fashion, the movie is both imaginative whimsy and oddball romance, which some fans are finding to be a repeating pattern. On Catsuka's official Twitter account announcing the trailer, user @Xeresdk tweeted, "Is he [Shinkai] literally just making the same movie over and over again lmao." But the bigger confusion came with deadpan observations of Suzume's love for a man or possibly just the man as a chair, with @cyan_k stating, "So is that man the love interest?" To which @karlaaqualight replied, "The chair is the love interest." The trailer is unorthodox and odd, but also funny in a nonsensical way.