The Untold Truth Of Hubie Halloween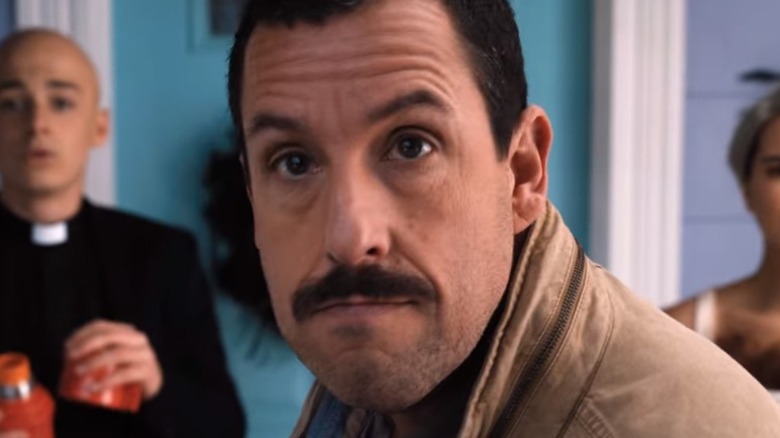 Netflix
While critics might think Adam Sandler's films lean more heavily towards tricks than treats, there's little denying that "Hubie Halloween" reeled in a sizable audience for Netflix, arriving at the ideal time in October 2020. Directed by Steven Brill, the Halloween-themed comedy stars Sandler as lovable loser Hubie Dubois, who needs to save his Salem hometown and Halloween from a kidnapper. The likes of Julie Bowen, Ray Liotta, Kevin James, and NBA legend Shaq all join Sandler in this film, which received a 51% critical approval rating from Rotten Tomatoes.
When asked by Yahoo! why he decided to make "Hubie Halloween," especially right after his lauded performance in "Uncut Gems," Sandler explained how comedy is where his heart lies. "I like comedies, I like making 'em," he said. "When I make these other movies, man, I dive in deep and I love it. And I've got young kids, and I like when they watch movies at home and laugh, so I like trying make stuff like that, too."
While "Hubie Halloween" might seem like the typical fare fans expect from Sandler and company, the history behind the movie has a few twists and turns that the audience might not know. From the fact it is inspired by Sandler's real-life experience to how Steve Buscemi (or "The Boosh") was convinced to portray a werewolf, here is the untold truth of "Hubie Halloween."
Adam Sandler's real-life family is in Hubie Halloween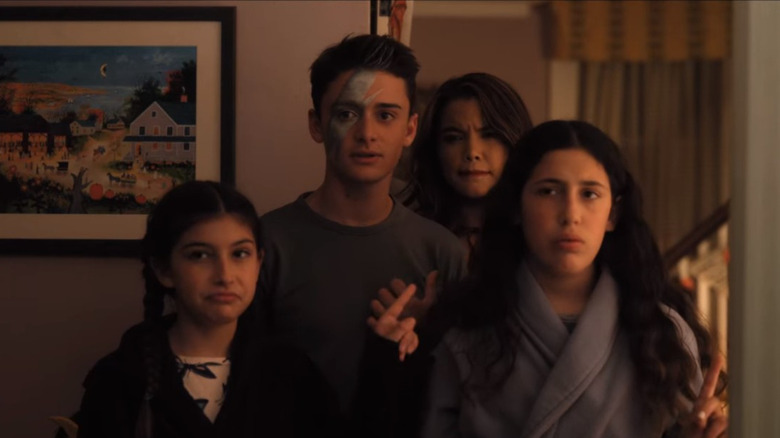 Netflix
One of the toughest elements of being an actor is the time away from home for extended periods. In some cases, it might be a few weeks, but other times it could be months. 
Sandler has long been known to surround himself with friends on his films, and with "Hubie" he cast his relatives in the film as well. His wife Jackie and daughters Sadie and Sunny appear in the movie. While it wasn't the first time his daughters have appeared in his movies, this family vibe perhaps informed the overall feeling of the holiday movie.
"They shot four or five days [and they were] excited," Sandler said in 2020. "Rehearsing, laughing, having a good time. And, they got to be friends with Noah Schnapp and Paris [Berelc] and the whole crew of young actors in the movie. My kids got to hang out with them, and that was a big deal."
Based on a true story?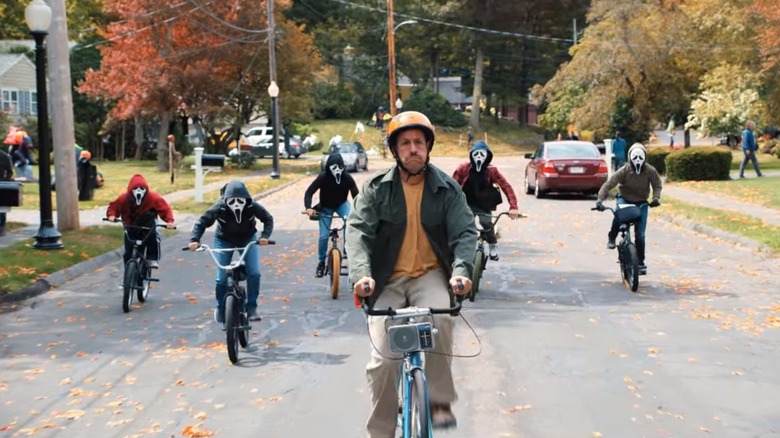 Netflix
With all the outlandishness and over-the-top behavior, "Hubie Halloween" certainly feels like it comes from the mind of Sandler. The film features all of his trademarks, from a good-natured protagonist picked on by others for being different to eccentric side silliness to over-the-top surreality. But perhaps the words "based on a true story" should be inserted at the beginning, since Hubie Dubois shares more with Sandler you might expect.
"Like everybody else," Sandler said in 2020 when asked if he was bullied as a kid. "You catch a little crap, you get scared. You're like, 'What the heck is going on? Why am I being picked on?' And it's a tough, tough place for any kid. The movie's just a goofy movie, but ultimately, it's trying to say that bullying is pretty stupid." 
As a teenager, Sandler has said that he tried to avoid fighting whenever possible, but sometimes he just couldn't.
"I remember one particular fight that some of my friends got into with some other guys that I slowly snuck away from was when golf clubs came out," he recalled in 2014. "Everyone was beating each other with golf clubs. That's when I said I think I'd better move out to Hollywood and become an actor and get out of here."
Reuniting Julie Bowen and Adam Sandler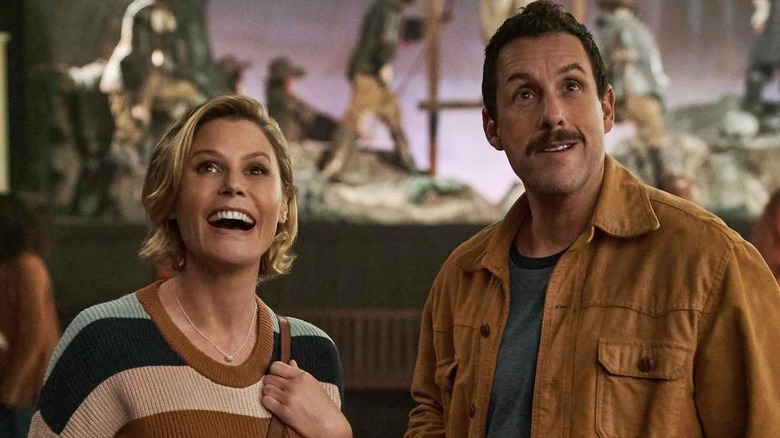 Netflix
Although he doesn't play it up, Sandler has a case to make for being the smartest man in Hollywood. He receives bucket loads of money to make scripts he typically develops himself, shoots on locations that appeal to him (Hawaii, Cabo, Cape Cod, South Africa) and works over and over again with his best friends (Chris Rock, John Turturro, Buscemi, Kevin James, Rob Schneider, David Spade, etc) and favorite pop culture figures (Vanilla Ice, Bob Barker) and athletes (seemingly half the NBA was in "Hustle").  
When he likes a leading lady (Drew Barrymore, Jennifer Aniston), he has the freedom to bring her back. Julie Bowen is among this group, having appeared in "Happy Gilmore" with him early in her filmography. Although their careers then took decidedly different paths (she found success in the television world while he stuck around in the film industry), the pair reunited after 24 years for "Hubie Halloween. 
"He feels like the same guy," Bowen said of the reunion. "And he still wears giant basketball shorts every day."
Cameron Boyce was meant to star in the film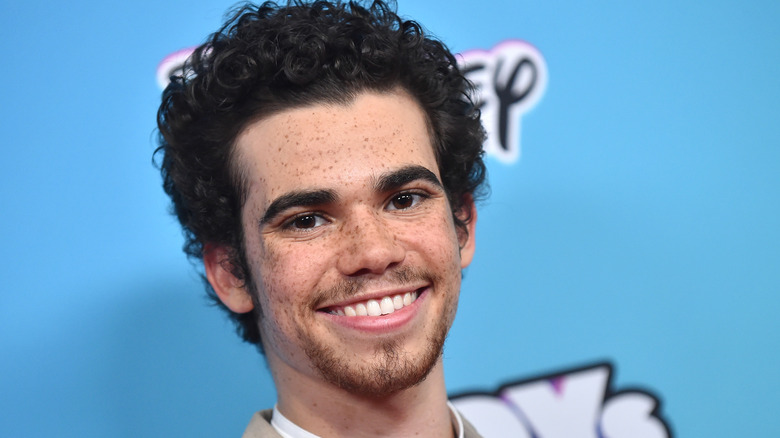 DFree/Shutterstock
The death of young actor Cameron Boyce was one of the more tragic events to emerge from Hollywood in the last few years. Only 20 years old, the "Descendants" and "Mrs. Fletcher" actor was an up-and-comer, before being felled by epilepsy. One of the many left devastated by Boyce's death was Sandler, who had worked with him on the "Grown Ups" film; Sandler included a heartfelt dedication to him in the credits of "Hubie Halloween."
In an interview with Yahoo!, Sandler revealed that Boyce had been intended to star in "Hubie Halloween" before his passing. 
"He was supposed to come to do the movie maybe two days after [he died]," he said. "He was getting on a plane to come shoot our movie." 
Sandler added that Boyce was "a great kid" and had become a close friend of his family, even attending his daughter's bat mitzvah and kindly signing autographs for everyone who approached him.
A reporter was fired for appearing in the movie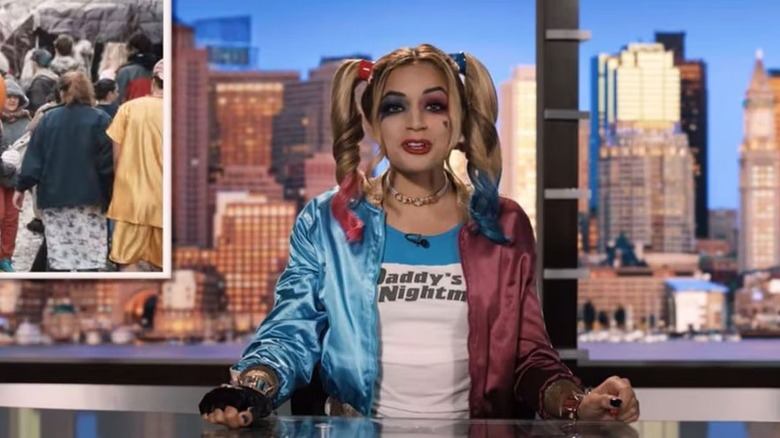 Netflix
Imagine this scenario for a second: A newscaster receives the opportunity to appear in one of Adam Sandler's movies. They'll be part of a gag where all the anchors are dressed up as Margot Robbie's Harley Quinn, teasing how the Clown Princess is one of the most popular and overused costumes for Halloween. Not only does it sound like something fun for the newscaster to partake in, but also some free publicity for the station they work at, right?
Unfortunately, Boston's WHDH Chanel 7 News didn't see it that way. The station terminated anchor Alaina Pinto for appearing in the film, as explained on her Twitter account shortly after the film was released. 
"I have some news to share," she tweeted in 2020. "Earlier this week I was let go from 7 News. I am posting this because I want to be open and honest with all of you. Last year, I participated in a cameo in the recently released Netflix movie by Adam Sandler, 'Hubie Halloween' ... in doing so, I mistakenly violated my contract with the station and I understand why management unfortunately chose to terminate me. I am deeply disappointed and saddened, and I hoped this would not be how things evolved."
Don't worry, Pinto seems to have bounced back just fine. These days, the New England-based Pinto is making videos for Big Night Media, primarily travel-based. 
Sandler convinced Buscemi to be a werewolf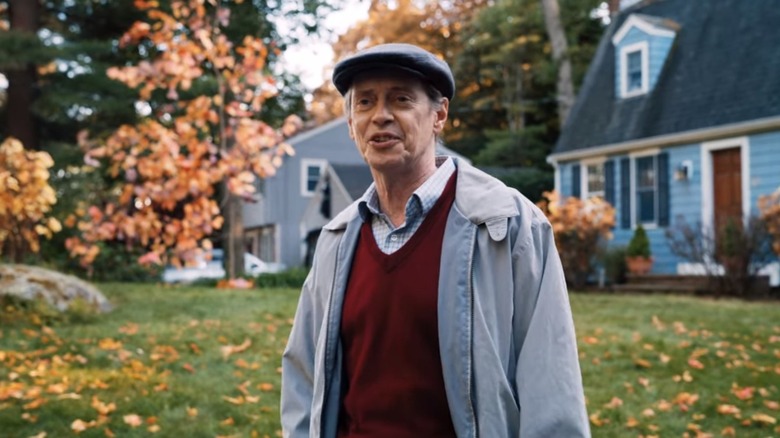 Netflix
Since his early '90s breakthrough, when it comes to portraying offbeat characters, none do it better than Buscemi. But the role of Walter Lambert/Nick Hudson pushed the boundaries of eccentricity, even for him.
In "Hubie Halloween," Buscemi plays Hubie's neighbor who believes he's an ancient werewolf. Considering all the work that Adam Sandler and Buscemi have done together over the years, it's no surprise that the Sandman approached his long-time collaborator for this quirky part. But how exactly did he pitch the role to him?
Sandler told Polygon it was an easy sell from the get-go. "I think I told the Boosh about it maybe a year before we shot it," he said. "I said, 'I've got a kind of funny character. We're thinking of doing a Halloween movie, and we got a funny character for you, being my neighbor.' And he's like, 'You just tell me when.' And then we did it, and he is the best."
Sandler thought one cast member was hilarious on set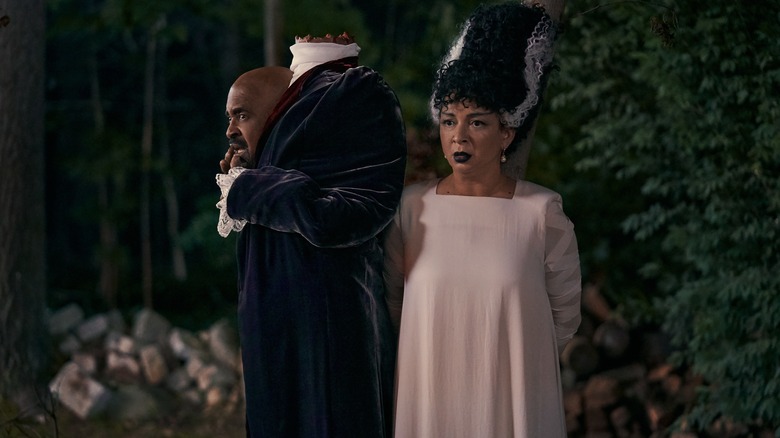 Netflix
It feels like the cast of "Hubie Halloween" could be dubbed the Globetrotters of Comedy, since there are so many comedy heavyweights (Kevin James, Bowen, Maya Rudolph, Schneider, Kenan Thompson) in seemingly every scene. With all that star power on set, it creates another problem: everyone is so funny they keep cracking each other up. In 2020 Sandler said that one cast member and former "Saturday Night Live" veteran, in particular, was hilarious to the point where cameras had to stop rolling so everyone could catch their breath.
"I gotta tell you: Tim Meadows," he said. "We [have known] each other forever and we always get the giggles when we look in each other's eyes and try to act."
Sandler explained that, filming the scene where his character Hubie makes strange noises and Meadows' Lester reacts, neither could hold it together. According to the actor, they couldn't stop laughing or get back into character — much to the cast and crew's dismay, who could only wait until their fits of laughter subsided.
Kevin James disliked one thing about Hubie Halloween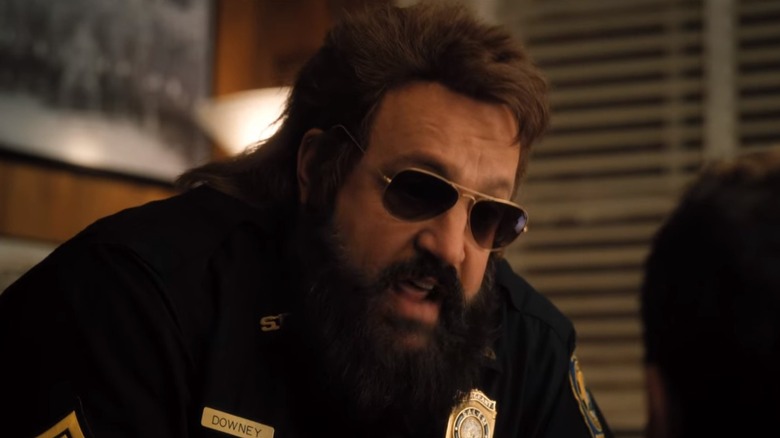 Netflix
Like cheese and tomato on a toasted sandwich, Kevin James and Adam Sandler cannot be separated, nor should they be. If a film is announced featuring either of them, you can be fairly certain the other isn't too far behind. In the case of "Hubie Halloween," James joined the cast to portray the mullet-tastic Sgt. Steve Downey. The police officer struts his stuff throughout the film and refuses to take his sunglasses off — a tiny detail that Sandler chose to include in the film, as revealed by James to CinemaBlend.
However, James explained how it was also one of the worst parts of shooting "Hubie Halloween." 
"[It was] hard to get used to by the way, because a lot of the night shoots I couldn't see anything," he said. "I had to drive the squad car and I was like, are you kidding me? I can't do this, man." Surprisingly, James didn't mention much about his mullet in the interview, as he maintained the business at the front and party at the back for the entirety of the shoot.
Adam Sandler says Hubie Halloween is the type of movie he wanted to make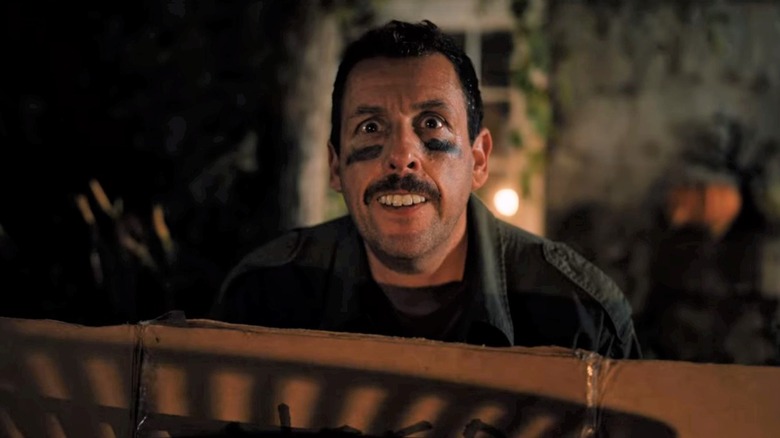 Netflix
The calendar doesn't lie: Halloween is a popular day that should be celebrated and cherished. For many individuals and families, it's an opportunity to dress-up, put out spooky decorations, and indulge in more candy than any rational stomach can cope with. In other words, it's a wonderful time of the year filled with the best things that life can offer.
Sandler says he and his family get sucked into the Halloween spirit too, and so, he has wanted to do a Halloween-styled film for some time. 
"I've been trying to do a Halloween type of movie for many, many years," Sandler said in a 2020 interview, "I couldn't come up with a good idea and then finally we said, 'We don't have a good idea, but let's do this anyways.'"
Sandler flirted with the notion for some time; he played the devil's son in "Little Nicky," and voiced Count Dracula in the first three films of the "Hotel Transylvania" series. Still, he's a scaredy cat.
"In real life, I get scared pretty easy," Sandler said in one interview. "When I come home and the lights are off, I'm not excited, I don't like that. I'll push my wife in there and go, 'What's going on? Come on, come on, check out the kitchen.' It's pathetic."
Hubie Halloween was one of the most popular Netflix movies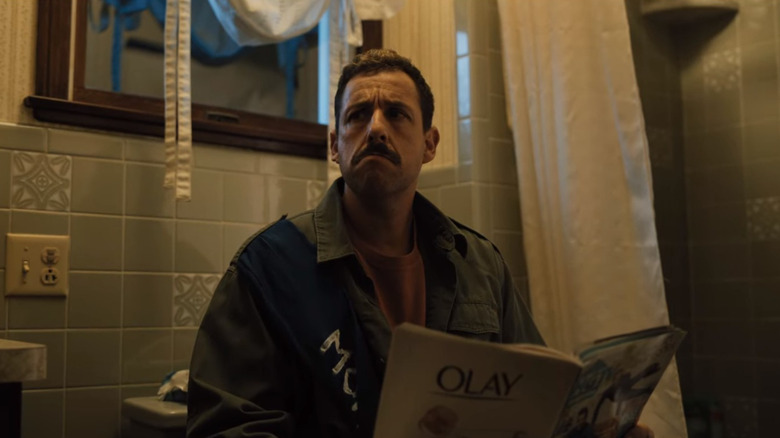 Netflix
While certain people seem to take pleasure in condemning Sandler films, he is still immensely popular. In addition to theatrical fare like the "Hotel Transylvania" movies and more serious work like "Uncut Gems," Sandler and his Happy Madison production company has spent the past decade or so fulfilling a landmark 2014 deal in which he reportedly makes $15 million per movie for the streaming giant that Sandler said "rhymes with 'wet chicks.'"
Following on the heels of films like "Sandy Wexler" and "The Ridiculous 6," Sandler re-upped with Netflix, agreeing to make four more films. 
"Whether you know him as Sandman, the Water Boy, Billy Madison, Happy Gilmore, Nick Spitz or simply Adam, one thing is clear: our members can't get enough of him," Ted Sarandos, the chief content officer of Netflix, said at the time, citing stats that 83 million households had watched at least some part of his most recent effort. "They love his stories and his humor, as we saw with 'Murder Mystery.' So I could not be more excited to extend our partnership with Adam and the Happy Madison team and deliver more laughs around the world."
According to data provided by FlixPatrol to Variety, "Hubie Halloween" would become the most streamed film on Netflix in 2020 — even though it wasn't released until October. It would also become the first Netflix comedy to hold the number one spot for ten straight days.
Julie Bowen did Hubie Halloween for her kids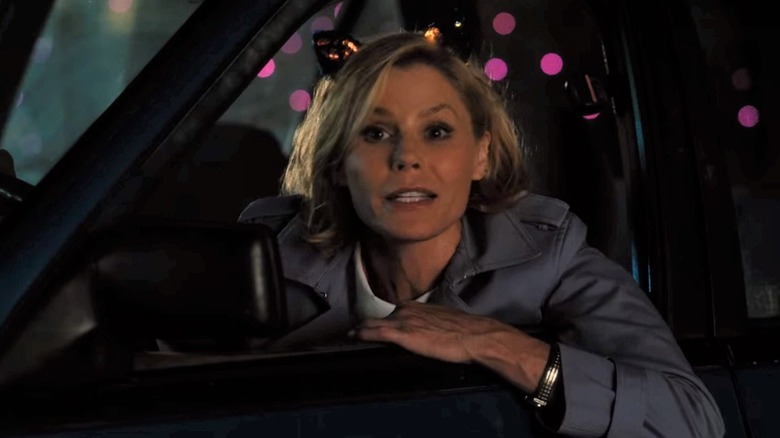 Netflix
Bowen is no stranger to television audiences, having played Claire Dunphy in "Modern Family" for 11 seasons, as well as appearing in "Lost," "Boston Legal" and flicks like "Horrible Bosses. But with her "Modern Family" character far and away her most recognizable work, she took on the part of Violet Valentine in "Hubie Halloween" with hopes of getting past the Claire image — not for herself, but for her kids.
""My kids ordinarily refuse to watch anything I do. Growing up, they just heard 'Modern Family' all the time," she said in a 2020 interview. "And they're like, 'No, that's my mom. That is not some lady from 'Modern Family.' And I'm hoping that this will give them an opportunity to watch a movie and enjoy it and not react against it like they usually do."
As for her character, she explained: "Violet is smitten. It's clear that she adores him and he gets very tongue-tied and flustered and kind of flaps away whenever he sees her," adding: "[Violet is] a good egg, but she also is a little wacky and there are some questions about whether or not she's involved in all the weirdness that's going on. There's some very mysterious business going on with witch burning and werewolves."
Hubie Halloween isn't Adam Sandler's revenge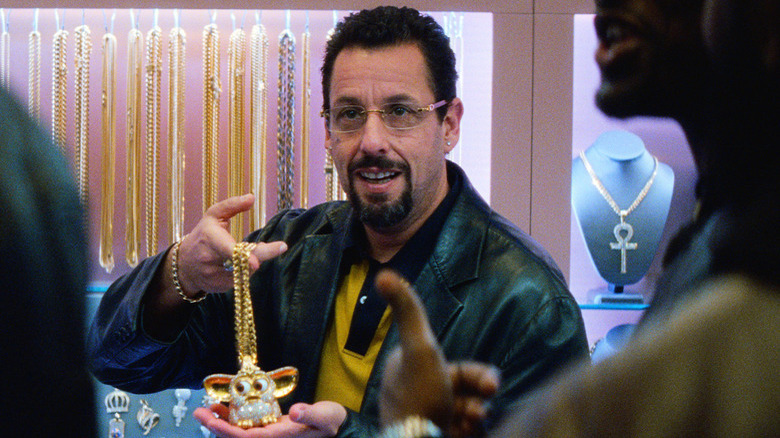 A24
In 2019, Adam Sandler starred as Howard Ratner in the Safdie brothers' crime film "Uncut Gems," to perhaps the greatest acclaim of his career. The movie showed a different side of Sandler, proving (like "Punch Drunk Love" and "Reign Over Me" before it) that he is more than fart jokes and sophomoric humor. The actor's performance impressed critics and viewers, helping "Uncut Gems" receive a 91% critical approval rating on Rotten Tomatoes. It also ensured that there was serious Oscar buzz in the air, with Sandler a potential candidate for Best Actor.
Appearing on "The Howard Stern Show" in 2019, Sandler joked that if he didn't win the Oscar, he would make the worst film of all time in retaliation. Ultimately, he didn't make the final nominee list — and since "Hubie Halloween" was his next film, rumors began that the goofy children-targeted film may have been his intended audience. 
Like so much on the internet, it was bogus. Speaking to ET Canada, Sandler assured fans that "Hubie Halloween" wasn't intentionally made as awards season payback. 
"I said, 'If I don't get a blah, blah, blah, I'm gonna make the worst movie', a payback, whatever, right?" he said. "Just said it as a joke."
If he can ever come up with a gameplan, however, Sandler said that he'll enact it. "What would the worst movie entail?" he joked. "I have no idea, [but] I'm game to be in it."