Saracen On She-Hulk Is Nothing Like His Comics Counterpart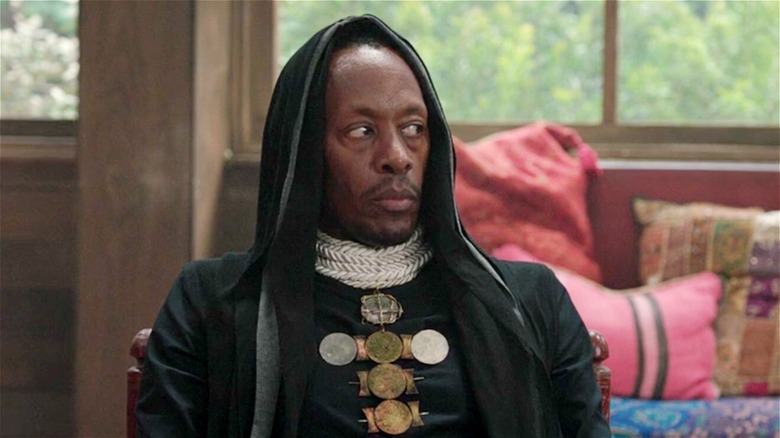 Marvel Studios/Disney+
The following article contains spoilers for "She-Hulk" Episode 7.
Everyone needs therapy now and again, even superheroes. And maybe even more so — super villains. That is what Jen Walters (Tatiana Maslany) discovers in Episode 7 of "She-Hulk." After racing to Emil Blonsky's (Tim Roth) retreat due to a false alarm, Jen hangs out among a collection of D-list villains who are surprisingly trying to better themselves. Though they certainly do not reach the malicious level of nefarious Josh (Trevor Salter), many are due for a bit of a mental tune-up. Jen even encounters Wrecker (Nick Gomez), who attempted to steal her blood earlier in the season.
Perhaps there should be an entire series devoted to the pathology of Marvel villains, but for now, we will have to do with brief Easter eggs, such as the self-proclaimed vampire Saracen (Terrence Clowe). No, this is not the beloved character from the "Friday Night Lights" cast, but a character steeped in Marvel lore. And though he has an important legacy, fans will note that this interpretation is slightly different from his counterpart in the comics.
Saracen is a formidable Blade villain in the comics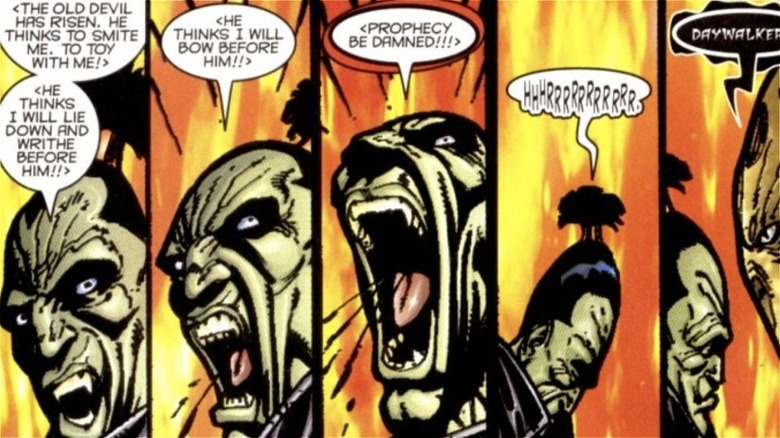 Marvel Comics
Fans of the comics may be thrown for a loop when they see Saracen in "She-Hulk." In look and personality, this is not the character they have come to know from the comics. Even more confusing, two characters claim the name of Saracen. One is a mercenary from the world of "The Punisher" (via Marvel.com). But this is not the character that "She-Hulk" has chosen to use for the show. Instead, this Saracen is well-known as an adversary of Blade.
Appearing in issues #1, 2, and 3 of "Blade: Vampire Hunter," the villain is a far cry from the man who may or may not be a vampire. This foe is not only a confirmed vampire in the comics but one of the oldest in recorded history. With green skin and a monstrous visage, Saracen's ultimate evil plot involves summoning a demonic Reaper beneath the Roman Colosseum. He represents a real threat to Blade's crusade against the vampiric scourge and is not just an Easter egg that he is in the Disney+ series. Though there is an up-and-coming "Blade" film, it seems unlikely that this version of Saracen is a hint of what is to come. In comparison, the live-action character is much more unassuming and more likely a subtle wink to comic fans. Then again, with "Blade" in the crux of another creative departure, maybe there is more in store for Saracen than we think.