There's A Sentimental Story Behind Deadliest Catch's Time Bandit That You Probably Didn't Know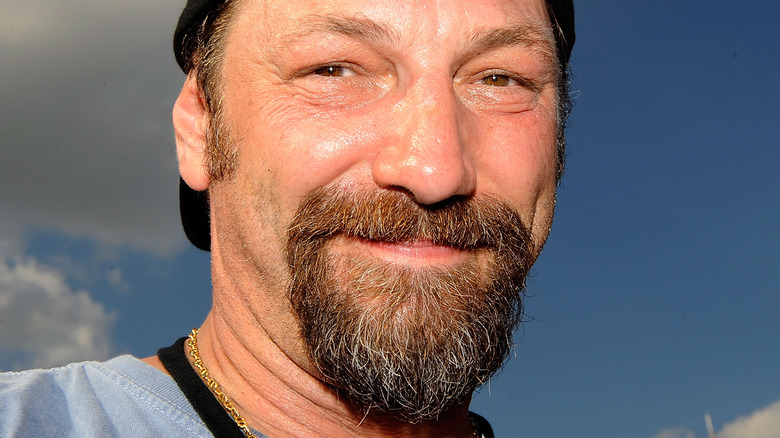 John Harrelson/Getty Images
"Deadliest Catch" follows the difficult lives of the fisherman who dare to make a living on the Bering Sea — captains and crew alike risking their lives for the prospect of massive paydays. But some of the stars of "Deadliest Catch" never quite get the recognition that they deserve — those stars being the boats themselves. Each one of the dozen-plus boats that have made an appearance on the show have their own unique backstories — but one, in particular, holds a sentimental value to its captains.
The Time Bandit made its first appearance on the show in the second season with Jonathon Hillstrand as captain and his brother Andy as co-captain. There are four Hillstrand brothers in total, and all of them have a special attachment to the Time Bandit -—and not just because they played a role in its design.
A living memory of the Hillstrand brother's father
The Time Bandit was constructed by Giddings Boatworks in Charleston, Oregon, in 1991 — but it was the Hillstrands who came up with its design. Three of the brothers had a hand in designing the ship's unusual interior — which includes a four-man sauna, state rooms with queen-size beds, and a dishwasher — but the ship's overall design was done by the Hillstrands' father. "Time Bandit is one of the most seaworthy boats out there, and it was built with our father, who is no longer with us," Andy Hillstrand said during an interview with Dockwalk.
John Hillstrand Sr. died in 2002 at the age of 62 — according to his obituary. The lifelong fisherman left behind his legacy in the form of the Time Bandit to his children, who now cherish the boat because of its link to their father. The Time Bandit that the brothers inherited was the second iteration of the boat named after Hillstrand Sr.'s first boat, which he taught his sons to fish on. "In 1991, John Hillstrand handed the wheel of the newly finished and bigger second Time Bandit over to his sons, who have since purchased the boat. 'He was pretty much done with it,' David Hillstrand said. 'He just decided all out of the blue,'" Hillstrand Sr.'s obituary went on to say.