Cooler - What We Know So Far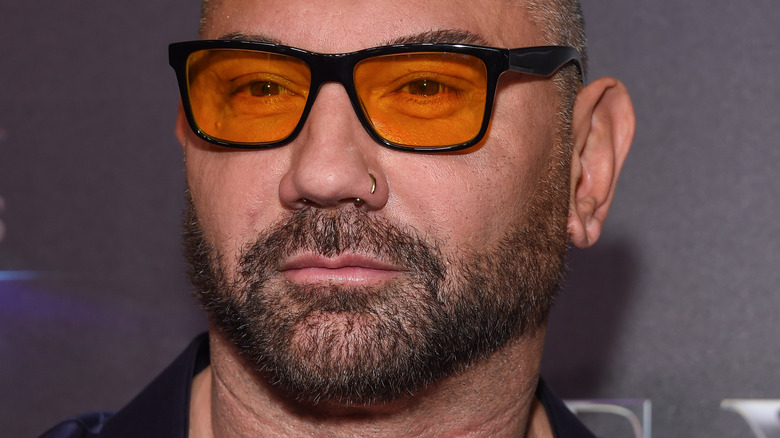 DFree/Shutterstock
Dave Bautista, the wrestler-turned-actor (yes, another one), is still on the rise in his Hollywood trajectory. After a lengthy pro wrestling career (mostly in WWE) and a short stint in mixed martial arts, Bautista successfully transitioned to acting, which he has pursued ever since. Now he's branching out into another Hollywood field: producing.
Best known as Drax the Destroyer in the "Guardians of The Galaxy" films, Bautista first retired from wrestling in 2010 so that he could study acting more seriously. "It came from me discovering I was a horrible actor and I wanted to become a better actor," Bautista told Hawksbee & Jacobs, a U.K. sports show. When the WWE wouldn't allow him to expand on his acting while involved with them, he left, calling the decision "brave and maybe a little stupid." But it clearly paid off, as he is now one of the most sought-after actors in Hollywood. In addition to three "Guardians of the Galaxy" movies (the third due in 2023) and two "Avengers" movies, Bautista also appeared in "Blade Runner 2049," "Stuber," "Dune," and the forthcoming "Glass Onion: A Knives Out Mystery," with no signs of slowing down.
Bautista returned to wrestling a few times, finally retiring for good after WrestleMania 35 in 2019. He solidified the decision in 2021, saying, "I exited the business in such a storybook way, I'd never go back." Now he's assuring himself more leading roles through his new production company, Dogbone Entertainment — starting with the new film, "Cooler."
What is the plot of Cooler?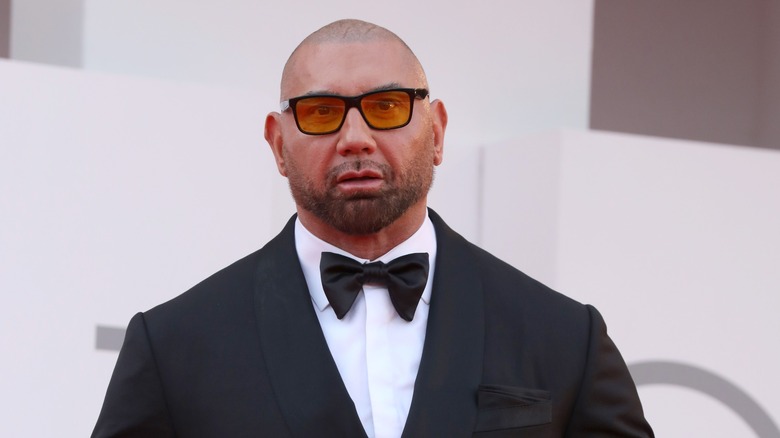 Elisabetta A. Villa/Getty Images
Dave Bautista's first project with his new production company, Dogbone Entertainment, is an action thriller called "Cooler." The film resulted from the recent first-look deal Dogbone took on with Infrared, a production label under the FilmNation Entertainment company, which has produced and distributed much-loved movies like "Arrival," "The King's Speech," and "Promising Young Woman." Production of the new thriller will start in 2023, according to Deadline.
In the new film, Bautista stars as a bouncer in South Beach, Miami, named Ray Sagona, who is seeking redemption (from what, we'll have to see) and hoping to return to his family. But of course, the task is not so easy when a safe filled with drugs is stolen from the club where he works, and someone blackmails Ray into finding it before the Miami police do. He's suddenly on a 36-hour trek across Miami to find the safe and return it while wrestling with his past actions.
Bautista will be working with Infrared president Drew Simon, with whom he collaborated on 2020's "My Spy." Joining the multi-company production team, in addition to Dogbone and Infrared, is the production company DreamCrew, which is headed by Jonathan Meisner, Grammy-winning rapper, singer, and actor Drake, and his manager Future the Prince. They're also working with writer and director Drew Pearce, who wrote this script and will helm the production with his company, Point of No Return.
Who is Cooler's director, Drew Pearce?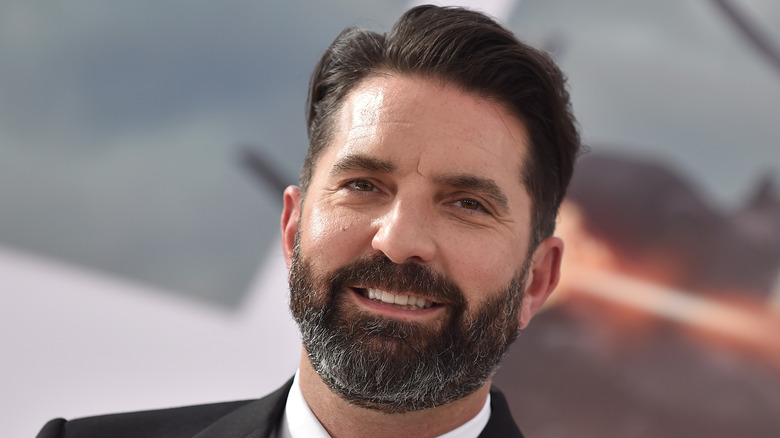 DFree/Shutterstock
Dave Bautista will be reuniting with writer-director Drew Pearce for the new film, "Cooler." The two had previously worked together on "Hotel Artemis," a sci-fi thriller with an all-star cast that also marked Pearce's feature-length directing debut. The 2018 film starred Jodie Foster as a nurse at the titular hotel, which is actually a hospital that treats injured criminals. Bautista starred alongside Sterling K. Brown, Jeff Goldblum, Zachary Quinto, Jenny Slate, Brian Tyree Henry, and Sofia Boutella, among others.
Pearce's star as a writer rose after he co-wrote the popular "Iron Man 3" sequel. He followed that up with "Mission: Impossible – Rogue Nation" in 2015, and 2019's "Fast & Furious Presents: Hobbs & Shaw." He also wrote and directed the Marvel One-Shot film "All Hail the King." The British-born screenwriter broke onto the scene with his 2008 television series, "No Heroics," the first original sitcom for ITV2, according to The Guardian. The series follows four unsuccessful superheroes on their off-duty London exploits — and their lack of fame. ABC even hired Pearce to write an American version of the sitcom, via Wired, which apparently never happened.
Now Pearce is excited to work on his latest script with Bautista. "Dave is one of the most soulful and talented collaborators I've been lucky enough to work with," Pearce told Deadline. "The chance to build an iconic character with him and make the kind of long-dark-night-of-the-soul thriller that I've always loved, is too good to be true."