AMC's Interview With The Vampire Is Restoring This Major Louis Detail That Was Changed In The Movie
Michele K. Short/AMC
AMC's forthcoming "Interview with the Vampire" series is perhaps one of the network's most ambitious undertakings in quite some time. Based on prolific author Anne Rice's book of the same name, which is itself the first entry in her "The Vampire Chronicles" series, "Interview with the Vampire" tells the sweeping tale of the lives of vampires Lestat (Sam Reid), Louis (Jacob Anderson), and Claudia (Bailey Bass). As the title hints, their tales are recounted to journalist Daniel Molloy (Eric Bogosian) by Louis, much as they were in the book.
This isn't the first time that Rice's story has been adapted, as many fans already know. In 1994, Tom Cruise and Brad Pitt starred in a film version of the novel, with a screenplay written by Rice herself. Like most movie adaptations of books, "Interview with the Vampire" changed certain aspects of the story. However, in the upcoming show, one big piece of Louis's story that was changed in the film will finally be restored to its original form. And this particular character detail is one that shifts his motivations in a big way.
AMC's Interview with the Vampire will restore Louis' tragic past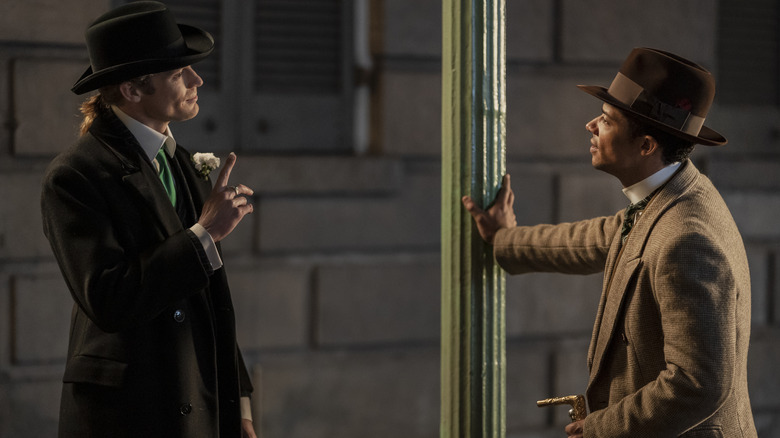 Alfonso Bresciani/AMC
Many fans of the "Interview with the Vampire" movie may remember that Louis recounts the tale of how he lost his wife and daughter, and how this led him down a path of inescapable depression. However, in the novel, it was actually the death of his brother that led to his guilt and disillusionment, as pointed out by Horror Obsessive. According to character descriptions (via The Illuminerdi), Paul will be making an appearance in the upcoming TV adaptation, and he'll be played by Steven Norfleet.
This will seemingly restore Louis' book backstory somewhat, even if the show has changed the timeline and setting of the book to take place in the 1910s. While it may seem like a small change compared to the movie, losing a brother instead of a wife and daughter could lead to unique character dynamics, especially since Paul is described as being extremely religious in the character descriptions and in the novel. How will his brother's death and religious guilt affect Louis in the series? It remains to be seen, but judging by the show's Comic-Con trailer, it will certainly play into things.
"Interview with the Vampire" will premiere on October 2 on AMC and AMC+.