The Only Actors Still Alive From The Cast Of Apocalypse Now
Tinseltown/Shutterstock
"Apocalypse Now" is one of the most celebrated war films of all time. The movie was released in 1979, and while it wasn't the first film about the Vietnam War, many consider it to be the best ever made, while others call it the greatest war movie of all time. The making of "Apocalypse Now" was incredibly difficult for everyone involved, and numerous illnesses, a heart attack, set problems, and scheduling mishaps were chronicled in the documentary "Hearts of Darkness: A Filmmaker's Apocalypse."
Despite all the trouble putting the film together, one thing is clear: It features a plethora of talented actors. The movie is led by Martin Sheen, while Marlon Brando plays the target of his mission, the menacing Col. Walter Kurtz. His work on the film was problematic for director Francis Ford Coppola, but it was also some of the actor's best work. Sadly, Brando died in 2004, and he wasn't the only actor who worked on "Apocalypse Now" to die in recent years.
Numerous talented actors who starred in the movie have since died, leaving remarkably few left alive in mid-2022. Each of the actors on this list played an important role in bringing "Apocalypse Now" to the silver screen — of course, the film includes many actors who are still alive, but their performances aren't as significant as the ones featured here.
Francis Ford Coppola - TV News Director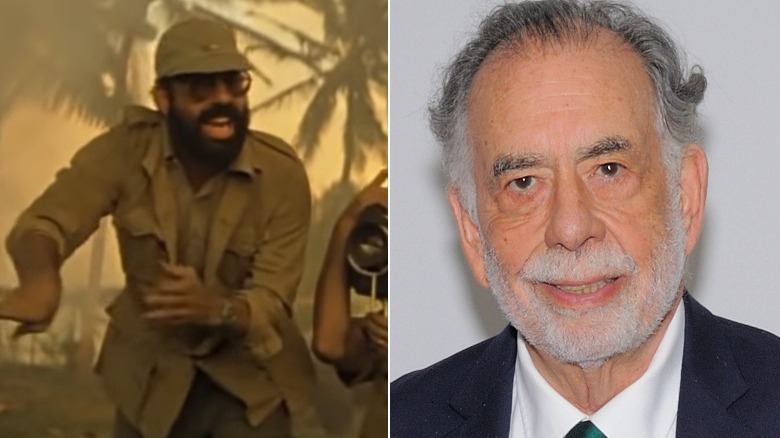 United Artists/Ron Adar/Shutterstock
While he isn't an actor in the traditional sense, the director of "Apocalypse Now," Francis Ford Coppola, did appear in the movie. During a scene with Capt. Willard arriving on a beach, he's surprised to see a documentary film crew. The man directing that crew is none other than Coppola himself, and he yells at Willard not to look at the camera and to keep moving along. Willard is noticeably confused by this unusual situation, but he moves along.
Coppola has been lauded as one of the greatest directors of the New Hollywood movement. "Apocalypse Now" is only one feather in his impressive cap, which also houses "The Godfather" trilogy, "The Conversation," "The Rainmaker," and many more. His directing style and insistence on having complete creative control have resulted in some fantastic films, though many of Coppola's movies have earned little to no money at the box office.
Despite this financial hiccup, Coppola is arguably one of Hollywood's most brilliant filmmakers, and his work is often studied in film schools around the world. These days, Coppola is largely retired from directing, though he's been working on a passion project for years called "Megalopolis." If and when it comes to fruition, it will likely be Coppola's swan song, as he might just retire for good once it's completed.
Colleen Camp - Miss May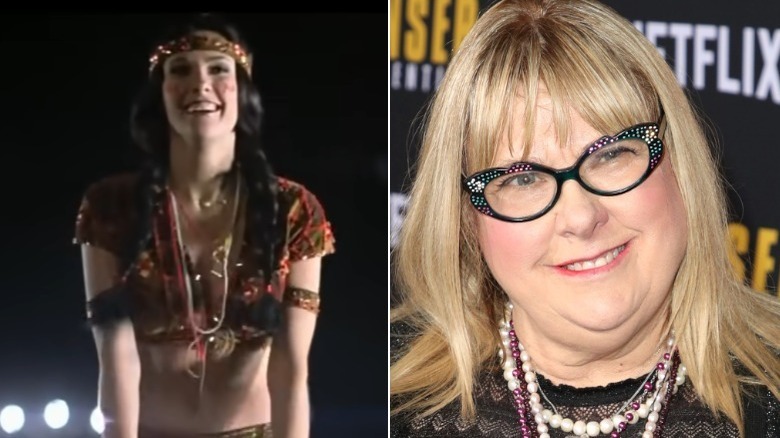 United Artists/Joe Scarnici/Getty
Midway up the river on Capt. Willard's mission to find and eliminate Col. Kurtz, he stumbles upon a USO show. Hundreds of soldiers gather around a stage as a helicopter delivers three Playboy Playmates. They dance and put on a show that's interrupted when the soldiers rush the stage, trying to get their hands on the women. Incidentally, the three Playmates are the only women in the theatrical release who aren't extras — and they don't have any lines.
The theatrical cut doesn't feature a few scenes with them, but "Apocalypse Now: Redux," which was released in 2001, returns them. Colleen Camp played Miss May, the Playmate dressed as a Native American. Camp discussed the scene and her feelings about it in an interview with Playboy, "When I went to the Philippines in November 1976, it changed my life. I was 23 years old. It's martial law; there's 400 men and three women. The sequence that we filmed was unbelievable."
Camp's acting career began with an appearance in "Battle for the Planet of the Apes." She acted in numerous films throughout the 1970s and has worked continuously ever since. She had a recurring role in two "Police Academy" movies but is probably best remembered for playing Yvette, the maid in "Clue."
Tom Mason - Supply Sergeant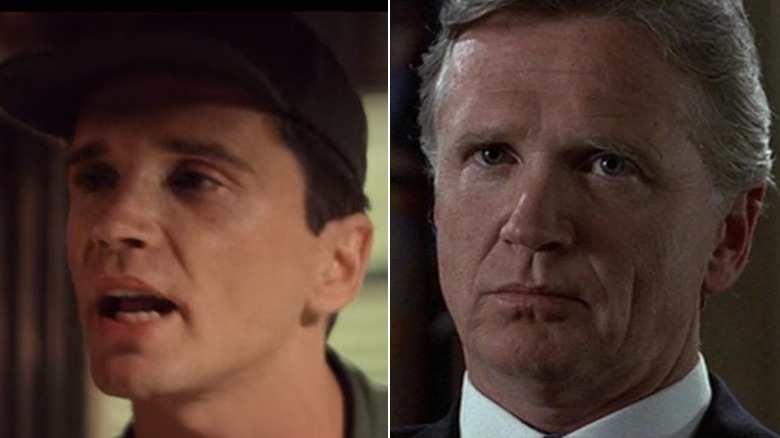 United Artists/NBC
As the group moves further up the river, they find a Forward Operating Base (FOB) operated by a Transportation company. They find a bunch of high-end motorcycles in the supply depot as they approach a Supply Sergeant, played by Tom Mason. They ask for fuel, cigarettes, and more as Capt. Willard approaches. The Supply Sergeant tries to hold him off, and the Captain doesn't want to hear about how busy the man is. He grabs and pulls him down, demands that he supply his men with fuel, and carries on. Later, the Supply Sergeant gives him a bottle of alcohol, saying, "On the house. No hard feelings, huh?"
Mason's role in the film didn't eat up much screen time, but he's gotten plenty of exposure over the years. His role in "Apocalypse Now" was only his second part in a feature film, and it didn't change his career path very much. He started in television in 1978 and continued working in various series and TV movies throughout his career. While he has appeared in several films, he's probably best known for his roles in "Law & Order," "Party of Five," and the TV movie "Too Big to Fail."
Recently, Mason appeared in a 2012 appearance of "White Collar," where he played Winston Bosch in the episode "Judgment Day." These days, he's pretty much retired and enjoying life with his wife of 50-plus years, Cathleen, and their two children.
Herb Rice - Roach
When Capt. Willard finds himself in a series of foxholes, one of the soldiers is unloading his M60 into the tree line, trying to hit a sapper, taunting him and the other G.I.s. After a few ammo belts run through the weapon, one of the soldiers goes to get "the Roach." The soldier he finds, freshly woken up from a drunken stupor, is played by Herb Rice. He takes a moment to come to terms with what's happening before loading his M79 grenade launcher.
With a quick aim, he levels his weapon, which discharges a grenade on top of the enemy, killing them instantly. Roach utters a choice word and speaks with Capt. Willard before returning to his previous position. Despite appearing in arguably the greatest war movie ever, Rice didn't build a career from his experience in "Apocalypse Now." His next film was "Rumble Fish" — another Francis Ford Coppola picture, but that was it.
He only appeared in four productions, including the movie "Youngblood" and "Saturday Night Live," when he played an extra. While his acting credits aren't long, he appeared in two Coppola films, which is impressive for any actor. He still lives in California, but he hasn't been in the industry for some time.
Jerry Ross - Johnny from Malibu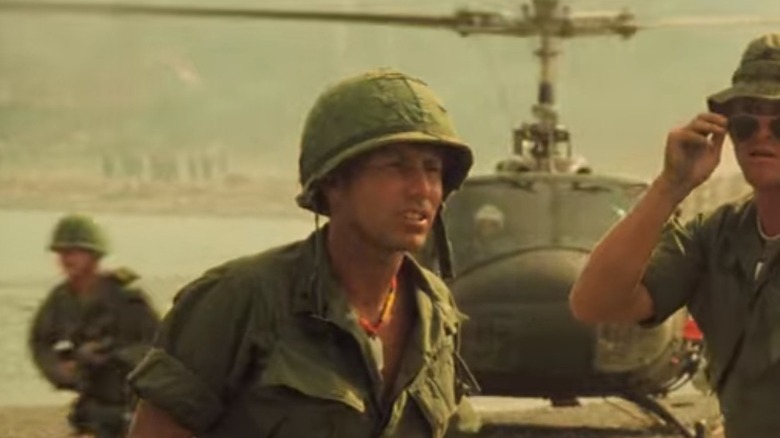 United Artists
One of the most memorable scenes in the movie comes when Lt. Col. William "Bill" Kilgore wanders around a beach after a napalm strike, saying, "I love the smell of napalm in the morning." He kneels shirtless as his men lay in the sand for cover. Shortly before this scene, he stood on the beach under fire, insisting that two of his men either "Surf or fight," and they chose to surf. One of those men was called "Johnny from Malibu," and he was played by Jerry Ross.
Ross' acting career began and ended with "Apocalypse Now," but he didn't leave the entertainment industry. Acting in the movie wasn't a step into a larger world of acting, but it didn't hurt as he developed his career as a sound editor, sound designer, and sound effects editor. That's his primary profession, and while he only has a single acting credit, he has dozens of credits working in the sound department of a myriad of television series and feature films.
Over the years, he's worked on everything from David Lynch's "Dune" and "Raw Deal" to "Heathers" and "Last Action Hero." He's worked on a lot of comedies over the years, and he continues to work today. Some of his recent credits include working as the supervising sound editor on the "Catch-22" Hulu series and 88 episodes of "The Walking Dead." He's been nominated for many awards, including four Primetime Emmy Awards, three of which were for "The Walking Dead."
Kerry Rossall - Mike from San Diego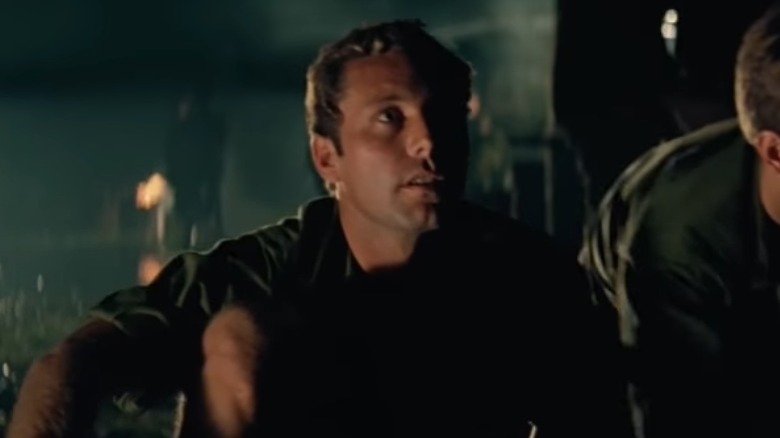 United Artists
The other soldier Kilgore insisted take to the water was another man from California. "Mike from San Diego" was told he could either fight the enemy or surf while under fire. He chose the latter and went out onto the waves amidst incoming indirect fire, surfing as best he could. Kerry Rossall played Mike from San Diego, and like his surfer buddy, he wasn't in the movie for more than a brief scene.
Rossall's acting career was similarly short, though not as short as Ross'. His first on-screen time in a feature film came in "Apocalypse Now," and he continued to appear in various television series and movies throughout the years. He's appeared in 16 projects but never in a leading role. That's because acting isn't his passion — stunts are what he's all about. Rossall has been performing stunts since 1975 and did stunt work on "Apocalypse Now" in addition to his surfing duties.
Rossall has been in a plethora of action movies, including several starring Arnold Schwarzenegger and Sylvester Stallone. Some of his biggest movies include "Red Dawn," "Death Before Dishonor," "Rambo III," "Moonwalker," and "Blades of Glory." He continued working until 2016 and is still active in the industry. His name came up in a lawsuit in 2013 involving another stunt worker who was seriously injured on the set of "Justified," but other than that, he's stayed out of the news.
James Keane - Kilgore's Gunner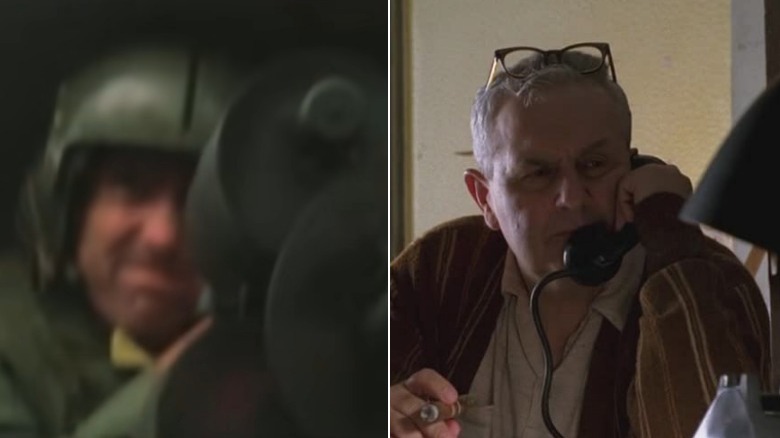 United Artists/AMC
When Kilgore leads his unit on an assault, he turns on a reel-to-reel tape player and enters cinematic history. The "Ride of the Valkyries" plays as the soldiers ready themselves for battle, riding their helicopters to unleash fire and fury on an unsuspecting Vietnamese village. It's a truly disturbing scene, made all the more horrific by the actions of Kilgore's gunner, who was played by James Keane. You can see him killing fleeing villagers with a mounted minigun as the helicopters strafe the village, leaving countless dead in their wake.
Keane spent a long career in front of the camera, beginning shortly before "Apocalypse Now" with a minor role in 1975's "Three Days of the Condor." He continued working in Hollywood, finding his way onto the sets of "Close Encounters of the Third Kind," "M*A*S*H," "48 Hrs.," and much more. He even appeared in "The Wheel," which /Film named one of the best episodes of "Mad Men." He's appeared in numerous television series over the years, but he's probably best known for playing Pat Patton in the 1990 live-action film "Dick Tracy." 
As his career progressed, Keane began doing voiceover work for a variety of projects, including the animated "Spawn" series and "Hey Arnold!" Keane worked steadily from 1975 until he retired from the craft in 2016. His final film credit was another Warren Beatty film, "Rules Don't Apply."
Scott Glenn - Capt. Richard M. Colby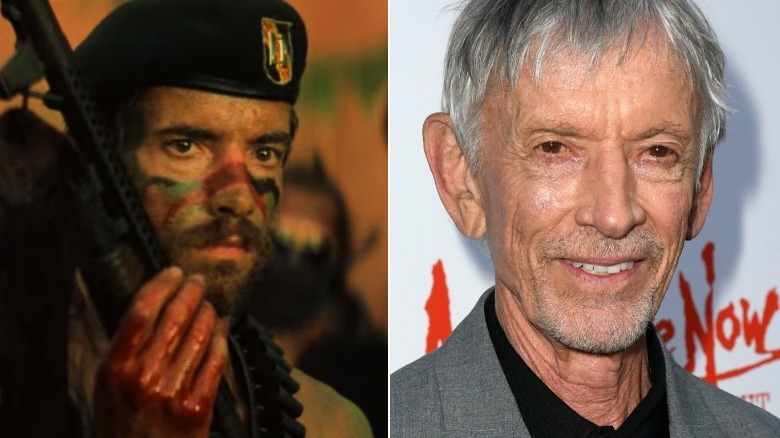 United Artists/Kevin Winter
As he's making his way up the river, Capt. Willard and company arrive at an Army outpost, where he locates a dispatch bag with several documents. He learns that another MACS-SOG operative, Capt. Richard Colby, was already sent on the same mission to find and kill Kurtz. He's shocked to learn that Colby abandoned his responsibilities and joined the man he was sent to kill. Later, when Willard arrives at Kurtz's outpost, he sees Colby standing in a near-catatonic state amongst civilians with blood all over his hands.
Colby was played by veteran actor Scott Glenn, who got the job by talking back to Francis Ford Coppola at his casting call after he was chastised for rolling his eyes during an open call audition. Glenn explained in an interview with The Hollywood Reporter, "These guys are on a boat with the engine turned off, floating down the Mekong River. You scream and yell like that, you're going to have a mortar round in your laps in five seconds." He immediately got the job.
Glenn may look familiar because he's appeared in dozens of popular films and TV series, often in significant supporting roles. His latest roles include playing Stick on the Netflix "Daredevil" series and Alan Pangborn in "Castle Rock." More seasoned fans likely recall Glenn from "Sucker Punch," "Silverado, "The Hunt for Red October," and "Courage Under Fire."
Frederic Forrest - Engineman 3rd Class Jay Hicks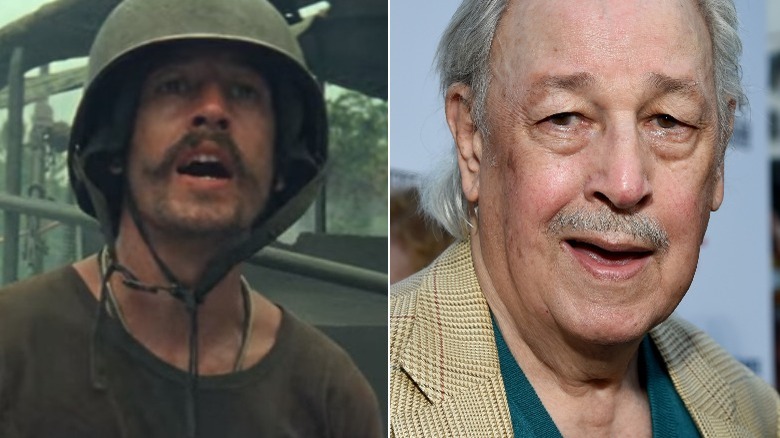 United Artists/Michael Kovac/Getty
After the Patrol Boat, Riverine (PBR) takes some damage and loses personnel, EN3 Jay "Chef" Hicks takes charge of the vessel. Capt. Willard lets him in on the nature of his mission, and they sail right up to Kurtz's outpost. At this point, Willard leaves Chef, instructing him to call in an airstrike on their position if he doesn't return. Unfortunately, Willard is captured and brought before Kurtz while his men kill Chef, eliminating the chance for an airstrike. He's not killed on-screen, and his death is confirmed when someone places his head in Willard's lap.
Chef is played by character actor Frederic Forrest. Forrest got his start in Hollywood in the mid-1960s, appearing in an uncredited role in "Dark Shadows." He landed a role in Francis Ford Coppola's "The Conversation" and must have impressed the director because, in addition to those films, he also appeared in Coppola's "Tucker: The Man and His Dream" and "One from the Heart." 
Forrest spent most of his career working in movies, but he appeared in several television series along the way. In most cases, he's appeared in one-off episodes, but he had recurring roles in "21 Jump Street" and "Lonesome Dove." He received several prominent award nominations throughout his career, including for a Golden Globe and Academy Award. His most lauded role came in 1979's "The Rose," where he played Huston Dyer, a former Army soldier who falls in love with a singer (Bette Midler). Forrest ended his 39-year career in 2006, playing the main character's father in "All the King's Men."
Albert Hall - Chief Petty Officer George Phillips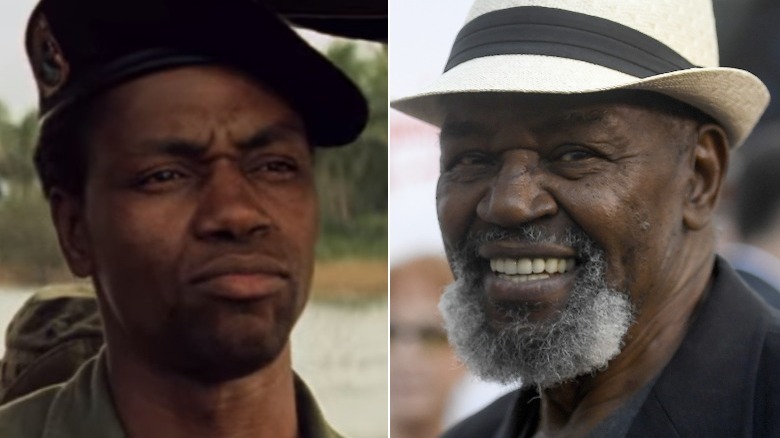 Frazer Harrison/Getty
Chief Phillips was the commander of the PBR when Capt. Willard and his crew started up the Nùng River on his quest to find and kill Kurtz. Knowing the area is hot, Chief is apprehensive about following Willard's orders, so he's let in on part of the plan. This helps to assuage his concerns, but he's less than enthusiastic about it. As the PBR gets close to Kurtz's outpost, it begins to take fire from the shoreline, and Chief blames Willard for their situation. He's impaled with a spear and falls to the deck as Willard catches him. 
As Willard tends to him, Chief tries to pull Willard down onto the spear, but Willard holds him off as he dies. Chief was played by Albert Hall, and he was consistently praised for his performance over the years. Hall began acting in the late '60s, appearing in various TV movies and series, including a walk-on role in an episode of "M*A*S*H." His work in "Apocalypse Now" helped his career, and he spent the next few decades working consistently.
Hall is probably best known outside of "Apocalypse Now" for his roles in "Malcolm X," "Rookie of the Year," and the TV series "Ally McBeal," on which he played Judge Walsh. Hall appears to have retired from acting, as his most recent role was Bruce in "Men of a Certain Age," which saw his final appearance in 2011.
Harrison Ford - Col. G. Lucas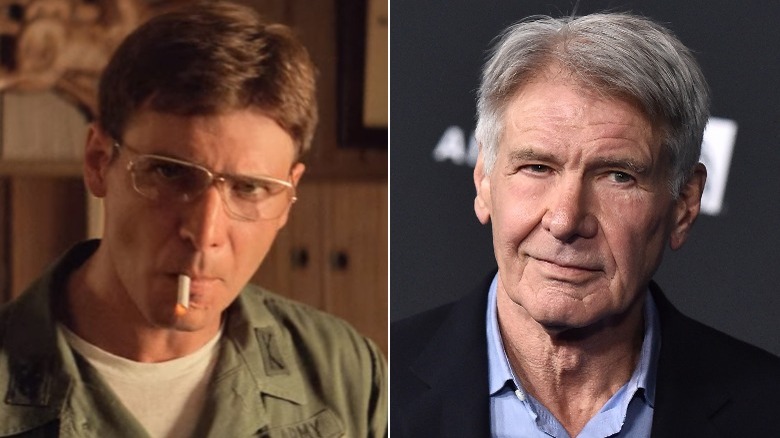 United Artists/DFree/Shutterstock
Col. G. Lucas appears briefly in "Apocalypse Now" during the first act. Capt. Willard finds himself in a room with several high-ranking soldiers, and after a discussion about Kurtz, Lucas speaks plainly, telling Willard what he's being tasked to do. "Your mission is to proceed up the Nùng River in a Navy patrol boat. Pick up Colonel Kurtz's path at Nu Mung Ba, follow it, and learn what you can along the way. When you find the Colonel, infiltrate his team by whatever means available and terminate the Colonel's command." When he asks for clarification, another man says, "Terminate. With extreme prejudice."
Lucas was played by Harrison Ford at a time in his career you might not expect to see him in such a minor role. Two years earlier, he played Han Solo in "Star Wars," and it was a role that helped define his career. (His character is named after George Lucas, who was friends with Francis Ford Coppola and of course directed Ford in "Star Wars.") "Apocalypse Now" was the second Coppola film Ford appeared in, having played Martin Stett in "The Conversation" five years earlier. Two years after "Apocalypse Now," Ford would play another career-defining role in "Raiders of the Lost Ark."
Ford's career is full of similar roles, as he's dominated the box office in some of the 20th century's most significant films. He played Deckard in "Blade Runner," Jack Ryan in "Patriot Games" and "Clear and Present Danger," and Dr. Richard Kimble in "The Fugitive." Ford's career has been extraordinary, and "Apocalypse Now" was only one stop on a long road to cinematic success.
Robert Duvall - Lt. Col. William Kilgore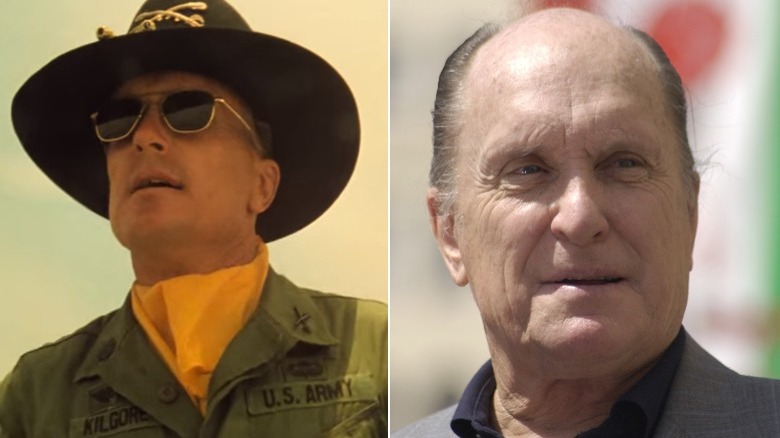 United Artists/Featureflash Photo Agency/Shutterstock
As he sets out on his mission, Capt. Willard makes his way to Lt. Col. William "Bill" Kilgore's 1st Squadron of the 9th Cavalry Regiment. The Cav unit transports the PBR, enabling Willard to embark on his mission up the river. Kilgore is an amalgamation of various military commanders from history, including George Patton, Col. Stockton, and others. He barely notices mortars exploding around him as he instructs his soldiers to surf the waves, and much of his dialogue is about how the waves break.
While his priorities aren't aligned with the usual good order and discipline expected of a lieutenant colonel, his men follow him to hell and back. Robert Duvall played Bill, and the lieutenant colonel became one of the most iconic characters of his career, earning him an Oscar nomination. Duvall got his start in television in 1960, and his first feature film role was another classic character, Boo Radley, from "To Kill a Mockingbird." He continued working in television as he branched out into film, where he gained significant attention.
He played Maj. Frank Burns in "MASH," Tom Hagen in "The Godfather" and "The Godfather Part II," and so much more. He appeared in five Francis Ford Coppola pictures throughout his impressive career, earning numerous accolades. He won the Best Actor Academy Award for his work in "Tender Mercies" and won many more awards. Duvall turned 91 in 2022, and he continues to work. His most recently released film is 2022's Netflix basketball drama "Hustle," and there's no indication he plans on retiring anytime soon.
Laurence Fishburne - Gunner's Mate 3rd Class Tyrone Miller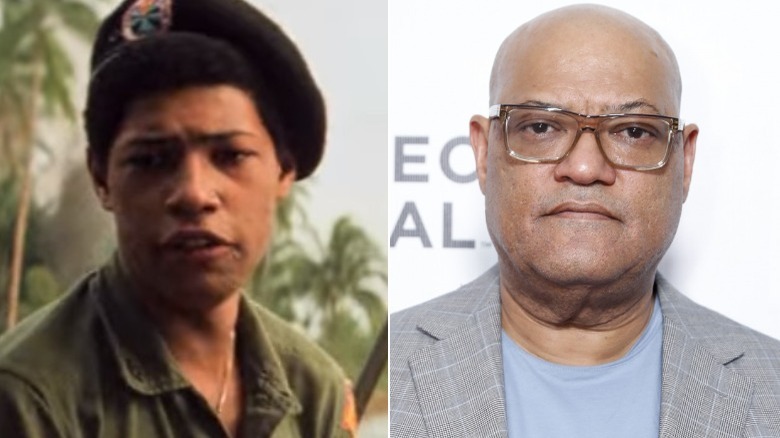 United Artists/John Lamparski/Getty
Gunner's Mate 3rd Class Tyrone "Mr. Clean" Miller is a cocky and outspoken member of Chief's crew on the PBR as Capt. Willard makes his way up the river. He's got a few impressive scenes in the film, but he doesn't stay on the boat for long. After getting high on LSD, Lance sets off a smoke grenade, drawing the enemy's attention. The ensuing firefight kills Mr. Clean, who was played by Laurence Fishburne. When he was initially cast for the role, Fishburne lied about his age, as he was only 14 at the time.
Because production took such a long time and had so many complications, Fishburne was old enough to play the 17-year-old character by the time "Apocalypse Now" wrapped. Mr. Clean wasn't his first role, but it significantly boosted his career. "George Stroumboulopoulos Tonight" called it "the little lie that launched Laurence Fishburne's career." Fishburne's career took off after "Apocalypse Now," and he went on to appear in numerous films and television series. He's been involved in six Francis Ford Coppola movies, and it all began with "Apocalypse Now."
These days, Fishburne is best known for his recent work as Morpheus in the "Matrix" franchise and the Bowery King in the "John Wick" franchise. He also played Pops throughout "Black-ish" and has never had a problem switching from TV to film and back again. Fishburne has never slowed down, and he continues to work on various films as he enters his 50th year in the industry.
Martin Sheen - Capt. Benjamin Willard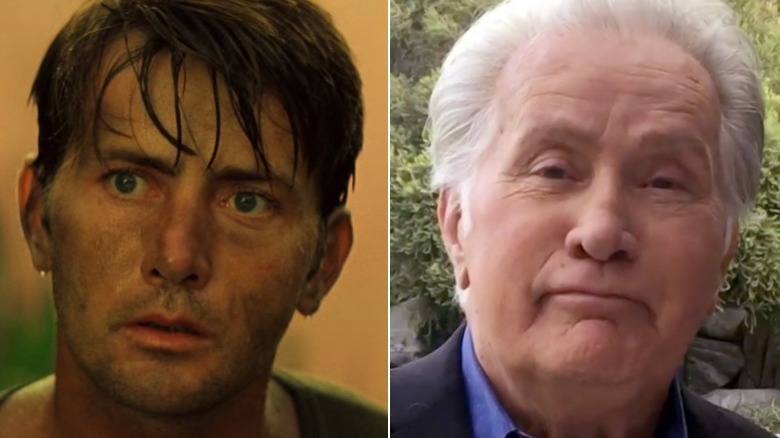 United Artists/Arturo Holmes
Capt. Benjamin Willard begins the film in a drunken, enraged stupor before he's summoned to a meeting by the brass. Once some forcefully helpful troops clean him up, he arrives to learn about a renegade colonel who's operating without limits outside the chain of command. Willard is tasked to kill the rogue Col. Kurtz "with extreme prejudice" and embarks on that mission. When he finally meets Kurtz, he witnesses some horrific brutality, which he returns in kind. Willard hacks away at Kurtz, leaving him to die as he utters, "The horror ... the horror," recalling his words from earlier in the film. Martin Sheen played Capt. Willard in the movie and earned significant acclaim for his work. He was nominated for the BAFTA Film Award for Best Actor for his role as Willard, and he's been nominated and won numerous awards throughout his career, including 10 Emmy nominations.
Sheen has spent a lifetime working in hit television series and films. He won critical acclaim for his portrayal of President Josiah Bartlet in "The West Wing," and more recently, he played Robert Hanson throughout "Grace and Frankie." Sheen's most notable performances besides "Apocalypse Now" came in films like "The Departed," "Badlands," and "The American President." Sheen has shown no sign of slowing down and has even done some voiceover work for numerous projects, including a few video games.