AMC's Interview With The Vampire Is Leaning Into Louis And Lestat's Relationship In A Crucial Way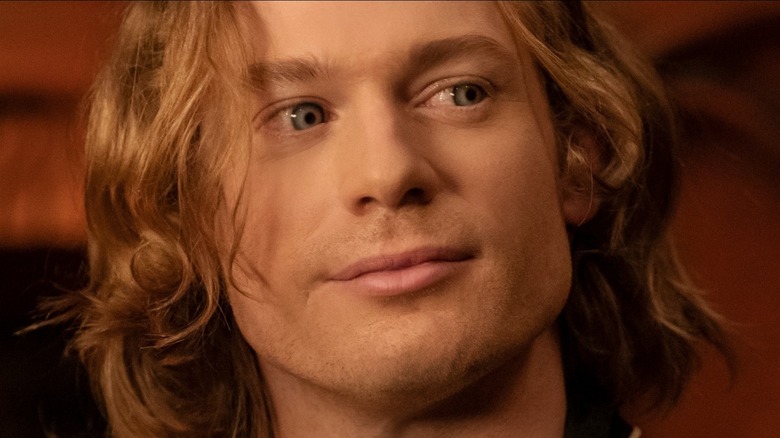 AMC
The new AMC series, "Interview with the Vampire," which is based on the 1976 novel of the same name by Anne Rice, is nearing its release date of October 2, 2022. The new series follows in the footsteps of a previous adaptation of the novel: the 1994 film starring Brad Pitt and Tom Cruise as tortured vampires Louis de Pointe du Lac and Lestat de Lioncourt. The new series sees Jacob Anderson and Sam Reid taking over the roles of Louis and Lestat, respectively.
Developed for television by Rolin Jones, "Interview with a Vampire" follows the life of Louis, as told to interviewer Daniel Malloy (Eric Bogosian), as he decides to give into Lestat's offer to become a vampire in 1910s New Orleans in order to attempt to escape the limitations of being a Black man in society. Then, the pair's vampire lifestyle is soon expanded to include Claudia (Bailey Bass), a child vampire.
As expected with any new adaptation, the new AMC series is making some updates from the book (and from the 1994 film). And one of the most major updates has to do with the relationship between Louis and Lestat.
Louis and Lestat are lovers in the new series
In the 1976 novel and the 1994 film, Louis and Lestat are merely companions, and, even though there may be sexual tension, it is never outright stated that the two have ever engaged in any kind of physical intimacy. However, this is not the case for the series, which depicts Louis and Lestat's relationship as romantic. In the trailer, Louis says, "[Lestat] was my murderer, my mentor, my lover, and my maker."
In a September 2022 interview with Yahoo!, Lestat-portrayer Sam Reid discussed bringing the complicated relationship between Lestat and Louis to life. Describing the characters' relationship, Reid said, "This is a really toxic relationship, but there's so much love and desire and tension. It's not a sexual tension because we get that out of the way quite quickly." He continued that their dynamic is difficult to define exactly, as they go back and forth between trying to destroy one another and then coming back to each other. This made it exciting for Reid as an actor to get to play around with.
Reid also clarified that there is no beating around the bush when it comes to the nature of their romantic relationship. The actor said, "In terms of the queerness of the relationship, that's pretty straightforward — it's definitely not queer-coded. They're in a romantic relationship ... It's much more fun to play a relationship as opposed to people [who] are working out how to be in a relationship."