Ana De Armas' Rigorous Preparation To Play Marilyn Monroe In Blonde Explained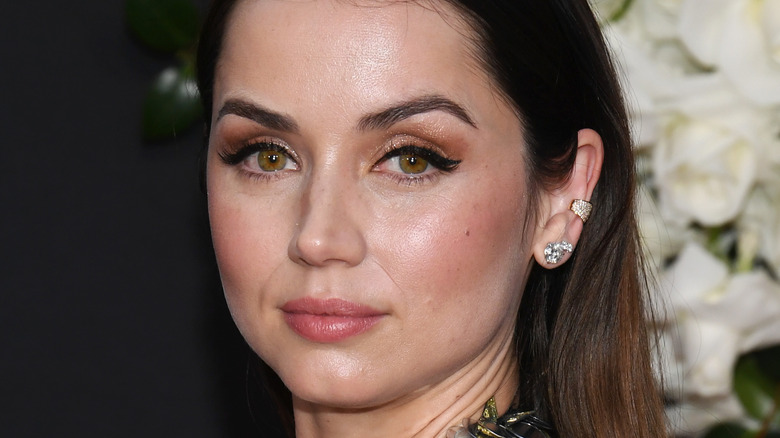 Jon Kopaloff/Getty Images
The newest film peeking into iconic film star Marilyn Monroe's life is "Blonde," which was written and directed by Andrew Dominik and based on the fictionalized interpretation of the star's life depicted in the 2000 Joyce Carol Oates novel of the same name. The film follows Marilyn, whose real name was Norma Jeane, from her difficult childhood through various moments of her career and personal life. At the center of the film is Ana de Armas, who plays the leading role of Marilyn.
"Blonde," which premiered at the Venice Film Festival in early September 2022 before being released to Netflix in late September, has received mixed reviews — it currently holds a 50% Tomatometer score on Rotten Tomatoes. Amongst concerns over the graphic nature (it even received an NC-17 rating, a first for Netflix), the film has received the bulk of its criticism for the way that the actress' life is depicted — NPR, for one, declared, "'Blonde' the new Marilyn Monroe biopic, is an exercise in exploitation, not empathy."
However, most of the praise the film has received has been for de Armas' performance as Marilyn. Jason Guerrasio from Insider wrote, "While the movie is often agonizing to watch, Ana de Armas is its saving grace ... de Armas gives one of the best performances I've seen this year."
With her performance in the divisive film now firmly in the spotlight, you may be wondering what de Armas did to prepare for the role. Well, it was no small amount of preparation — here's the actor's rigorous process explained.
Ana de Armas began prepping to play Marilyn while filming Knives Out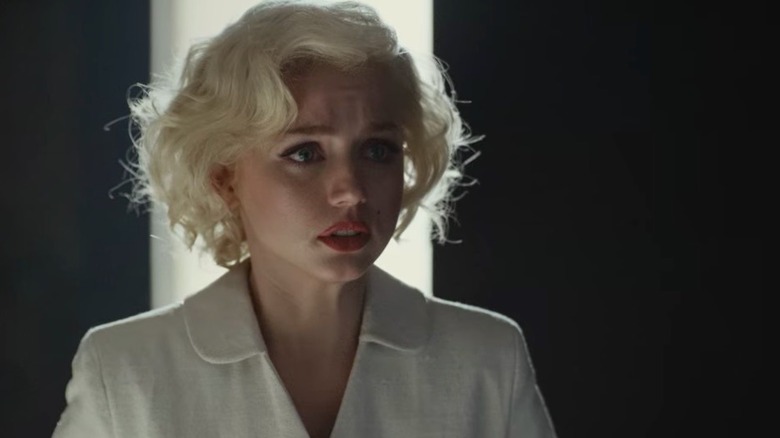 Netflix
In a September 2022 interview with Variety, Ana de Armas detailed her process of becoming Marilyn Monroe for the screen. Her preparation period began before she was even finished filming "Knives Out," the 2019 Rian Johnson murder mystery in which de Armas starred. In order to prepare for her final screen test for "Blonde," de Armas would put in hours of work after shooting "Knives Out," working with an accent coach to perfect Monroe's voice and work around her own Cuban accent.
Then, nervous about getting the voice right for the final screen test, de Armas brought her voice coach to the test with her, having the coach hide under the table to help her with the correct pronunciations. De Armas explained, "So my coach was crouching on the floor, under the table. I just knew that everything we did that day was going to be the definitive test of the movie to be greenlit or not."
Once the shooting for "Blonde" began, de Armas spent her off hours learning the choreography for the musical scenes in the film (which are recreations of Monroe's actual scenes from various movies). For instance, de Armas had just one weekend to learn the choreography for the recreation of Monroe's famous "Diamonds Are a Girl's Best Friend" musical number.
Ana de Armas fully embodied Marilyn's emotional state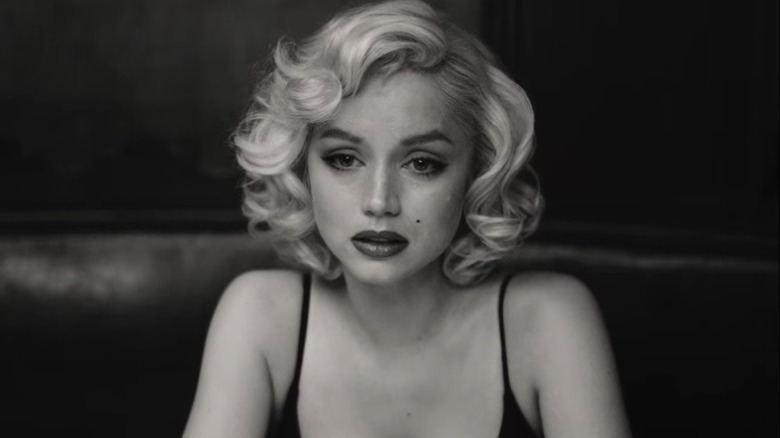 Netflix
Firstly, she stayed true to some key advice from director Andrew Dominik. The actress said, "He put me in a very, very specific emotional state. Just imagine for a second that you can't express anger. What that does to you is definitely not healthy." Additionally, Dominik chose not to call cut to give de Armas more freedom. Dominik told Variety, "She tried to surprise herself — always the best takes are the ones where the actor says, 'I don't know what the f*** I just did.'"
Further, she admitted that the whole process gave her great sadness. She explained, "I felt heavy. I felt helpless that I couldn't change what was happening. I just had to go through a story that I know how it's going to end." Thus, in order to give herself breaks from the emotional toll of playing Marilyn, she would not stay in character in between takes.
The process also involved finding the differences between Norma Jean and her persona, Marilyn Monroe. Of finding both identities, de Armas said, "I could see Norma quicker than I saw Marilyn. I could feel her in my body."
Ana de Armas felt unable to grieve the loss of the character after filming wrapped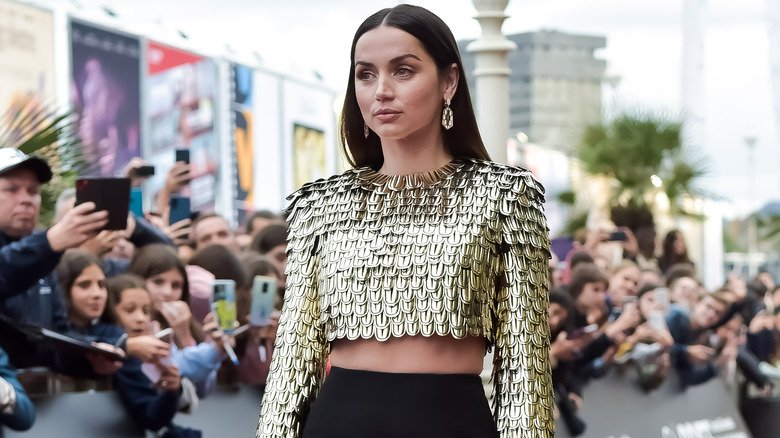 Juan Naharro Gimenez/Getty Images
Immediately after wrapping "Blonde," Ana de Armas had to fly to London to shoot her next film, the James Bond film "No Time to Die," in which she plays CIA agent Paloma. Because she went straight into shooting something else, de Armas confessed to Variety that she felt she didn't have adequate time to grieve Marilyn, and at the end of her time embodying her, de Armas said, "I couldn't shake it off. I couldn't let her go. I went to visit her at her cemetery a few times — I would have liked to go one more time."
Because she was still trying to shake off Marilyn while filming "No Time to Die," de Armas thinks that Paloma has a bit of Marilyn in her as a result. The actress explained, "I am sure that there is some Marilyn in [Paloma]. There is! Her energy and her charm and this thing where she was lit from the inside — Paloma stole a little bit of her."
And years after filming both movies, de Armas finally got to experience "Blonde" in a theater full of other moviegoers, at the Venice Film Festival, after seeing it on her own several times. She described the experience of watching it in a theater to be bigger and more immersive. The actress concluded, "It was like a double image. We were looking at the people looking at her. It was such a surreal point of view."