The Subtle Sly Moore Reference You May Have Missed In Andor Episode 4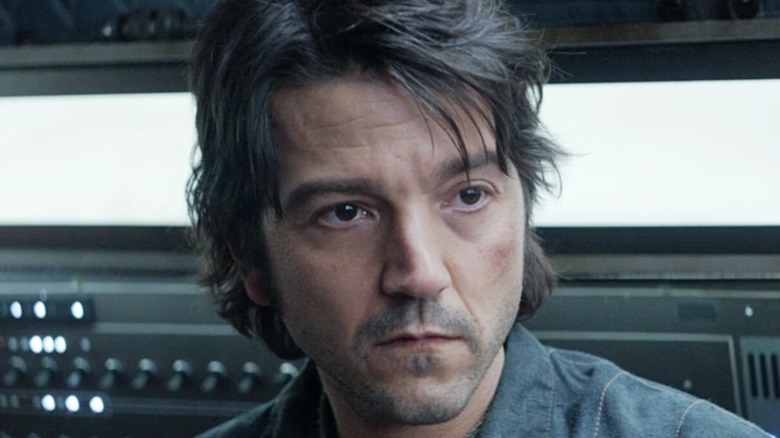 Lucasfilm/Disney+
"Andor" is off to a strong start on Disney+. The first three episodes of the "Star Wars" series premiered last week and received praise from fans and critics alike. IGN related it to "Blade Runner" and stated that "Andor" brings a grown-up tone to "Star Wars" that's delivered thanks to masterful performances in front of and behind the camera. 
Although the reception of "Andor" has been overwhelmingly positive, many outlets pointed out the show's lack of Easter eggs and connections to the greater "Star Wars" universe. While not an issue, it's a surprising move that goes against the typical model for "Star Wars" content on Disney+. Showrunner Tony Gilroy told IGN this was the plan from the beginning, saying, "We didn't want to do anything that was fan service. We never wanted to have anything ... the mandate in the very beginning was that it would be as absolutely non-cynical as it could possibly be, that the show would just be real and honest."
Gilroy clearly doesn't want "Andor" to follow suit behind "Obi-Wan Kenobi," a show built on the idea of fan service. While both shows are excellent in their own way, "Andor" is taking fans to new corners of the "Star Wars" universe by exploring planets like Aldhani and showing the Empire's effects across the galaxy. 
Even though "Andor" is sticking to its plan of no Easter eggs and fan service, if you can believe it, Episode 4 gave fans the slightest hint of a "Star Wars" reference.
The following contains spoilers for "Andor" Episode 4.
Mon Mothma name-drops Sly Moore in Andor Episode 4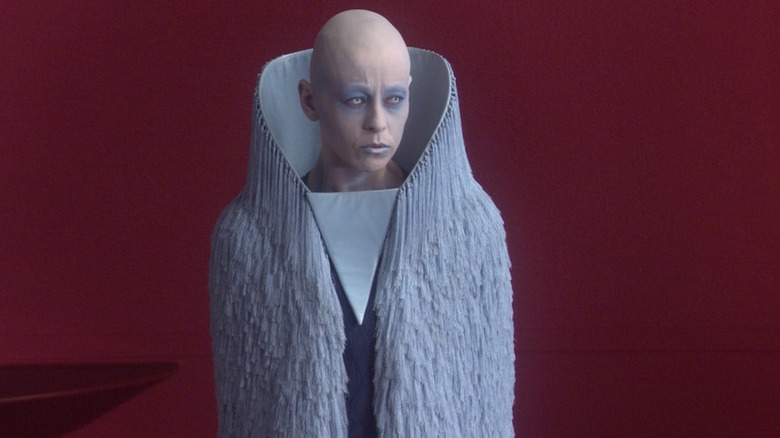 20th Century Fox
While it may have gone over the heads of casual viewers, devote "Star Wars" fans caught the subtle reference to Sly Moore in "Andor" Episode 4.
During the episode, Mon Mothma takes a trip to Rebel leader Luther Rael's antique collection on Coruscant, discussing money transfers for the Rebellion during their meeting. Mothma returns home to her husband, who's planning a large dinner for the governor of Hanna. Mothma clearly has too much on her plate, balancing her duties as a senator and a vital figure in the Rebellion, as she forgot about the event altogether. She and her husband exchange back-and-forth banter before she looks at the guest list, which includes many of her political enemies and one Sly Moore.
Don't be ashamed if you didn't realize this was a reference. The ever-so-subtle name drop is a relatively obscure character in the "Star Wars" mythos. Even though she appeared in both "Attack of the Clones" and "Revenge of the Sith," she has not had a speaking line.
Sly Moore is an Umbaran senator who served as one of Supreme Chancellor Palpatine's closest allies. Known for her quiet demeanor, pale face, and bald head, she's one of the few characters that knew that Palpatine was actually Darth Sidious. Moore had the telepathic ability to manipulate the minds of other political figures and get them to reveal their secrets. In the "Star Wars" Legends canon, she had a secret romantic relationship with the Emperor, earning her the title Queen of the Empire.
However, her undying loyalty to Sidious shouldn't be confused with loyalty to the Empire. Revealed in "Darth Vader" #13, Moore conspired to assassinate Darth Vader.