Logan Director James Mangold Responds To Hugh Jackman's Decision To Reprise Wolverine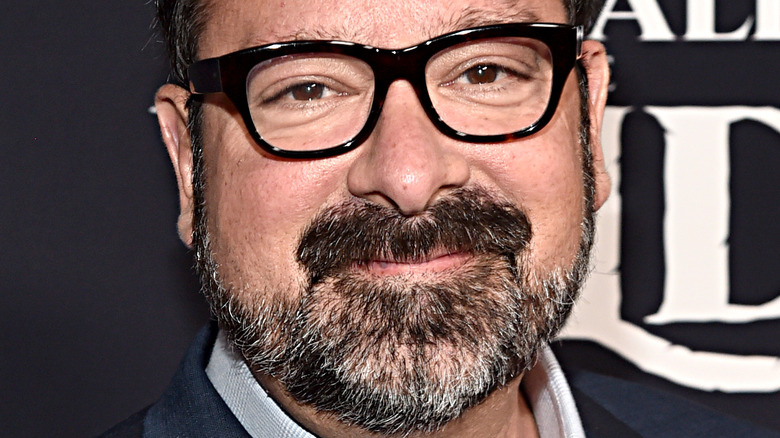 Alberto E. Rodriguez/Getty Images
"Deadpool" fans were in for a massive treat with an unexpected announcement regarding the long-awaited "Deadpool 3." In the Merc with a Mouth's first installment in the Marvel Cinematic Universe (after Disney, who previously purchased Marvel, acquired 20th Century Fox and the X-Men/Deadpool), it's clear now that he'll be bringing a beloved mutant along on an insane adventure. The reveal included a special appearance by Hugh Jackman, confirming he will once again be reprising his iconic role as Wolverine. 
The news, while exciting nevertheless, sent some fans into a dizzying tailspin, wondering how it would affect the universally acclaimed 2017 hit "Logan." In the film, Wolverine is finally laid to rest (even with his regenerating abilities, he canonically died), marking the end of Hugh Jackman's astounding depiction of Logan. Even in the multiversal madness currently taking place in the MCU, "Logan" was always treated as an untouchable bookend.
Through "WandaVision," "Doctor Strange in the Multiverse of Madness," and "Ms. Marvel," we've seen the breadcrumbs of the X-Men's debut teased for eager audiences. In "Ms. Marvel," the forbidden "M" word was finally uttered, confirming for fans that mutants would ultimately be ingrained into the MCU. With Jackman's return as Wolverine, we have our clearest depiction of the MCU's X-Men yet, prompting the "Logan" director to enthusiastically comment. 
The director himself is ecstatic for a Wolverine/Deadpool team up
James Mangold isn't too worried about the expanding MCU tampering with his "Logan" sendoff. The world of comic books are often wildly imaginative, unpredictable, and consistently evolving to shape story and evade death. No character is more evident of this than the yellow spandex-wearing slasher Wolverine. 
Mangold tweets about his excitement for "Deadpool 3" putting those worried fans at ease: "Oh my gosh! Everybody chill. Just kidding! I'm all good! LOGAN will always be there. Multiverse or prequel, time warp or worm hole, canon or non-canon or even without a rationale, I cannot wait to see what [madness] my dear friends @VancityReynolds and @RealHughJackman cook up!" He flexes his love and knowledge of comic lore here by commenting on its expanding narrative style that becomes increasingly malleable with time. His reaction is refreshing and assures fans that "Logan" will remain a staple of Wolverine's story. 
Ryan Reynolds (Deadpool) and Hugh Jackman uploaded another comical video to tease their upcoming film that also sheds some light on the issue. They immediately address how Wolverine is still alive after "Logan," which Reynolds takes the reins to clarify. "'Logan' takes place in 2029 — totally separate thing. Logan died in 'Logan,' we're not touching that." This also implies that "Deadpool 3" will take place before the events of "Logan" (rather than in another universe), which could be more interconnected to the current MCU.