12 Best Movies Like The Master To Watch Next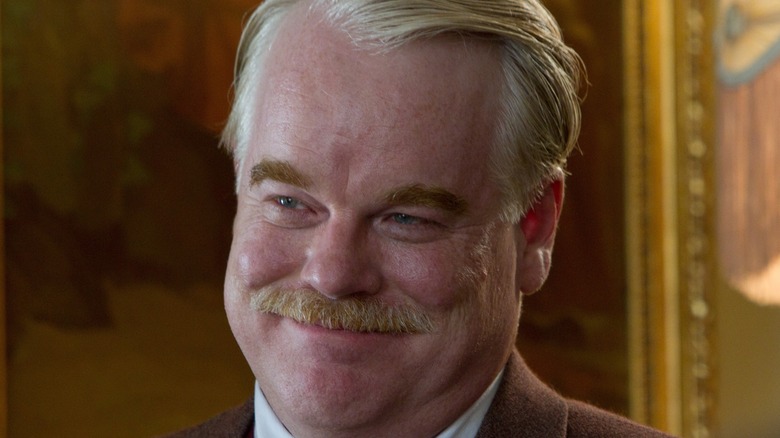 The Weinstein Company
The following article includes references to sexual assault, suicide, alcoholism, addiction, and spiritual abuse.
Paul Thomas Anderson's "The Master" was released in theaters on September 14th, 2012 and it remains as mesmerizing as ever. The psychological drama follows self-destructive Navy veteran Freddie Quell (Joaquin Phoenix) as he returns home after serving in World War II and struggles to reacclimate to American society. His wartime experiences leave him with post traumatic stress disorder, rendering him prone to fits of rage and violent outbursts. He abuses alcohol, often drinking himself into oblivion with his homemade paint thinner-based moonshine.
When Freddie's co-worker samples his concoction and goes comatose, he is accused of poisoning the man and flees to San Francisco, sneaking aboard a sailing yacht. There, he is introduced to the man everyone calls "Master:" Lancaster Dodd (Philip Seymour Hoffman), leader of the philosophical movement The Cause. 
Lancaster invites Freddie to partake in The Cause's signature technique called "processing," in which subjects are recorded, as they are asked invasive questions in order to access their subconscious and expel trauma endured in past lives. Wayward Freddie obliges and Lancaster elicits in him a profound breakthrough that earns him Freddie's loyalty and protection as they wage a cross-country tour to recruit new followers and promote The Cause.
Led by an astounding trio of Oscar-nominated, career-best performances Phoenix, Amy Adams, and Hoffman, "The Master" is a hypnotic kaleidoscope of psychology, sexuality, religion, and power. Films this bold and assured do not come around often, but here are 12 that successfully plumb similar thematic depths.
Warning: spoilers below.
Martha Marcy May Marlene
Another film that effectively explores relationship dynamics within a cult is Sean Durkin's "Martha Marcy May Marlene." The indie drama trails the story of Martha (Elizabeth Olsen), who is recruited by her close friend Zoe (Louisa Krause) to join a commune living off the land in Upstate New York, led by charismatic Patrick (John Hawkes). What first appears to be a hippie, off-the-grid family quickly reveals itself to be a cult with a rigid power structure subjugating its female members to the whims of Patrick and his cohorts Watts (Brady Corbet) and Max (Christopher Abbott).
While "The Master" charts Freddie's trajectory within The Cause in a propulsive, linear fashion, "Martha Marcy May Marlene" employs a flashback structure. Durkin weaves together Martha's two years in the cult and the sexual abuse she suffers at the hand of Patrick, her eventual escape, and the present in which she hides out at the vacation home of her sister Lucy (Sarah Paulson) and brother-in-law Ted (Hugh Dancy). 
Martha suffers from panic attacks while re-adjusting to living in traditional society. She begins to see what may or may not be hallucinations of cult members stalking her, channeling the unsettling reality that she may never feel she has ever truly escaped.
If you or anyone you know has been a victim of sexual assault, help is available. Visit the Rape, Abuse & Incest National Network website or contact RAINN's National Helpline at 1-800-656-HOPE (4673).
If you or someone you know is dealing with spiritual abuse, you can call the National Domestic Violence Hotline at 1−800−799−7233. You can also find more information, resources, and support at their website.
Krisha
Before Freddie becomes ingratiated into Lancaster's fold in "The Master," his closest relationship is with alcohol. Freddie's alcohol tolerance is so strong that he resorts to drinking paint-thinner to get drunk. His alcoholism frequently renders him a liability and jeopardizes his position within The Cause, so much so that Peggy (Amy Adams) expresses to Lancaster that she fears he will be their movement's ultimate undoing.
For another harrowing, but more touching exhibition of a character who is powerless over their addiction, check out Trey Edward Shults' directorial debut "Krisha," which is perhaps the most upsetting holiday movie of all time. The shoestring-budget independent drama focuses on troubled, recovering addict Krisha (Krisha Fairchild), who surprises her family by showing up on Thanksgiving morning after being AWOL for a decade, claiming to have gotten sober in the interim. 
But when her appearance starts to open old wounds and evoke unease in the family, her anxiety spikes and she spirals, sneaking prescription drugs in between swigs of wine. Although both Freddie and Krisha turn to substances for different reasons — escape and comfort, respectively — they are both controlled by their addictions and each film offers a different but equally powerful portrayal of that.
If you or anyone you know needs help with addiction issues, help is available. Visit the Substance Abuse and Mental Health Services Administration website or contact SAMHSA's National Helpline at 1-800-662-HELP (4357).
Taxi Driver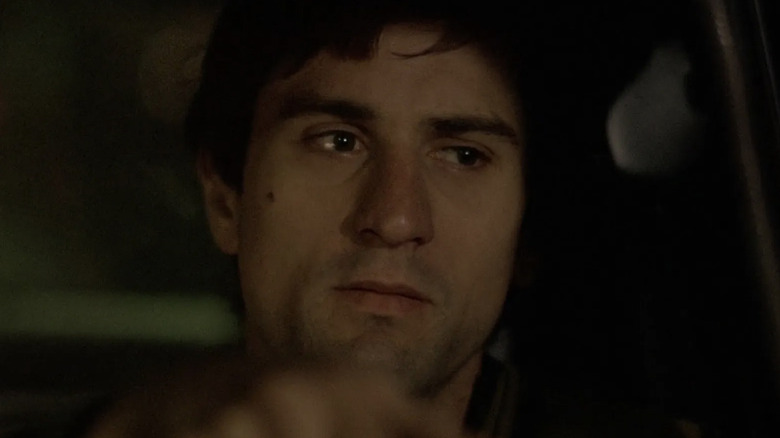 Columbia Pictures
In "The Master," Lancaster shoulders Freddie's mental health issues as his own. However questionable his intent, he provides Freddie with the emotional support he has lacked his whole life. But in Martin Scorsese's 1976 thriller "Taxi Driver," Travis Bickle (Robert De Niro) is forced to cope with his existential crisis alone and head-on.
Like Freddie, Travis is a combat veteran with post traumatic stress disorder. He returns home to crime-ridden mid-1970s New York City and finds work driving a taxi, but he does not recognize the immoral world around him, nor his place in it. The horrors he witnessed during his service as a U.S. Marine in the Vietnam War have rendered him something of a misanthrope. 
He is unable to connect with other people and leads a solitary life until he meets Betsy (Cybill Shepherd), a volunteer working on a senator's presidential campaign. Travis' alienation from society leaves him incapable of gauging social cues, which he demonstrates by taking Betsy to a sordid Times Square pornography theater on their first date, then again when he shows up at her office and chastises her for not enjoying their night together. 
In Travis, Scorsese and screenwriter Paul Schrader authored the modern cinematic incel antihero, crafting a chilling look into the mind of a short-fused time bomb.
Suspiria (2018)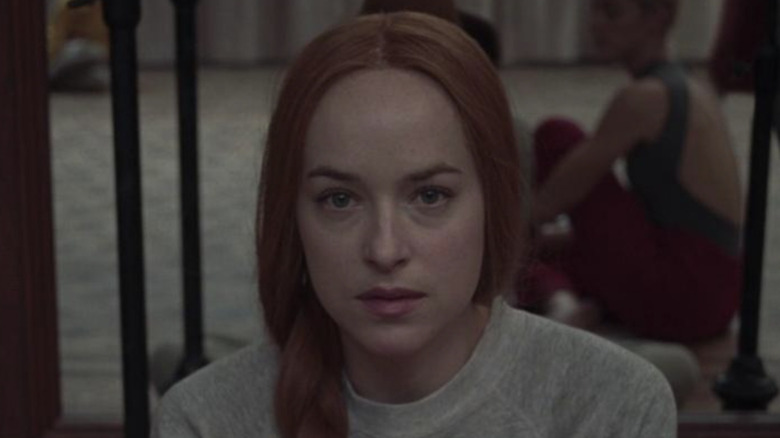 Amazon Studios
Luca Guadagnino's bold reinterpretation of Dario Argento's classic horror film "Suspiria" is an alluring look at how lost souls like Freddie can find solace in communities that afford them the opportunity for self reinvention. Guadagnino grounds his "Suspiria" firmly in the chaotic world of 1977 Berlin, where the Wall still stands and divides a city rife with political upheaval and terrorist activity. 
Gifted dancer Susie Bannion (Dakota Johnson) heads to Berlin for an audition at the world-renowned Markos Dance Company. Susie is driven to impress the company's artistic director and show choreographer, Madame Blanc (Tilda Swinton), with the same determination Freddie feels to prove his devotion to Lancaster and The Cause.
Like Freddie, Susie is burdened with a traumatic past, often haunted by nightmares of her unresolved familial conflicts back in Ohio and her sickly mother. But once Susie is accepted into the dance company, she makes herself indispensable to Blanc by positioning herself as Blanc's artistic muse. Susie is not deterred when she learns that the school is run by a coven of witches, instead finding kinship in her new community and a newfound sense of self worth in being a part of something larger than herself — even if turns out to be quite sinister.
Midsommar
The first time the word "cult" is spoken in "The Master" is during a processing event when a guest questions Lancaster about The Cause's scientific validity. He suggests that without data to prove Lancaster's claims, followers of The Cause are blindly following one man's word — the very basis of a cult. The accusation holds some truth, as it strikes a vein in Lancaster that prompts him to shriek obscenities at the man. Paul Thomas Anderson deliberately keeps The Cause somewhere between a religious organization and cult. 
For those in search of more overt religious cult thrills, Ari Aster's Swedish folk horror "Midsommar" should be your next watch. When a group of American college students visit a remote, isolated Swedish colony to attend the annual Midsommar festival, they are enchanted by the people's warm welcome and rich traditions. But after witnessing a brutal self-sacrifice ritual, Dani (Florence Pugh) and Christian (Jack Reynor) begin to realize that beneath the seemingly idyllic surface of the colony lurks a violent history. 
The psychological horrors of "The Master" are more cerebral, whereas in "Midsommar" they are rendered physical and feature some of the mostly ghastly imagery in recent horror films.
First Reformed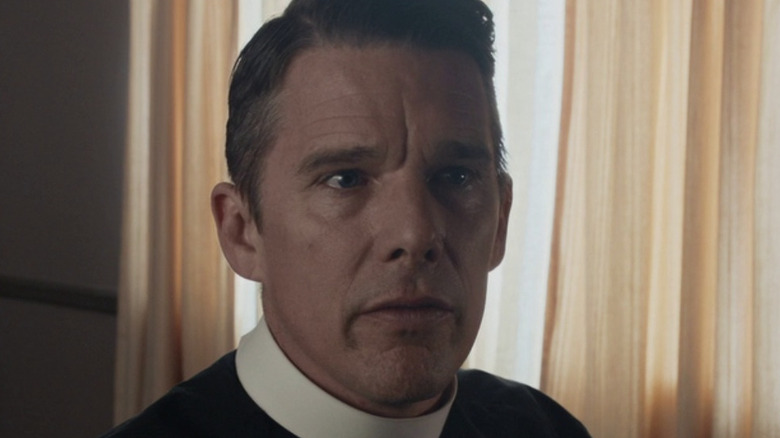 A24
The sequence depicting Freddie's crisis of faith is one of the most powerful of "The Master." Lancaster encounters naysayers of The Cause at public events and becomes distracted by Freddie's antics, which begin to affect his focus on writing his next sacred text, Book Two. The seed of doubt is planted firmly in Freddie's mind after Book Two's release is met with a negative reception that criticizes Lancaster's prose to have taken on the tone of science fiction instead of philosophy.
Another startling portrayal of a crisis of faith can be found in Paul Schrader's Oscar-nominated drama "First Reformed." The bleak character study focuses on Ernst Toller (Ethan Hawke), a pastor presiding over First Reformed Church, a 250-year-old congregation that has become more of a tourist trap than a place of worship. Ernst provides counsel to parishioner Michael (Philip Ettinger), a radical environmental activist, but is unable to stop the troubled man from dying by suicide and leaving his pregnant wife Mary (Amanda Seyfried) a widow. 
Michael's suicide rattles Ernst's faith to the core and his dedication to combating climate change inspires Ernst to rethink his profession and what he can do with his remaining years of life. A harrowing indoctrination of religion, "First Reformed" slowly burns to a beguiling climax that will stick with viewers for a long time.
If you or anyone you know is having suicidal thoughts, please call the National Suicide Prevention Lifeline​ by dialing 988 or by calling 1-800-273-TALK (8255)​.
Under the Skin
Freddie's inability to acclimate back into post-war society gives him an alien-like perspective of the world. His lack of social cues and graces makes him a deviant outsider whose intimidating stature and unpredictable temper prevent him from making any meaningful connections with other human beings.
For another cinematic perspective of an outsider grappling with connection, try Jonathan Glazer's science fiction drama "Under the Skin" about an extraterrestrial visitor who takes the form of an unnamed woman (Scarlett Johansson). She travels around Scotland observing human behavior, seducing men, and luring them back to a house under the pretense for sex, but instead disposes of them in bizarre ritual. 
Like "The Master," "Under the Skin" is a haunting portrait of an outsider struggling to relate to the world around them. The culprit for Freddie is his untreated trauma, whereas for the unnamed woman, it is her failure to emulate the human capacity for empathy. Although "Under The Skin" was no triumph at the box office, it was a hit with critics and has grown in affection since its release, coming in at fifth place on Metacritic's list of the critics' best films of the 2010s.
The Piano Teacher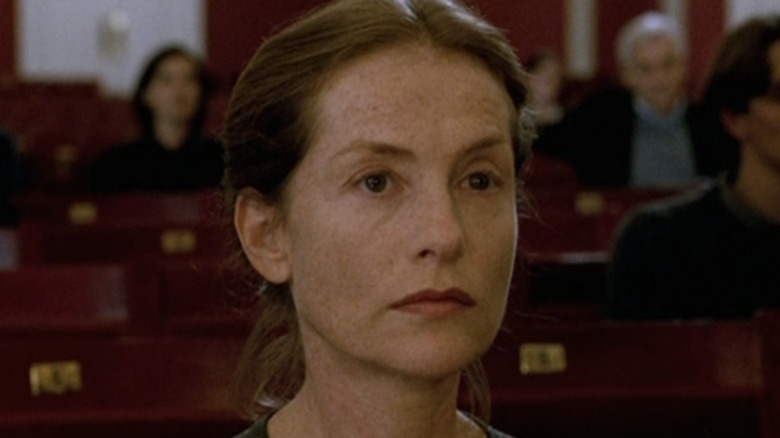 MK2 Diffusion
Freddie has no control over his sexual impulses in "The Master," which often leads him to make unwanted passes at women. This awful habit is explored in his relationship with young girl Doris (Madisen Beaty) prior to departing for war. The age difference between the two is troubling enough, but what makes matters worse is the fact that Doris is even more mature than Freddie. He promises Doris that after the war he will return to her, but when he makes good on his word years later, he's stunned and livid to find she moved on with her life and married another man.
Another film that traffics in similar themes of sexual repression and the toxic relationships they yield is Michael Haneke's "The Piano Teacher." The dark psychodrama centers on an inappropriate relationship between piano teacher Erika (Isabelle Huppert) and her pupil Walter (Benoît Magimel). Like Freddie, Erika's sexual repression has damaged her mental heath, leading her to enact her violent sadomasochistic fantasies with Walter and become extremely possessive and controlling of him. While Freddie's sexuality is reigned in by The Cause over the course of "The Master," Erika's completely unravels and leads a shocking ending.
Mulholland Drive
"The Master" often drifts into a dream state, teaming Jonny Greenwood's propulsive score with long, lingering shots held tight on Freddie's face, trying to penetrate the impenetrable. David Lynch's Oscar-nominated masterpiece "Mulholland Drive" occupies a similar aesthetic terrain, but leaps full on into the surreal. The mystery thriller centers on naive Betty (Naomi Watts), who has just arrived in Hollywood to pursue her acting dreams. Her big screen dreams are put on hold when she crosses paths with car crash survivor and amnesia-stricken Rita (Laura Elena Harring) and pledges to help her retrace her steps in order to figure out her true identity.
While "The Master" rarely parts from Freddie on-screen, Lynch takes novelistic detours. These side stories initially feel haphazard and disjointed, but slowly reveal themselves to be central to Betty and Rita's quest, cryptically suggesting that we should not take everything we see as gospel. In the same way Freddie is lured into The Cause and exploited by Lancaster for research on Book Two, Hollywood has a corrosive effect on Betty — particularly in the ending of the film, when Lynch forces you to question and reevaluate everything you have just seen. 
There Will Be Blood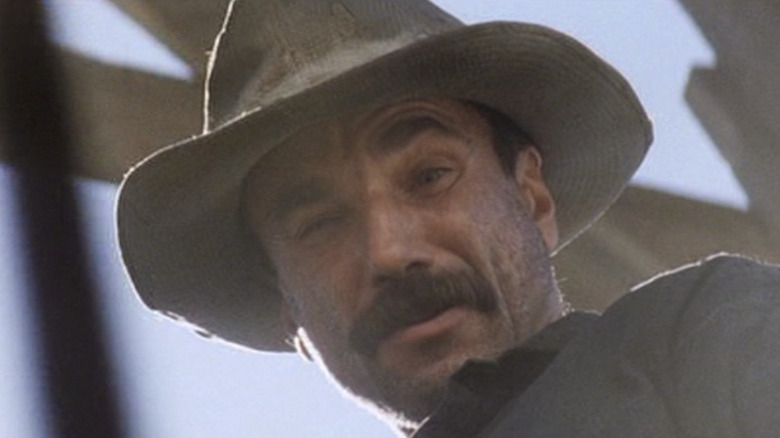 Paramount Vantage/Miramax
In "The Master," Freddie is rejected from society at seemingly every turn when he returns to America, until he finds camaraderie in Lancaster, who appeals to Freddie on a baseline level. Lancaster indulges Freddie's crude sense of humor when he passes gas during processing or rewarding him for making his paint thinner-based cocktails, playfully scolding Freddie's for his transgressions.
They establish a peculiar surrogate parent-child rapport, which has grown to become a thematic trademark present in most of Paul Thomas Anderson's filmography. Arguably, it's most pronounced in his Oscar-winning "There Will Be Blood." The epic drama follows ruthless prospector Daniel Plainview (Daniel-Day Lewis), who gets tipped off by Paul Sunday (Paul Dano) of a large oil deposit under his parents' property, which Daniel offers to buy. 
But Paul's twin brother, local preacher Eli, threatens to ruin the business opportunity by accusing Daniel of lowballing his family, demanding more money and an additional donation to his church. When tragedy befalls the oil dig, Daniel and Eli's antagonistic relationship starts to resemble that of a parent and child, as Anderson fiercely tackles the intersections between greed, capitalism, and religion. Like Lancaster, Eli is a false prophet and Daniel makes him pay the ultimate price.
Persona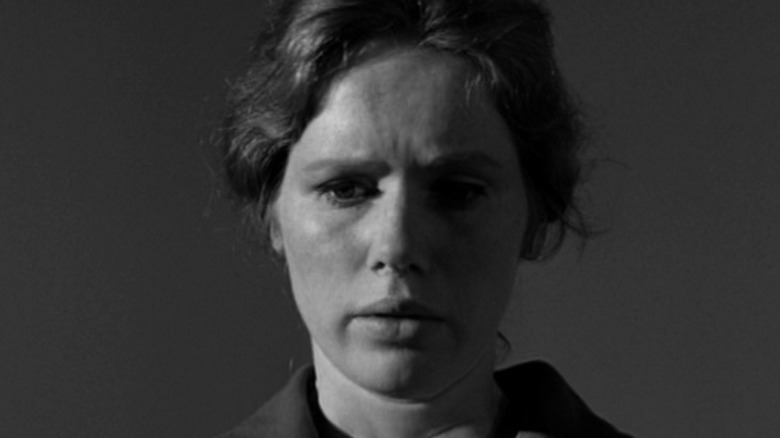 MGM/United Artists
After Lancaster permits Freddie to return to live with him and the family following their arrest, Freddie submits to practicing The Cause. Lancaster and Peggy lead Freddie through a series of repetitive exposure therapies tailored to rid him of his perverse sexual thoughts, his feelings for Doris, and the guilt from the horrors he committed and witnessed at war. The process defangs Freddie, leaving him a blank, malleable vessel for Lancaster to use to experiment with his teachings.
It is difficult to dramatize these types of psychologically opaque spaces and Paul Thomas Anderson does so effectively in "The Master," but perhaps the best example is Ingmar Bergman's psychosis fever dream, "Persona." The Swedish psychological drama follows nurse Alma (Bibi Andersson), who accompanies actress Elisabet (Liv Ullmann) to recover in a remote, seaside town after Elisabet abruptly stops speaking. Elisabet cures her boredom by playing mind games with an increasingly frazzled Alma, who descends into a paranoid crisis of identity. 
"The Master" and "Persona" both explore the idea of fusing two personalities, but Bergman utilizes avant-garde and playful visuals to mine his characters' psyches. "Persona" is a mysterious puzzle that has resisted easy interpretation since its release in 1966.
Eyes Wide Shut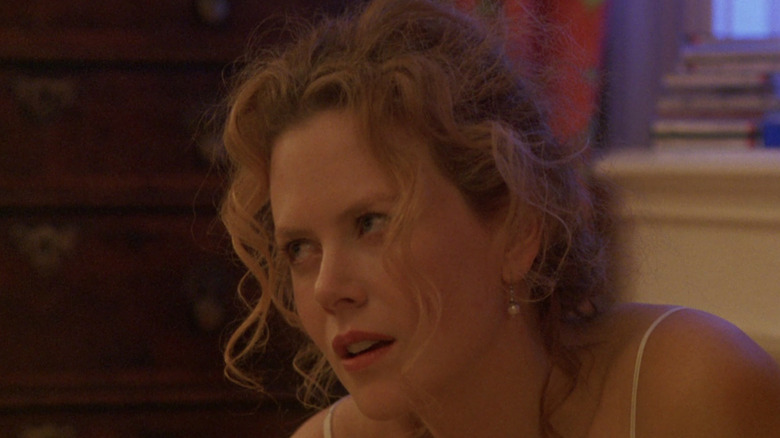 Warner Bros. Pictures
There is a sequence in "The Master" — either real or imagined by Freddie, depending on your interpretation — that evokes the late Stanley Kubrick's final film, the erotic psychodrama "Eyes Wide Shut." Lester performs a song at the Philadelphia estate of Helen Sullivan (Laura Dern) for followers of The Cause, when suddenly all of the females in the room appear nude. Second only to religion, sexual repression is a primary theme in "The Master" and it's the irrefutable driving force of conflict between married couple Bill (Tom Cruise) and Alice (Nicole Kidman) in "Eyes Wide Shut."
Bill and Alice are both sexually frustrated, which is taking a toll on both their increasingly unhappy marriage and mental health. During a dark night of the soul, Bill exorcises his demons by accepting his piano player friend Nick's (Todd Field) invitation to a party that turns out to be an elite secret society hosting a masked orgy — a breed of cult in its own right. While Freddie is absorbed into The Cause, the dangerous secret society in "Eyes Wide Shut" rejects Bill after he makes a faux-pas, which leads to his experiencing eerie consequences in his personal life shortly thereafter.