Dua Lipa Shines As Zatanna In Stunning Fan Art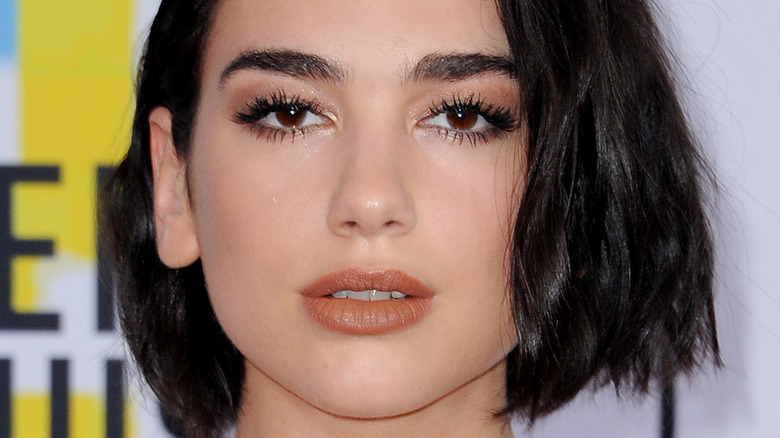 Tinseltown/Shutterstock
If you're on the internet, chances are you're well aware of who Dua Lipa is. Though she may be less popular with those who've outgrown TikTok dances, the international recording artist has transcended online obsession into mainstream critical acclaim. At the 63rd Grammy Awards in 2021, the 27-year-old English artist was nominated six times, and her album "Future Nostalgia" was awarded Best Pop Vocal Album.
As comes with the territory of being a modern pop sensation, Lipa has a massive, dedicated fanbase. On Twitter, Lipa has a staggering 9.9 million followers and has nearly nine times that many on Instagram.
It's understandable then that some of her fans would be eager to see the pop star cross over into the Hollywood scene like many of her peers have already done — though we're still a little worried about Harry Styles after the reviews for "Don't Worry Darling." One artist on Instagram has imagined the perfect role for Lipa — a lesser-known character from the DC Universe.
A pop star turned magician
Zatanna Zatara is a legacy superhero from the DC Comics Universe with magic-based capabilities. She is the daughter of Golden Age superhero John Zatara, a classic black-hat magician who debuted in the same 1938 issue of "Action Comics" as Superman himself (via Nerdist). Zatanna has arguably passed her father in popularity, thanks to appearances on "Young Justice" and her team-ups with heroes like John Constantine. She has a unique way of performing spells, invoking them by speaking backward.
French artist Mickaël Journou — aka "Mike Posters" (@mikeposters) on Instagram — imagined what it would look like if Dua Lipa played Zatanna. The result is truly magical. The artist has done mock-ups of actors as heroes before, including Mahershala Ali as Blade and Ryan Gosling as Ghost Rider.
Journou has also provided his own takes on established projects, such as Dwayne Johnson's upcoming "Black Adam" and the Marvel Disney+ series "She-Hulk: Attorney At Law." It may require a bit more than magic and posters to conjure Dua Lipa as Zatanna in real life, but stranger things have happened. After all, John Krasinski as Mr. Fantastic was once merely fan art as well (via Comicbook.com).