Why June From Netflix's Live-Action Avatar: The Last Airbender Looks So Familiar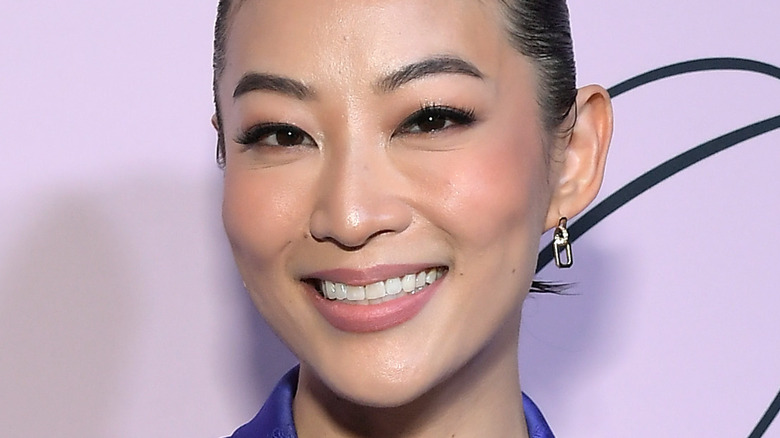 Charley Gallay/Getty Images
It's safe to say that the iconic Nickelodeon animated series "Avatar: The Last Airbender" has had a spotty history when it comes to live-action adaptations. The series was first adapted into a feature film back in 2010 with M. Night Shyamalan's "The Last Airbender" — which received abysmal reviews from both critics and audiences alike, and currently holds a 5% Critical Review on Rotten Tomatoes.
Now, the beloved animated series is getting another shot at live-action through Netflix's upcoming series "Avatar: The Last Airbender," and because the source material is being adapted into a full season of television rather than a single feature film, audiences should expect to see plenty of minor characters adapted for the screen. One such character is a skilled bounty hunter named June, who appeared in just three episodes of the original "Avatar" series after she was hired to track down Aang (voiced by Zach Tyler Eisen) and his companions.
Now, it seems that this fleeting character (who rides atop a large mole-like creature while tracking her targets) will also be appearing in Netflix's upcoming adaptation, where she will be played by Arden Cho. No doubt, this infamous bounty hunter is sure to seem familiar to plenty of viewers, since Cho has already appeared in plenty of high-profile shows and movies throughout her long career. Here are the biggest roles you might recognize Arden Cho from.
Cho guest-starred in the first season of Pretty Little Liars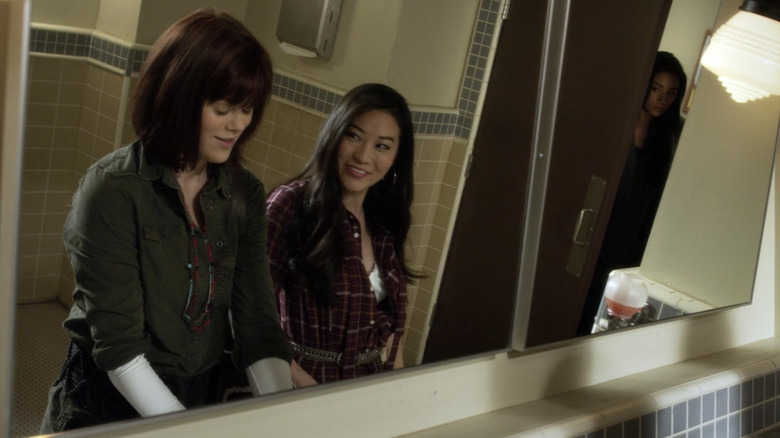 ABC / HBO Max
Back in 2011, Arden Cho guest starred as a character named Pru in the "Pretty Little Liars" episode "Someone to Watch Over Me." The ABC Family drama series focused primarily on a High School friend group made up of Spencer Hastings (Troian Bellisario), Hanna Marin (Ashley Benson), Emily Fields (Shay Mitchell), and Aria Montgomery (Lucy Hale) who find their lives turned upside down after the mysterious disappearance of their friend Alison DiLaurentis (Sasha Pieterese).
As the girls deal with the trauma, threats, and blackmail that spawn from this event, they must also contend with the typical drama of everyday High School life. In Emily Fields' case, this includes her budding relationship with Paige McCullers (Lindsey Shaw), who is extremely reluctant about coming out of the closet.
During "Someone to Watch Over Me," Cho stars as Pru, one of Paige's close friends. Pru appears only briefly during a scene in which the two gossip about Paige's kiss with Sean Ackard (Chuck Hittinger) in the bathroom, while Emily hides behind the door and eavesdrops on them. Although Cho only appears briefly, her character's monologue ends up playing a major part in the episode as a whole — it sparks a confrontation between Paige and Emily that ultimately ends with them beginning their own relationship.
Cho played Kira Yukimara in Teen Wolf
Following her brief cameo in "Pretty Little Liars," Arden Cho's next notable performance came during the third season of MTV's "Teen Wolf," a show which centers around a teenage werewolf named Scott McCall (Tyler Posey) whose hometown attracts various supernatural monsters. Cho joined the series's third season as a character named Kira Yukimura. Although she is initially introduced as a love interest for Scott, it's quickly revealed that Kira also possesses unique supernatural powers, and is actually a being known as a Thunder Kitsune.
Cho was promoted from recurring character status to main cast following the show's third season, and is featured prominently throughout the fourth and fifth seasons of "Teen Wolf" as she learns to hone her incredible new powers and fierce sword skills. Although Cho departed "Teen Wolf" prior to its sixth and final season, there's no question that Kira Yukimura is still one of the most important characters within the series, as the powerful Thunder Kitsune played a major role in protecting the town of Beacon Hill.
Although "Teen Wolf" itself ended just one season after Cho's departure, the series itself was extremely successful in terms of viewership throughout it's six seasons on air, and the story of "Teen Wolf" is actually set to continue in an upcoming feature film courtesy of Paramount+ — though it's worth noting that Arden Cho is currently not attached to this film (via Variety).
Cho played Emily in the third and fourth seasons of Chicago Med
Arden Cho continued her work in television when she joined the cast of "Chicago Med" back in 2018. "Chicago Med" is a medical drama series which exists within NBC's "One Chicago" franchise, and focuses primarily on the staff of the Emergency Department within a fictional hospital known as the Gaffney Chicago Medical Center. Cho originally entered the series during Season 3, in which she played Emily Choi — the younger sister of Doctor Ethan Choi (Brian Tee).
A lifetime gambler and recovering drug addict, Emily has an extremely strained relationship with Ethan when we first meet her, though the two slowly begin to reconcile after Emily is evicted from her apartment and forced to move in with Ethan. All told, Arden Cho is featured in no less than 17 episodes of "Chicago Med," and the last time she appeared within the series came in the Season 4 episode "With a Brave Heart." Although Cho's time within the series appears to have ended back in Season 4, "Chicago Med" is showing no signs of slowing down any time soon — as the series is currently in the midst of its eighth season on air, and continues to participate in overlapping storylines with the other successful shows within the "One Chicago" franchise.
Cho plays the lead character in Netflix's Partner Track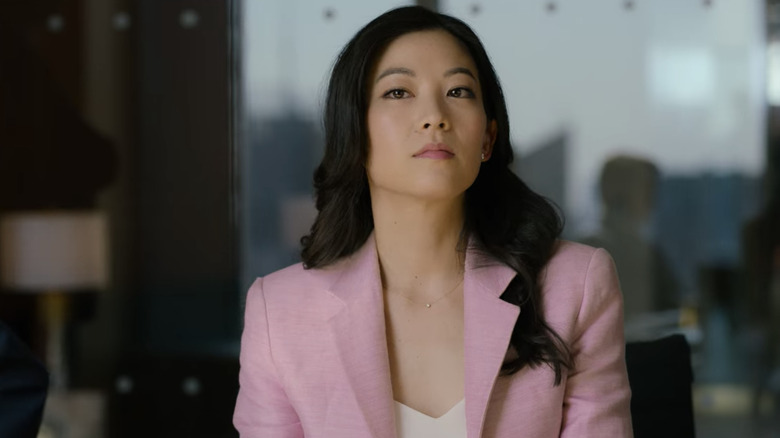 Netflix
As we prepare for Arden Cho's upcoming performance in Netflix's "Avatar: The Last Airbender," it's worth taking a look at her most recent work in another Netflix original titled "Partner Track." Released in August 2022, "Partner Track" is an aptly-named legal drama series which focuses on a young lawyer named Ingrid Yun (played by Cho) who dreams of rising through the ranks of her law firm and becoming a partner.
As Yun attempts to navigate the extreme pressures of her firm's partner track, she is also forced to compete with numerous other lawyers vying for the position (most notably a rival lawyer named Dan Fallon, played by Nolan Gerard Funk) and battle her conflicted feelings for fellow attorney Jeff Murphy (Dominic Sherwood) —whom she shared a one night stand with several years before. "Partner Track" received mixed reviews upon its release, earning just a 62% Critical Rating on Rotten Tomatoes, and as of right now it is currently unclear whether or not the series will be renewed for a second season or not.
As mentioned, Cho's next role will be the bounty hunter June Netflix's forthcoming live-action adaptation of "Avatar: The Last Airbender," while her upcoming projects include the films "Flexx" and "Joon" (via IMDB).