The On-Set Injury Julie Bowen Suffered While Filming This Modern Family Scene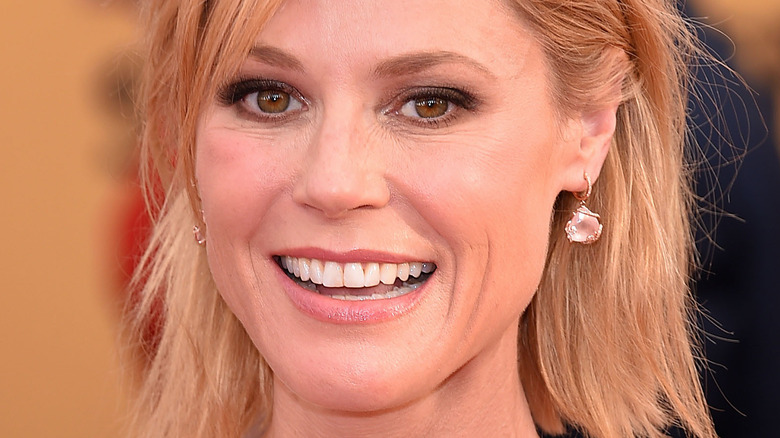 DFree/Shutterstock
It's a lot easier to understand the adage "dying is easy, comedy is hard" when it comes to the very real injuries actors can suffer trying to squeeze a laugh out of audiences. For instance, when her character on "It's Always Sunny in Philadelphia" was scripted to run headfirst into a parked car, Kristin Olson insisted on doing just the stunt herself, resulting in, as she put it, "a lot of trips to the chiropractor." But when the actress looked back on the stunt, she has this to say, "At least it looked good. That was really all that mattered" (via The Dipp).
Other comic actors have felt the physical cost of their stunts in later years. Johnny Knoxville commented on the "Smartless" podcast about the toll the "Jackass" franchise has taken on his body, saying, "I've had like 16 concussions — I'm not very in touch with my body" (per Mediaite).
"Modern Family" actress Julie Bowen can add herself to the list of comedians injured performing stunts for their craft, thanks to this scene from the beloved ABC sitcom.
Julie Bowen got a bruised hip thanks to really falling on camera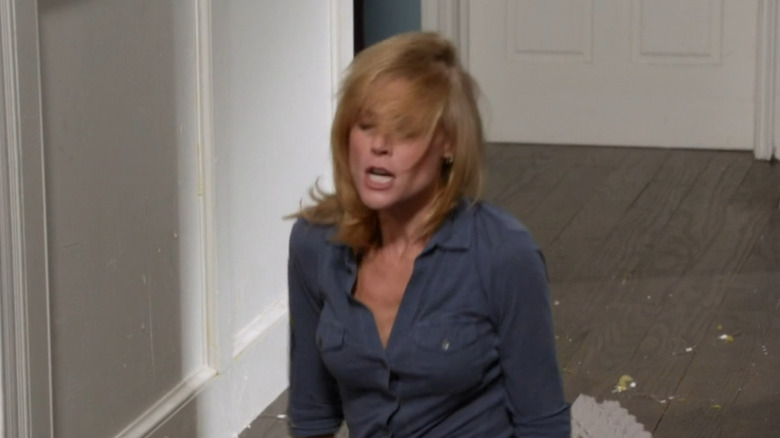 ABC
In the Season 3 episode "Egg Drop," Luke (Nolan Gould) is trying to find the best way to protect raw eggs from breaking when dropped from a two-story height. As part of his experiment, he drops a number of eggs from the top of the stairs, each one breaking upon impact. As Claire Dunphy (Julie Bowen) walks by, she slips on the broken eggs and falls hard. It's a classic gag that didn't quite go as planned behind the scenes.
According to TV Guide, Bowen was supposed to go down, but she fell harder than she was meant to. "I wish I could say, 'I practiced, and physical comedy is really important to me.' Because I do like physical comedy," she told the publication. "But that was just raw, unadulterated klutziness." The actress received a purple hip in the process but was really just happy they kept the take. "I fell and all I thought was, 'Please don't cut!' because that's on film! They used it, so I'm thrilled."
Bowen didn't tell the crew about her injury, choosing not to see a doctor. But that decision might not come as a shock to her co-stars — Jesse Tyler Ferguson once told Digital Spy, "Julie Bowen has this remarkable Superman-like strength." Maybe Bowen's invulnerability is what really made her such a formidable actress on "Modern Family."