The Guardians Fix Up Thor In New Avengers: Infinity War Image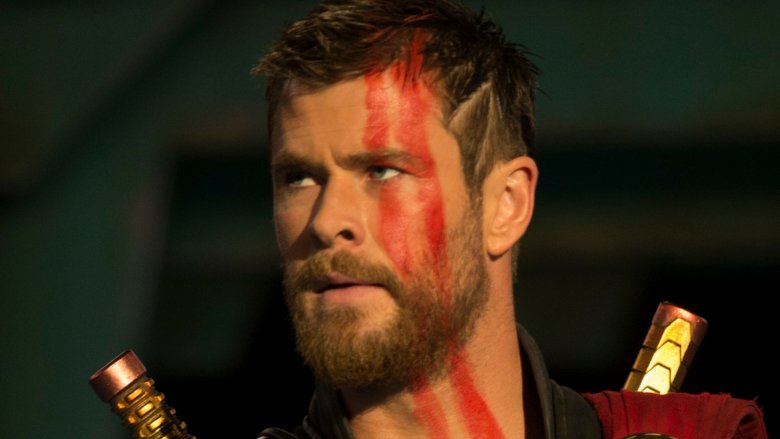 Mantis (Pom Klementieff) and Rocket (Bradley Cooper) have an injured Thor (Chris Hemsworth) on their hands in a new still from Avengers: Infinity War. The still, released to USA Today, features Mantis hovering over a passed out and bruised Thor, potentially trying to use her powers to read his emotional state.
The Infinity War teaser screened at D23 showed Thor crashing into the Guardians' ship, which could be how he ended up in such bad shape. Things were not going well for the galactic hero at the end of his standalone film Thor: Ragnarok, which wound up with him down an eye as he led the remaining displaced Asgardians after the destruction of their home planet.
As teased in the film's mid-credits scene, Thor could end up having a run-in with Thanos, with Kevin Feige saying that the big ship that approaches the fleeing citizens in the scene is called "the Sanctuary II." The name Sanctuary should be familiar to MCU super fans– the celestial planet where Thanos resides has already appeared in The Avengers and Guardians of the Galaxy, but it appears that the supervillain will be going mobile ahead of the events of Infinity War. 
Considering Loki (Tom Hiddleston) appeared to have stolen the Tesseract (aka the Space Stone) before leaving Asgard, it looks like this plot twist could help fulfill Feige's previous promise that Ragnarok will "build directly" into the events of Infinity War. However, considering the ship's other residents, including Valkyrie (Tessa Thompson), Bruce Banner (Mark Ruffalo), and Heimdall (Idris Elba), are nowhere to be seen in the newest still, it's unclear what transpires between the two films.
In Infinity War, Thanos will come out to terrorize all of the MCU's favorite heroes (including Thor and the Hulk) alongside his villainous lieutenants, the Black Order. While we know at least a few superheroes will survive the movie, all signs are pointing to the next pair of Avengers movies being fairly fatal for Marvel's biggest names. (Ruffalo even confirmed as much in an interview, saying that "everybody dies" at the end of Infinity War.) 
"They're all big," co-director Joe Russo previously said of Infinity War and the untitled fourth Avengers film. "It's important for both movies to be distinctly different. It's important for them to have different tones, and different narratives, and different surprises for the audiences. We've worked hard with [writers Christopher Markus and Stephen McFeeley] at ensuring that the films are tonally different and structurally different."
Avengers: Infinity War will hit theaters on May 4, 2018.