That Major Thor: Ragnarok Development Is Sticking Around For Avengers: Infinity War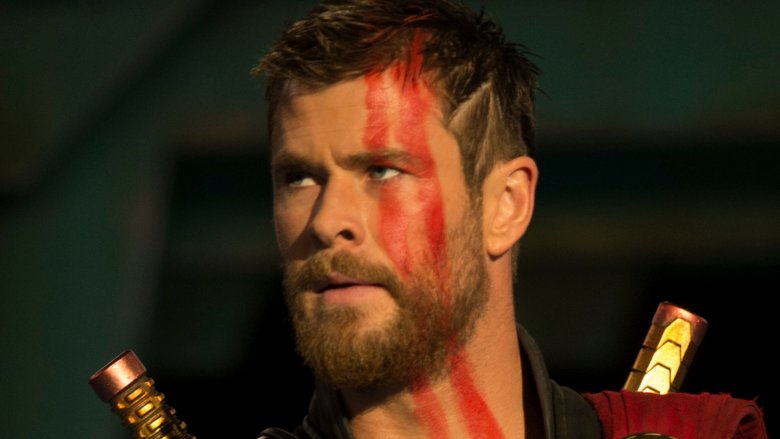 Warning: This article contains spoilers for Thor: Ragnarok.
Despite being an absolutely hilarious movie, Thor: Ragnarok had some pretty intense consequences for its hero and his friends. Not only did his home get absolutely destroyed, but Thor (Chris Hemsworth) also lost an eye in his fight against his sister Hela (Cate Blanchett), forcing him to don an eyepatch just like his late father Odin (Anthony Hopkins).
According to director Taika Waititi, the high stakes came about as they were writing the script. "That kind of just evolved just throughout the script process, to just keep stripping that character down, having him lose the hammer and all those things and to kind of create a broken version of the character," he said in a recent interview with Entertainment Weekly. "At the end, he sort of becomes a refugee." 
Things won't be slowing down in Avengers: Infinity War, with Thor teaming up with dozens of other Marvel heroes to take on Thanos (Josh Brolin) and his villainous Black Order. According to Hemsworth, when he does join the team again, one major Ragnarok development will be sticking around: the hero's new eye wear. "Yeah, we carry it into the film with the eye patch you see in this film," he said to EW.
An eyeless Thor may not be able to survive the dramatic events of the next two Avengers films, with Hemsworth's Ragnarok co-star Mark Ruffalo accidentally revealing in an interview earlier this year that "everybody dies" at the end of Infinity War. Not much is known about the specific plot of the upcoming movie, but its stars have been teasing how big it is, with Tom Holland saying "no one is ready" for its epic scale.
"They're all big," co-director Joe Russo previously said of the two Avengers films. "It's important for both movies to be distinctly different. It's important for them to have different tones, and different narratives, and different surprises for the audiences. We've worked hard with [writers Christopher Markus and Stephen McFeeley] at ensuring that the films are tonally different and structurally different."
Thor: Ragnarok is in theaters now, while Avengers: Infinity War debuts on May 4, 2018.