Who Is Yellowjackets' Melanie Lynskey Playing In HBO's The Last Of Us?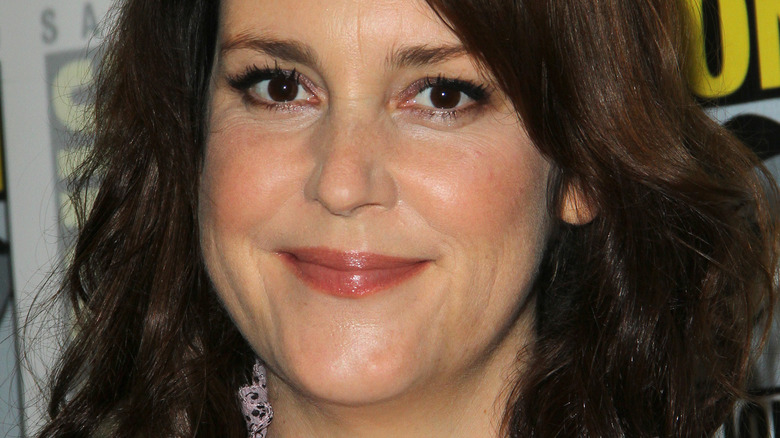 Kathy Hutchins/Shutterstock
"The Last of Us" certainly isn't the first video game franchise to be developed for live-action, but it's well on its way to being one of the most high-profile adaptations. The dark and emotional storylines of the zombie-infested world have heightened the game from being just a shoot 'em up to a work of art in its own right. "The Last Of Us Part II" received an astounding 93% on Metacritic, making it an easy property for HBO to pick up.
Set to be released in 2023, the HBO series has hit the ground running with its casting. Pedro Pascal will be portraying gruff Joel, who winds up hired to smuggle teenage Ellie (Bella Ramsey) out of a quarantine zone, and through their struggles, he comes to see her as a daughter. Both Pascal and Ramsey have been well known for their appearances in "Game of Thrones," adding to the caché of the series. But they aren't the only impressive additions to the cast. In a small detail you may have missed in the "The Last Of Us" trailer, fans of "Yellowjackets" should rejoice at the split-second shot of Melanie Lynskey marching through a crowd. With many elements of the series shrouded in secrecy, the question remains who the actor will be playing in the apocalyptic series?
Melanie Lynskey will be playing against type in The Last of Us
Melanie Lynskey is an experienced actor whose credits span back to the 1990s in the shocking true story of "Heavenly Creatures" (via IMDb). Since then she has made a name for herself in television, most notably as Shauna in Showtime's "Yellowjackets," which has received recent recognition.
"You know, at 45 years old, having done this for 30 years, it's nice to feel relevant, I guess, without sounding too tragic," Lynskey told IndieWire. "It was nice for all of us to be like, 'Oh, wow. We're part of something that people like, and people are talking about, and people want to talk to us about.'" Though hardened by the traumatic event of crash landing in the Canadian wilderness, Shauna is ultimately a good person who loves her family. That may not be the case when fans see the actor in "The Last of Us."
According to Entertainment Weekly, Lynskey will be in a more adversarial role in the upcoming series as Kathleen, a leader of a fringe movement. Details are still sparse at the moment, but it seems that Kathleen's leadership style leads more to ruthlessness than the characters Lynskey is usually equated with. But even if Lynskey is surprised by the attention she's been getting for her show "Yellowjackets," she may have to get used to it. With the already established fanbase for "The Last of Us," the series may be another pop culture phenomenon in the making.