Andor Creator Has Some Intriguing Remarks About Character Deaths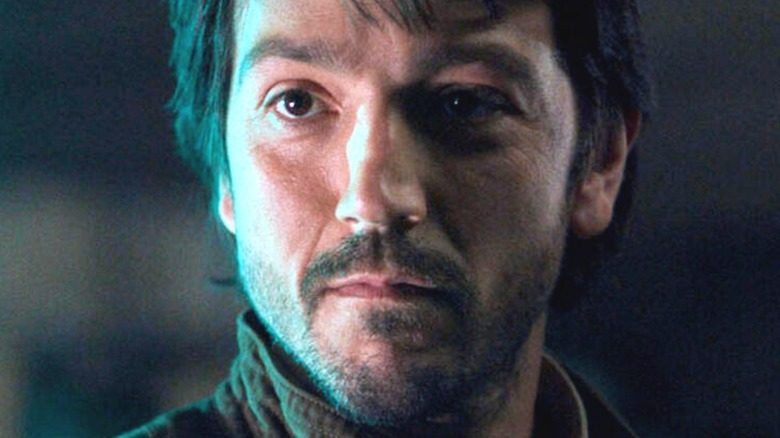 Lucasfilm/Disney+
"Andor" has officially hit Disney+ with new episodes premiering each week, and fans and critics love the new "Star Wars" series. Variety called the show a massive but welcome departure from the typical "Star Wars" model, and that it is.
The show focuses on the early years of the Rebellion against the Galactic Empire, depicting its formation and growth up until "Rogue One." Though the show takes place five years before the film, Diego Luna returns to portray his "Rogue One" character Cassian Andor. "Andor" will not only give "Star Wars" fans a look at the formation of the Rebel Alliance but show Andor's journey from thief to revolutionary, ending where the movie originally introduced the character.
"Andor" doesn't waste time setting up Cassian's character for the series. Echoing the character's original introduction in "Rogue One," Andor kills two security guards in the opening episode, showing viewers this isn't your typical "Star Wars" protagonist.
Luna spoke to Entertainment Weekly regarding Cassian's early actions, saying, "We find him in a very dark moment, and he understands, because of oppression, what killing that first corporal means. He is a survivor, no matter what it takes. And I think it tells you about what justice means in the galaxy then. There's no way you can expect justice to be fair. And he has to fix it himself, because there is nowhere to go, no one to convince, and no one to help him."
Although Cassian Andor's actions are a product of his environment, they somewhat mimic showrunner Tony Gilroy's opinions on character deaths.
Tony Gilroy has already mapped out numerous character deaths
Lucasfilm/Disney+
"Andor" creator and showrunner Tony Gilroy already admitted to playing God when it came to creating new worlds and characters for the "Star Wars" series, and it looks like he took it a step further, planning out many character deaths. 
The Hollywood Reporter sat down with Gilroy and asked the showrunner about the fates of some of the new characters introduced in "Andor." Many of the characters introduced in the Disney Plus series didn't show up in "Rogue One" or other previous films in the franchise, which leads many to assume they died before those events, but that may or may not be the case, according to Gilroy. 
"We literally have around 200 speaking parts in the first 12 episodes," Gilroy told the outlet. "When I figured out season two, I had to make about 30 phone calls to the actors that I knew were going to go forward. I had to call them up and say, 'Hey, this is what I'm thinking. This is when you live. This is when you die. This is how many episodes you're in.' I mean, the body count is high all the way through, but people live. It's a revolution. It's a very intense period of time. People are doing very dangerous things. Some people live and some people don't. How do we know who lives or dies at the end from the previous Star Wars? You wouldn't know. I mean, there's people buried in Yavin. Who knows who's there."
"Rogue One" was Gilroy's introduction to the "Star Wars" universe, and his lack of attachment to the series helped make the movie successful. It looks like Gilroy is bringing that same attitude to the characters of "Andor," so don't get too attached.