Florence Pugh Reflects On Filming Don't Worry Darling In A Premiere Day Instagram Post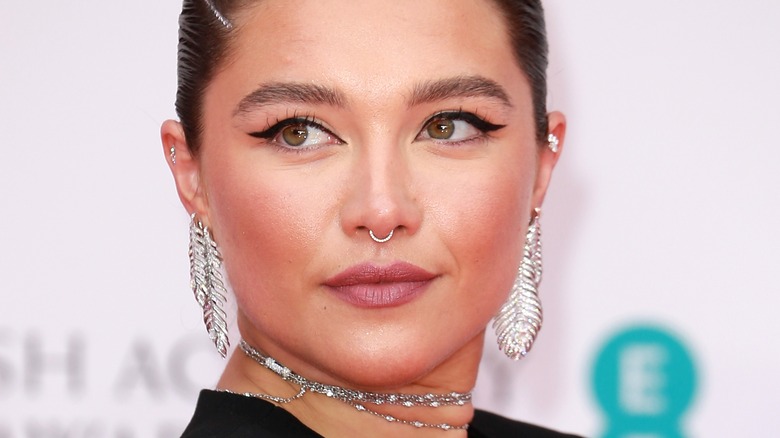 Fred Duval/Shutterstock
As Olivia Wilde's second feature-length directorial effort, "Don't Worry Darling," opens in theaters, it finally has a chance to stand on its own terms, apart from the alleged behind-the-scenes tension that has threatened to eclipse the film itself. Drama has followed "Don't Worry Darling," with rumors flying that Florence Pugh, who stars in the film, has bad blood with Wilde. This was inflamed by Pugh's decision to skip press engagements, although, the "Little Women" actor's absence is possibly explained by her current work on "Dune: Part Two."
Critical reception to the film has been poor, with Looper's own Dominic Griffin writing, "What could be a haunting exploration of the gender wars and the evolution of social mores in American society instead amounts to little more than a watchable enough episode of 'Black Mirror.'" Meanwhile, other reviews paint a picture of a film with high ambitions but lackluster execution.
However, Pugh seems unfazed by the bruhaha around "Don't Worry Darling," reflecting on her time filming the project in a bubbly Instagram post.
Florence Pugh praised the crew of Don't Worry Darling in a heartfelt Instagram post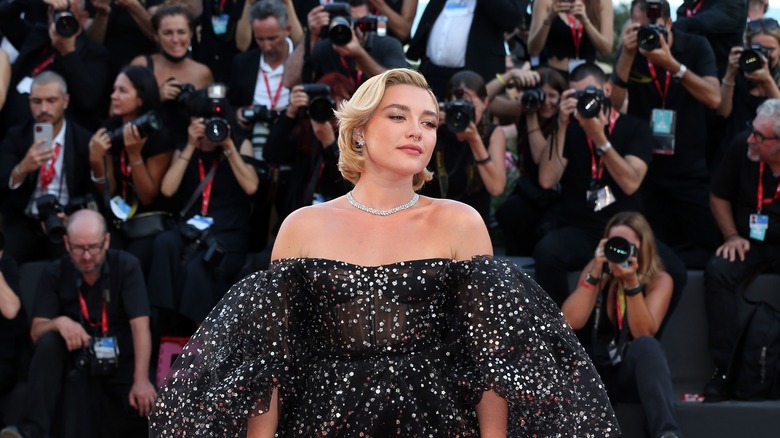 Elisabetta A. Villa/Getty Images
In a post to her Instagram, Florence Pugh shared pictures from her time shooting "Don't Worry Darling" and gave her thanks to fellow cast and crew. If any interpersonal drama is brewing between Pugh and her director or castmates, you wouldn't know it from her post, which is captioned in part, "This film was such an epic story on such a large scale to shoot, all while during peak Covid times. For that I will always be grateful."
Notably, the post's caption does not mention Olivia Wilde or any of Pugh's co-stars, though she does tag and thank her makeup and hair artists, along with her stylist. However, one of the photos included in the post shows a smiling Wilde standing next to Pugh. Wilde's Instagram account is tagged on the photo.
Among the other pictures Pugh shared are images of a vintage car being pushed across a desert landscape, a choreography session, and a tongue-out selfie of the actor getting her hair curled. Toward the end of her caption, the "Black Widow" star wrote, "To all of you who helped make this, your dedication and love was seen daily – thank you."