The Actress Who Plays Luz Noceda From The Owl House Is Gorgeous In Real Life
There are tons of great kids' shows out there, but one that truly stands out from the rest is "The Owl House." The Disney Channel series from creator Dana Terrace offers home audiences a unique narrative filled with heartfelt moments, hilarious jokes, and some very well-crafted characters, including Luz Noceda.
"The Owl House" has arguably been a big hit with fans and critics alike. There was no shortage of memorable moments from the show's incredibly entertaining first season and so many eye-opening moments in Season 2. Overall, both seasons have earned very impressive scores on Rotten Tomatoes. Petrana Radulovic from Polygon put it best, "The Owl House is brilliant. It's sharp and funny, with evocative world-building and compelling characters. It's funny and heartful and gorgeously animated."
The family-friendly series brilliantly tells the tale of a young girl named Luz Noceda who enters the demon realm and makes her way to the Boiling Isles, where she becomes an apprentice for the witch Eda Cawthorne (Wendie Malick), aka The Owl Lady. Despite the odds being very heavily stacked against her in a world much different from her own, Luz doesn't let anything seem to slow her down, and her unbridled enthusiasm is just one of the reasons fans love the show's main character. There is no denying Luz Noceda is outstanding, but what some fans may not realize is that the actress who voices the aspiring witch is absolutely stunning in real life.
Meet Sarah-Nicole Robles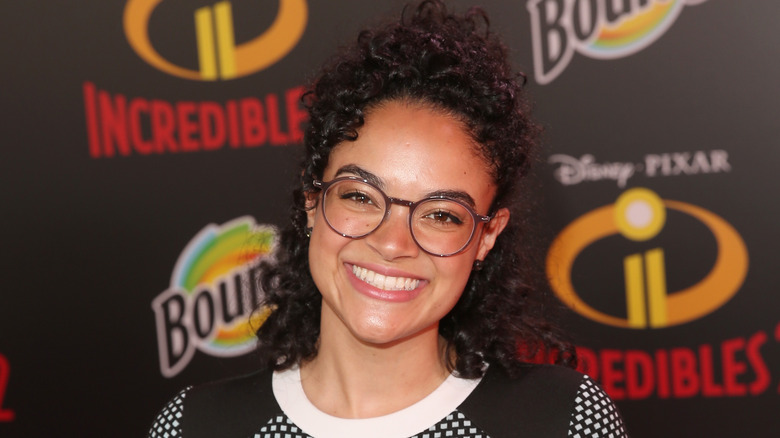 Jesse Grant/Getty Images
The gifted and beautiful Sarah-Nicole Robles has voiced Luz Noceda for every episode of "The Owl House." While she very well may not be a household name yet, the actress has lent her talents to several other high-profile projects. Of the many impressive credits she has listed on her IMDB page, some of her standouts include "Baymax!" on Disney Plus, Netflix's "Carmen Sandiego," and "Billy Dilley's Super-Duper Subterranean Summer." Other notable credits include "Olaf's Frozen Adventure" and the film "Encanto." But her skills aren't just limited to the world of animation as she has live-action gigs on her resume, including titles such as "Grey's Anatomy" and the Freeform series "The Fosters."
While she is an active player in the industry, anyone following her on Instagram or Twitter will quickly realize that she most assuredly loves voicing Luz on "The Owl House." It's always great to see an actress have a special connection to the persona they are bringing to life every time they enter the booth. In an interview (via Disney television Animation News on YouTube), she expressed to viewers her feelings about the character saying, "I love Luz's really big heart. Luz is relentlessly loyal and passionate and she will do absolutely anything she can to help the people she loves." Her exemplary efforts voicing Luz Noceda have paid off as the series is undeniably a big hit — thanks in no small part to Sarah-Nicole Robles' talent.