The Umbrella Academy's Season 3 Bloopers Make Us Love The Cast Even More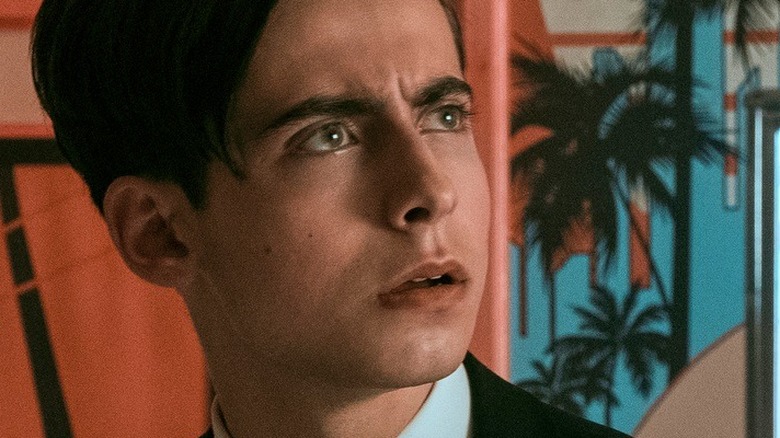 Christos Kalohoridis/Netflix
The superhero comic book series "The Umbrella Academy" has had a growing number of fans since its premiere in 2007. Written by "My Chemical Romance" lead singer Gerard Way and illustrated by Gabriel Bá, the books follow seven of 43 established superpowered individuals who were all adopted by an alien named Sir Reginald Hargreeves. Hargreeves brings the group together in the titular Umbrella Academy, training them to save the world from an apocalypse with vague details.
News that Netflix would be adapting the comic book into a TV series was thus met with excitement by the fans. While the show made some changes to the source material, the casting for the show is what drew most viewers in, with an ensemble that includes Elliot Page, Aidan Gallagher, Emmy Raver-Lampman, Justin H. Min, Robert Sheehan, Tom Hopper, and David Castañeda as the members of the Umbrella Academy family, with Colm Feore as Sir Reginald.
The cast and their collective chemistry quickly endeared themselves to the show's viewers, and the blooper reel for the show's recently concluded third season further solidifies why we love them.
The cast is happy to not take themselves seriously
The bloopers begin with Emmy Raver-Lampman in character as Allison, delivering a line before she suddenly stumbles over a word, causing her to curse and walk away.
From there, several bloopers highlight how well the cast gets along with each other and how the tension on the show isn't mirrored in how they interact with each other. While on a treadmill, Hopper attempts to slow the machine down as his character Luther Hargreeves is about to mention his hopes for the Umbrella Academy, only for Hopper to realize the machine isn't slowing down, causing laughter on the set.
In another blooper, Aidan Gallagher's Number Five swings at Cazzie David's Jayme Hargreeves once the director yells action, causing David to stand for a few seconds before apologizing and falling to the ground. The scene repeats with David again pausing after Gallagher's fake punch before falling, causing Gallagher to suppress laughter.
In another scene, Raver-Lampman begins, "You know, I thought killing Viktor," before correcting herself, declaring, "Nope, didn't kill Viktor. Wanted to, didn't do it." Elliot Page, who plays Viktor Hargreeves, makes an appearance himself later in the blooper reel, as the tension of Viktor talking about making a deal with Dad is undercut by Page unexpectedly having trouble with tearing a piece of cloth in the scene.
The final blooper has Robert Sheehan, who plays Klaus Hargreeves, idly wondering if he's allowed to swear on Netflix before the clip concludes with several cast members dancing goofily, both alone and with each other.