The Next Chapter Of The Epic Saga Begins With A First Look At Vikings: Valhalla Season 2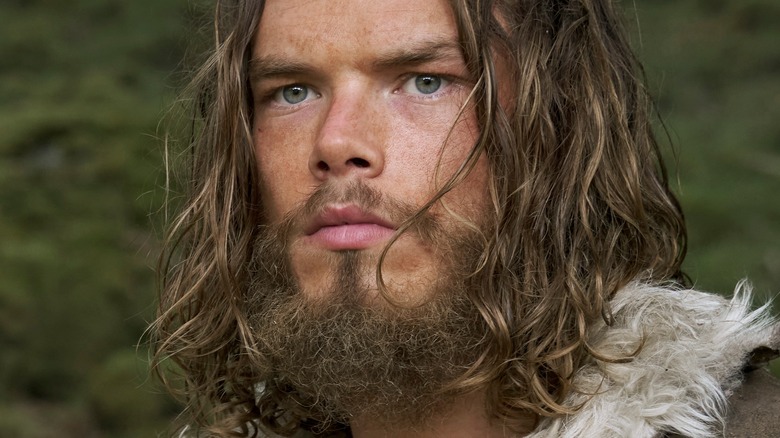 Bernard Walsh/Netflix
The historical drama "Vikings" drew a large fanbase during its six-season run. Viewers quickly found themselves invested in the story of Ragnar Lothbrok and his compatriots, helping to bring leads Travis Fimmel and Katheryn Winnick to stardom as a result.
When the original series came to an end, Netflix was quickly able to give the viewers something to look forward to by greenlighting a sequel series. Titled "Vikings: Valhalla," the show jumps forward over 100 years, and follows a new group of characters, with a cast that includes Sam Corlett, Leo Suter, Lujza Richter, Pääru Oja, Christopher Rygh, Frida Gustavsson, and Jóhannes Haukur Jóhannesson.
The show is created by Jeb Stuart, who is a familiar name to film fans, having previously co-written the action classics "Die Hard" and "The Fugitive." With the first season being released earlier this year, and the show having already been renewed for Seasons 2 and 3, Netflix has now given fans a tease of the upcoming 2nd season of "Vikings: Valhalla" during TUDUM 2022.
Olaf is on the warpath in this clip from Season 2
The clip begins with Olaf Haraldsson (Jóhannes Haukur Jóhannesson) looking out over a cliffside at the ocean when a rider on a horse pulls up to his group, declaring, "We have found them." Olaf gives a small smile and nods at the rider, who nods to the rest of the group, causing them to pull away.
The scene cuts to the group huddled together in a muddy area, with Leif Eriksson (Sam Corlett) in their midst. A distant voice yells, "They're coming!" This causes the group to scramble to their feet, as Leif hastily instructs them to run to the beach, with Freydis Eriksdotter (Frida Gustavsson) helping corral and guide them.
Harald Sigurdsson (Leo Suter) also helps get the group to the beach, bringing up the rear to make sure nobody's fallen behind. As he steps out and looks to his right, however, he sees members of Olaf's army approaching. The three arm themselves, Harald brandishing a sword, Freydis a bow and arrow, and Leif two axes. But as Olaf's group emerges from the muddy area and advances, fireballs suddenly emerge from the sky, landing in the space between the army and the escaping group, to the shock of everyone. As the scene cuts to black, a horn is heard, before Netflix announces that Season 2 of "Vikings: Valhalla" is coming in 2023.