Billie Lourd Remembers Mother Carrie Fisher One Year After Her Death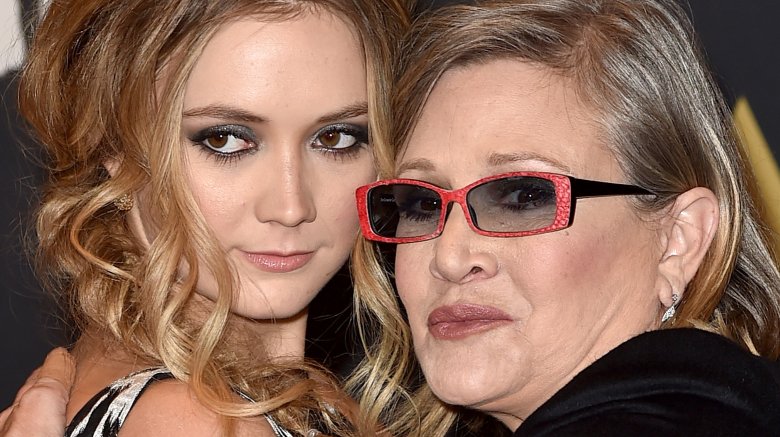 Getty Images
The galaxy lost its Princess, its General, one year ago today. 
Carrie Fisher, who portrayed Leia Organa, passed away on December 27, 2016 after she suffered a heart attack on a flight to Los Angeles from London. The actress was 60 years old at the time of her death. 
Fisher's daughter, fellow Star Wars actress Billie Lourd, posted a heartfelt tribute to her mother on her Instagram account. Lourd revealed that she and her father, talent agent Bryan Lourd, traveled to Norway to see the northern lights on the one-year anniversary of Fisher's death–a way to tribute the fallen Star Wars legend and all-around wonderful person. 
Lourd began by honoring her mother's love of emojis (as evidenced by her colorful Twitter account that featured plenty of symbol-filled tweets) and referencing a joke of Fisher's that has become poignant since her passing. The 25-year-old actress wrote, "She drowned in moonlight, strangled by her own bra" using moon, boot, astrological sign, and plant emojis. This is a clear nod to Fisher's past gag about what she'd want her obituary to say when she died: "I tell my younger friends that no matter how I go, I want it reported that I drowned in moonlight, strangled by my own bra," Fisher once said (via Vanity Fair).
The rest of Lourd's post was equal parts touching and hilarious. "My momby had an otherworldly obsession with the northern lights, but I never got to see them with her," Lourd wrote in the caption of two stunning pictures of the green-brushed sky. "We journeyed to northern Norway to see if we might 'see the heavens lift up her dark skirts and flash her dazzling privates across [our] unworthy irises.' And she did."
Fisher's on-screen brother Mark Hamill shared his own tribute to the actress earlier in the day. "No one's ever really gone... #AlwaysWithUs #CarrieOnForever," Hamill tweeted, accompanying artwork of Fisher done by Lindsay Van Ekelenburg as well as photos of the two together in their younger years. 
Both Lourd and Hamill starred alongside Fisher in her final film: Star Wars: The Last Jedi, which was released on December 15.