Here's Where You Can Stream Jon Hamm's Confess, Fletch Online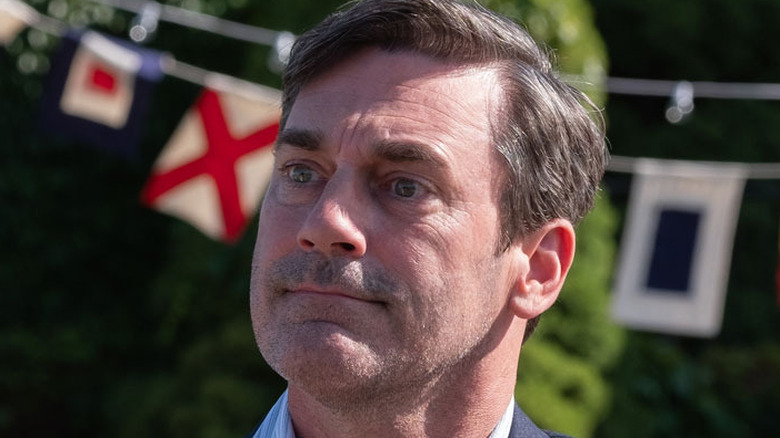 Miramax/Paramount Pictures
Being an investigative journalist sometimes gets a bad rap, but that tends to happen when one is determined to find the truth, no matter how questionable and upsetting the results may be. Of course, when you have an analytical and suspicious mind combined with a quick wit, you might find yourself in unforeseen situations. The "Fletch" movie franchise is a great example of this. In the first two movies, the character of Irwin Fletcher is played by Chevy Chase. In a surprising turn of events, a third movie has now been released, and it acts as somewhat of a sequel and reboot. Based on the book series by Gregory Mcdonald, "Confess, Fletch" sees Jon Hamm take up the role of the titular character.
Speaking with Uproxx, director Greg Mottola explained how the movie came to fruition by saying, "Basically, the project started with Jon Hamm coming to me and saying Miramax has the rights to all the books except the first one. Unbeknownst to Miramax, Jon, when he saw the first one back in the day, he went to read the book it was based on because he loved it so much and then found out, oh, there's more than one. And he, according to him, stole them — whatever copies there were from a Walden Books at a mall." Apart from the theater, Hamm fans are wondering where they can watch "Confess, Fletch." 
Confess, Fletch will be available on Showtime
Although currently in theaters, "Confess, Fletch" will not take long to become available in the streaming world. According to The Wrap, Showtime has exclusive rights to stream the film and it will become available on their service on October 28, 2022. This means that if you want to watch the movie right now, you'll need to mosey on by your local movie theater. But if you don't mind waiting a little bit of time, Showtime's streaming service is what you'll need in order to see the next installment of "Fletch." As noted by Showtime, their service currently offers a free 30-day trial, but it is normally $10.99 a month.
In an interview with Insider, Jon Hamm discussed his thoughts on his predecessor Chevy Chase in the role, saying, "I came to the character much more organically. I was able to have an operation sense of who this guy was that was pretty divorced from all the things that Chevy did. We made a conscious decision to not do an imitation." He continued, "All of that stuff was deeply part of Chevy's comic sensibility. To take any of it would have really felt like stealing. We wanted to pay our respects to the history of the franchise, obviously, but to really reexamine the original character that Gregory Mcdonald wrote in the books, which is radically different from what Chevy did."
Considering Hamm's life-long enthusiasm for the role, and the 85% critic score on Rotten Tomatoes for "Confess, Fletch," perhaps there might even be another "Fletch" movie in the future.