Ryan Murphy's The Watcher Trailer Is Everything You'd Expect From The American Horror Story Creator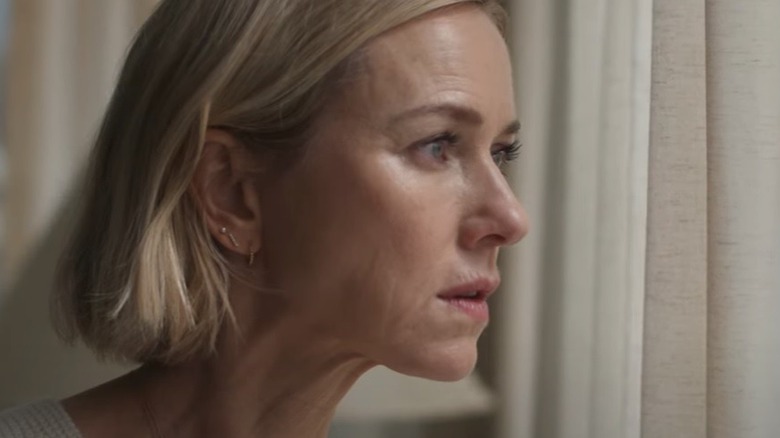 Netflix/YouTube
Netflix's 2022 TUDUM event highlighted the best of what's to come from the streamer, with some of its most famous properties taking center stage. While getting caught up on "The Witcher," "Bridgerton, "Enola Holmes 2," and "The Umbrella Academy" was good and fun, we were especially taken with the debut of the trailer for "The Watcher."
The new limited series from Netflix comes from the twisted mind of Ryan Murphy, the creator of the terrifying "American Horror Story" anthology series and the equally as chilling "Glee." Based on a true story, "The Watcher" follows Maria (Naomi Watts) and Derek Broaddus (Bobby Cannavale), a couple who has just bought their dream home. After moving in, they receive strange letters from someone only known as "the Watcher," and this stalker turns their dream into a nightmare. The trailer for the series is typical Murphy — creepy, full of jump scares, and a little terrifying.
The Watcher is classic Ryan Murphy
The trailer for "The Watcher" shows Derek reading one of the creepy, mysterious letters left in his mailbox, and they don't stop coming. With three young children, these letters are even more terrifying since Derek and Maria have to protect them from this mysterious person at all costs. The Watcher is obsessed with the house the couple has purchased, or perhaps they're just obsessed with the new inhabitants. You can read about the real-life story in a detailed article by the Cut, which shares many of the letters the couple received — we'll warn you, they are pretty intense sometimes. The story has Ryan Murphy written all over it, so we're sure it's in good hands.
"The Watcher" also stars Jennifer Coolidge as real estate agent Karen Calhoun (who already did a hilarious home tour in a promo video), Noma Dumezweni as private investigator Theodora, Mia Farrow as next-door neighbor Pearl, and Margo Martindale as another neighbor named Maureen.
"The Watcher" lands on Netflix on October 13.