Billy Eichner's Bros Is Poised To Make Rom-Com History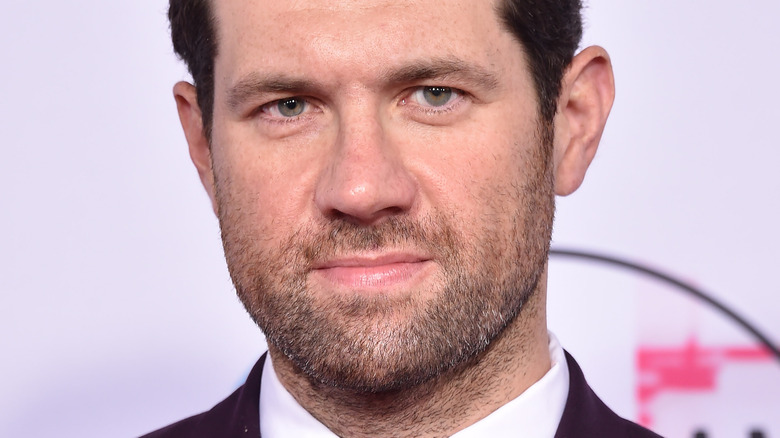 DFree/Shutterstock
Billy Eichner made a name for himself screaming at strangers. That may make him an unlikely candidate for rom-com star, but the actor and comedian has come a long way since the early days of his Funny or Die series "Billy on the Street." Eichner would go on to become a series regular on "Parks and Recreation," star in Hulu's "Difficult People," and even join the live-action remake of "The Lion King" as Timon, a role originated by Nathan Lane (via IMDb).
Now, Eichner is helming his own romantic comedy. Directed by "Forgetting Sarah Marshall" director Nicholas Stoller and produced by Judd Apatow, "Bros" follows Billy Lieber (played by Eichner, who also executive produced and co-wrote the script), a podcaster and museum curator who's proudly out and proudly single. That is until he meets his unlikely match in a hunky lawyer named Aaron (Luke Macfarlane). Critics praised "Bros" when early footage dropped in April. With "Bros" set for wide release on September 30, here's why the movie will make rom-com history.
Bros is the first gay rom-com to be released theatrically by a major studio
Queer cinema has long been a place to explore forbidden romance, social justice, and hidden subcultures. "Bros" brings something new to the queer canon: an honest-to-god rom-com that's funny, raunchy, and lacking in the unrequited love or tragedy that has come to define so many LGBTQ+ classics. When "Bros" premieres on September 30, it will become the first gay rom-com to be released by a major studio (Universal Studios) and get a theatrical release (via The Daily Beast).
That's not to say that "Bros" is the only watershed queer rom-com. "Fire Island," released earlier this year, was also released by a major studio — Searchlight Pictures, a division of 20th Century Studios — and streamed on Hulu, and 2018's "Love, Simon" was a major studio production that offered a look at a gay teen romance. But "Bros" is the unique LGBTQ+ film aiming for a big box office weekend that rivals its heterosexual counterparts, and it will do so without toning down the salaciousness. Unlike "Love, Simon," "Bros" is rated R, and references to Grindr and throuples abound.
"At most, [LGBTQ+ people] were the best friend. Most of the time we were ignored, and often we were the butt of the joke," Eichner told The Hollywood Reporter. "Now, we get to see ourselves falling in love and falling out of love. And for all of that to be on the big screen in a fun, hilarious, romantic way, that's what's so rewarding."