The Real Reason Tony's Mother On The Sopranos Was CGI In Season 3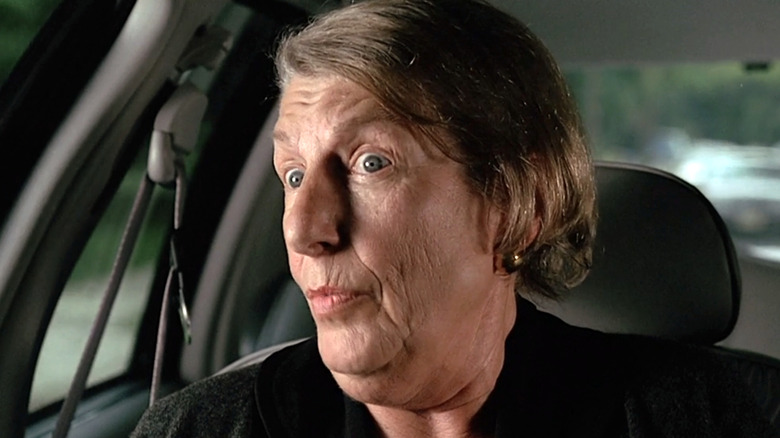 HBO
"Oh, poor you!" Despite his genuine efforts to take care of his mother, Livia Soprano (Nancy Marchand) was one of the banes of Tony Soprano's (James Gandolfini) existence on "The Sopranos" because of sayings like this. The narcissistic widow of a gangster, Livia's endless negativity actually hid an extremely cunning mind.
When Tony places her in a luxury nursing home, which he angrily insists is a "retirement community," Livia manipulates her former brother-in-law, Uncle Junior (Dominic Chianese), into an attempt on Tony's life. Only Dr. Melfi (Lorraine Bracco), Tony's therapist, is able to help the depressed mobster see that Livia is capable of trying to have her own child "whacked."
Livia was meant to still be a major character in Season 3, but her character dies unexpectedly after an awkward, CGI-augmented final appearance in the episode "Proshai, Livushka" (via Chicago Tribune). Here's why the "Sopranos" crew killed off Livia and why they needed computer animation to bring her back to life, if only for one scene.
The actress who played Livia died before the season began shooting
Livia Soprano was meant to be a key part of "The Sopranos" Season 3, as Tony would be arrested for stealing airline tickets, and she'd possibly have to testify against him in court (via Deadline). However, actress Nancy Marchand had been having health issues, even when she was filming the first season, though she insisted on working anyway. She died of lung cancer in 2000 before Season 3 could begin shooting (via The Orlando Sentinel).
According to The Chicago Tribune, the show ended up combining CGI augmentation with outtakes to create a creepy, somewhat infamous final scene between Tony and Livia in Season 3, Episode 2, "Proshai, Livushka." Chase thought that the audience needed one more moment to illustrate how much Livia cares only about herself. But the sequence feels more awkward than necessary, and the creator later admitted to Deadline that the sequence "wasn't completely successful."
The rest of the episode, however, is much stronger and funnier, as Tony learns of his mother's passing and is forced by his sister, Janice (Aida Turturro), to hold an awkward funeral for a woman no one really liked. Even in death, the character of Livia was inspiring some truly hilarious and amazing television.