That Time South Park's Matt Stone And Trey Parker Got Sued Over The Lollipop King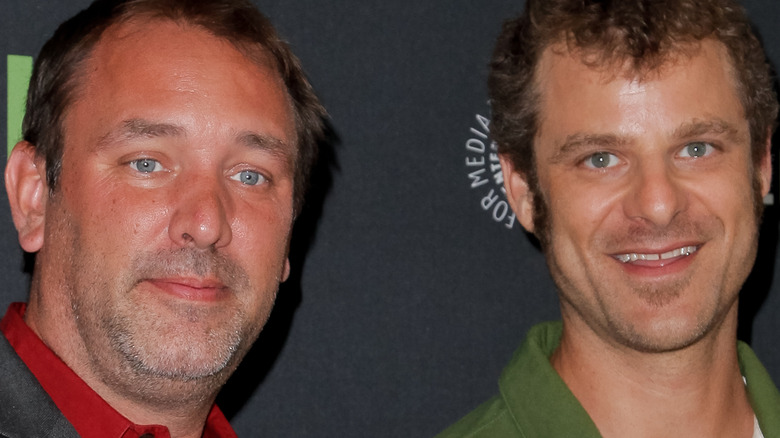 Tibrina Hobson/Getty Images
Over the course of its 25 seasons, Comedy Central's "South Park" has poked fun at and parodied countless staples in pop culture. From "King of Pop" Michael Jackson losing his nose to the Christina Aguilera monster, nobody is safe from the minds of creators Matt Stone and Trey Parker.
Believe it or not, some celebrities actually enjoy their less-than-flattering portrayals on the long-running cartoon. Though "Jersey Shore" star Nicole "Snooki" Polizzi was depicted as a sex-crazed, gremlin-like creature in Season 14, Episode 9 ("It's A Jersey Thing"), she still proudly acknowledges her inclusion. In August 2021, she tweeted that it's "the best South Park episode of all time." Even Joe Jonas, who gets beaten up by Mickey Mouse in Season 13, Episode 1 ("The Ring"), loved what Stone and Parker did. He described it as a "wow, we made it moment" in a Reddit AMA thread.
However, some parodies don't go over so well. In November 2010, The Hollywood Reporter revealed that Brownmark Films, producer of the music video for the viral 2007 song "What What (In the Butt)" by Samwell, sued Viacom and Comedy Central for the near-identical recreation starring Butters in Season 12, Episode 4 ("Canada On Strike"). The following summer, a federal judge sided with "South Park" and actually forced the production company to pay $30,000 for trying to obstruct freedom of speech.
Two years later, the dynamic duo behind everyone's favorite potty-mouthed fourth-graders found themselves with another lawsuit on their hands.
A children's TV show creator thought his Big Bad Lollipop character was ripped off
In 2007, writers Matt Stone and Trey Parker dropped "Imaginationland," the 10th episode of Season 11. In this three-part, Emmy-winning installment, the boys are taken to a magical place where everyone from Luke Skywalker to Jason Voorhees resides. A key character is The Lollipop King, a thin, crown-wearing individual who guides Butters to Castle Sunshine.
TMZ reported in 2012 that Stone and Parker were being sued for copyright infringement by Exavier Wardlaw, creator of the children's TV series "The Lollipop Forest," a live-action program about two children who wake up in a lollipop-filled world. Wardlaw believed that the sugary royal seen on "South Park" was stolen from his own character, Big Bad Lollipop. He also wasn't thrilled that this alleged rip-off was featured on an adult-geared program.
"Pop Trigger" provided a side-by-side comparison of the two characters. While The Lollipop King is colorful and wears a crown, Big Bad Lollipop is only green. Host Samantha Schacher found the lawsuit to be "ridiculous," especially since there's so little common knowledge about "The Lollipop Forest." She said, "You're not the first person to put human characteristics on a food item, let alone a lollipop."
It's unclear whether or not anything came from Wardlaw's legal efforts. Despite the brief controversy surrounding "Imaginationland," Parker told EW that it remains his favorite episode. He said, "It was the first time on a Thursday I stepped back from the board and the whole show was there. It felt so good."