The Time An Extra Was Run Over By A Truck On The Walking Dead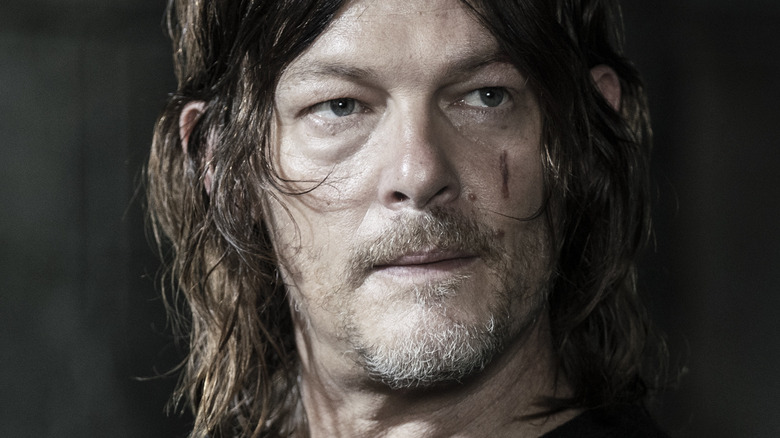 Jace Downs/AMC
The world inhabited by the characters of "The Walking Dead" is obviously a very dangerous one. In fact, describing a reality where the dead have come back to life as "very dangerous" seems a bit of an understatement. Few fans need reminding just how expendable life is in the zombie apocalypse, as we've had to say goodbye to a great many beloved characters during the show's run, including Glenn (Steven Yeun), Hershel (Scott Wilson), Sasha (Sonequa Martin-Green), and Carl (Chandler Riggs).
Not even the extras are safe. In 2018, CinemaBlend reported that "The Walking Dead" killed off its longest-running extra. Curtis Jackson played Bob Miller, a survivor at the Alexandria settlement who never spoke, but had survived multiple sieges and attacks. But as Season 9 began, Bob Miller was nowhere to be found, and fans concluded he had managed what most other characters hadn't: dying of old age.
While the safety threats were mostly contained in the fictional world of "The Walking Dead," for Zane Orr, an extra on the show, real life proved stranger than fiction. 
Zane Orr was hit by a truck
In 2013, during filming for Season 4 — not long after Rick's (Andrew Lincoln) band of survivors had defeated the Governor (David Morrissey) at Woodbury, and leading up to their second showdown after the remaining people of Woodbury joined Rick's group at the prison — "Walking Dead" extra, Zane Orr, was run over by a truck. But it wasn't as bad as you're likely thinking.
According to ComicBook.com, Orr was one of many actors on set that day playing — what else? — a zombie, when a fake military vehicle, which weighed about two-and-a-half tons and apparently had bad brakes, ran over Orr's stomach and hip.
Again, it sounds terrifying, and, in that moment, it very well would have been, but according to Project Casting, the 911 call made by production was surprisingly calm. "He is breathing and conscious," they told the operator. "Our medic is taking care of him right now." Not long after, Orr was airlifted to Atlanta Medical Center. Production resumed a few days later, and Season 4 was wrapped and released on schedule. Orr even got a visit from Lauren Cohan, who plays Maggie on the show, and was released from the hospital a few days later.