Zach Aguilar's Personal Connection To Demon Slayer Is Really No Surprise
Ufotable/Aniplex
"Demon Slayer" has quickly risen to become one of the biggest anime franchises in the world. Not only does it boast insanely high demand (via Parrot Analytics), but the first film based on the series, "Demon Slayer: Mugen Train," smashed the box office record for anime long held by "Spirited Away" (via Vanity Fair). Naturally, this kind of hype makes the wait for new episodes particularly excruciating for fans.
Based on the manga of the same name by Koyoharu Gotouge, "Demon Slayer" follows young Tanjiro's (Natsuki Hanae/Zach Aguilar) journey to destroy the demons who killed his family while also trying to save his cursed sister, Nezuko (Akari Kito/Abby Trott). The series is regularly lauded for its fantastic animation and incredible fight sequences (via Forbes). Aguilar voices Tanjiro in the English dub of "Demon Slayer" and, perhaps unsurprisingly, the actor has his own connections with the world of voice acting that go all the way back to his childhood.
Zach Aguilar heard lots of voice-acting in his childhood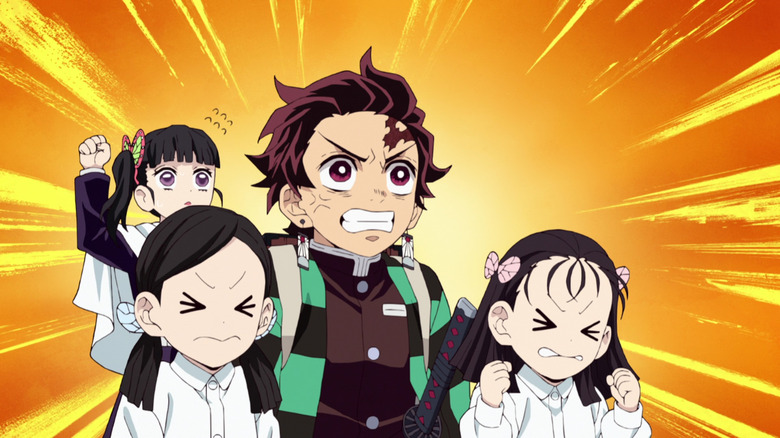 Ufotable/Aniplex
Zach Aguilar sat down with The Gamer to discuss playing Tanjiro in the English dubbed version of "Demon Slayer," and the actor had more than a few interesting anecdotes to share. Since Aguilar was also there to discuss his voice work on the video game adaptation of the hit anime, the conversation quickly turned to whether the performer played video games himself. "I've played video games since I was a kid, and that includes anime-based fighting games similar to 'Demon Slayer -Kimetsu no Yaiba- The Hinokami Chronicles,'" Aguilar explained. "Having that understanding of the genre helped solidify my understanding of how to approach voice acting."
People absorb so much into their brains as children, so it makes sense that these experiences from Aguilar's youth have had such a significant impact on how he voices the characters that he portrays. "I pull a lot of my style of acting for 'Demon Slayer: Kimetsu no Yaiba' in general from my childhood," Aguilar went on. "Growing up with popular anime and listening to the performances of the voice actors that worked on those shows." Aguilar has done an admirable job of voicing Tanjiro throughout his frequently intense emotional journey, so it would seem that these influences have only benefited his performance.
Abby Trott is also an avid gamer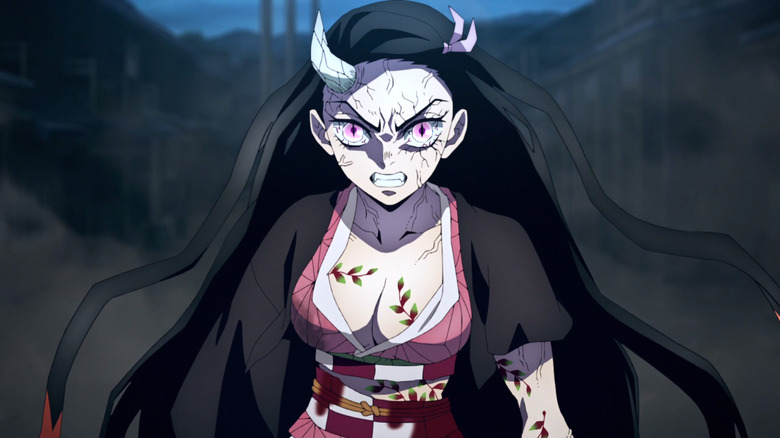 Ufotable/Aniplex
Abby Trott, who voices Nezuko in the English dub of "Demon Slayer," also joined Zach Aguilar in the interview with The Gamer. While she's also an avid gamer, she was quick to point out that she probably wouldn't be very good at the fighting game based on the hit anime series. "I am a gamer, though I am hopelessly terrible at fighting games," she admitted.
Still, like Aguilar, Trott's experience with playing video games has helped to inform her own voice-acting performances as well. "My gaming experience has helped me gauge performance when recording voiceover for video games," Trott explained. "I try to imagine what I would want to hear if I were playing the game or watching someone else play." Imagining yourself on both sides of the experience seems like a very sensible way to judge how your performance will be received, and if Trott's work on "Demon Slayer" is any indication, her process is working wonderfully thus far.