Where You've Seen The Cast Of Lou Before
Women are at the center of the action in "Lou," a new heart-pounding thriller that debuted on Netflix on Friday, September 23. While the trailer for the film rightly hints that there are some surprises in store for the title character's dark and mysterious past, the basic plotline follows Lou (a grizzled Allison Janney) and Hannah (Jurnee Smollett) as they attempt to rescue Hannah's young daughter Vee (newcomer Ridley Asha Bateman) from the clutches of a kidnapper. A raging storm and the dangers of a wild landscape force the two women to trust each other, revealing their secrets and dark pasts of each.
A few early reviews have already pointed out the feminist themes of the film, especially since the mysterious elderly neighbor turns out to be a badass with a past, which is usually the purview of male characters. Thankfully, director Anna Foerster (along with writers Maggie Cohn and Jack Stanley) presents audiences with a female-led cast that seems more than capable of saving the day. Finally, Hollywood is delivering fans action films starring women over the age of 50 and the world is more than ready to see what ladies like these can do.
Most of the movie takes place during a massive storm, a storm so large that it hinders the rescue, turning the film into a disaster flick, almost as much as it is an action movie. Jurnee Smollett told Kelly Clarkson the cast and crew were "just wet the whole time" with a big helping of mud. Filming for "Lou" took place in Vancouver, which happily obliged on the rain front, and where the lush woods created a gothic background for the struggles of the two women. "Lou" has a great cast of industry veterans and exciting newcomers, read on to see why those faces look so familiar.
Allison Janney (Lou)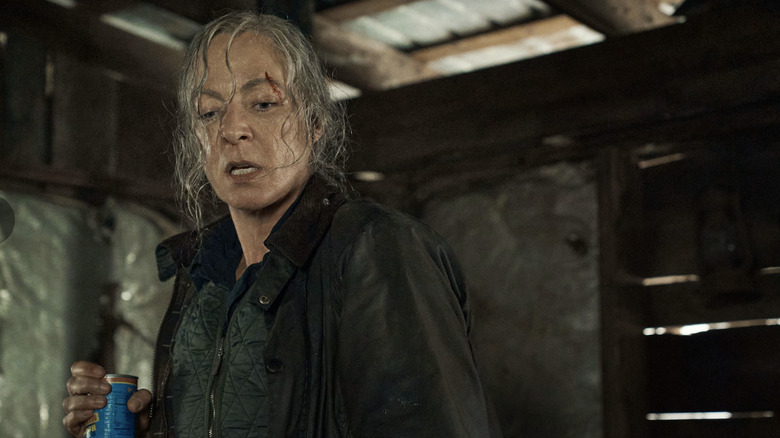 Liane Hentscher/Netflix
While Allison Janney has had a long and storied career in Hollywood, for some of us, it's her brilliantly hilarious, deliciously irreverent role as the iconic Ms. Perky in the classic teen comedy, "10 Things I Hate About You" for which she'll always be remembered. However, Janney is not just a great comedian — she did, in fact, get her breakthrough role on NBC's "The West Wing" as C.J. Cregg, for which she won numerous Emmy awards.
Of course, she's also a powerhouse on the big screen, playing Juno's outspoken stepmother Bren in the 2007 award-winning film "Juno," as well as Charlotte in "The Help." However, it was her portrayal as LaVona, Tonya's abusive mother in "I, Tonya," that garnered the well-deserving actress her first Academy Award for best actress in a supporting role. Fun fact: Janney was once a talented figure skater herself, even harboring dreams of possibly going to the Olympics one day, she revealed to IndieWire.
For "Lou," Janney committed to doing her own stunts, training two hours a day with a fight choreographer (Daniel Bernhardt) to, in her own words on "The Tonight Show with Jimmy Fallon," "learn to fight to kill and, you know, be a badass." And while Janney has talked about channeling Liam Neeson and Helen Mirren for her portrayal of Lou, it's exciting to see a female action hero who's not wearing a black leather corset. As she told the A.V. Club, Janney felt that it was "freeing to not have any makeup on and be muddied up to look messy and dirty and unkempt." 
Jurnee Smollett (Hannah)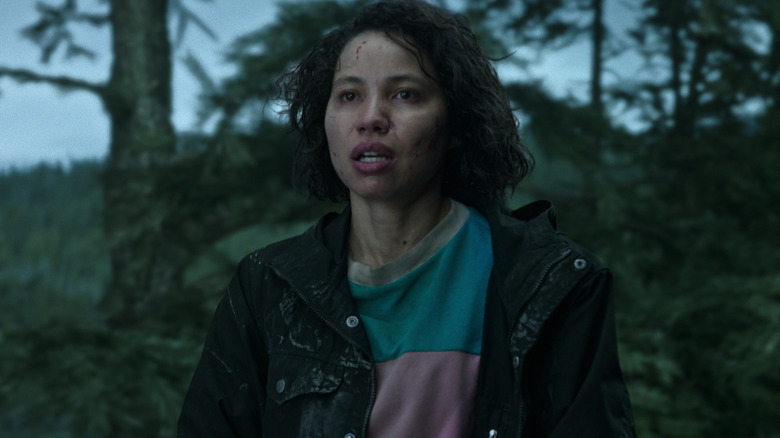 Netflix
Fans of Jurnee Smollett will know that this young actress is already a long-time industry professional with a career that literally spans decades. In fact, Smollett has been acting since 1991 when she was merely five years old. Children of the '80s should definitely recognize her as the memorable Denise in "Full House," a role that she reprised again for the spin-off "Hangin' with Mr. Cooper." And in 1994, Jurnee and literally all of her five siblings were cast in the ABC sitcom, "On Our Own." While "On Our Own" and "Hangin' with Mr. Cooper" were short-lived, Smollett was an active sitcom star.
However, Smollett transitioned easily from the small screen to feature films, starring in the award-winning period drama "Eve's Bayou" (for which she won a Critic's Choice Award). And if the audience still needs a memory refresh, even after roles on "Cosby" and "Friday Night Lights," then hopefully Smollett's time on HBO's phenomenal "Lovecraft Country," (one of 2020's must-see shows) can help jog a few memories. Smollett starred as Leticia Lewis in the multi-award-winning fantasy horror series, where she also plays a woman unafraid of standing up for herself. Smollett also recently starred in a disturbing episode of Jordan Peele's "The Twilight Zone" reboot as well as Netflix's creepy original film "Spiderhead."
After the success of "Lovecraft Country," Smollett not only stars in "Lou," but she's also one of the executive producers for the film, showcasing her numerous talents in front of and behind the camera. In an interview with ComicBook.com, Smollett described Hannah by saying, "she's a survivor. She comes from a very broken background and a very abusive background, but she is so resilient and it's really that resilience that women have that we really wanted to tap into with this story."
Logan Marshall-Green (Philip)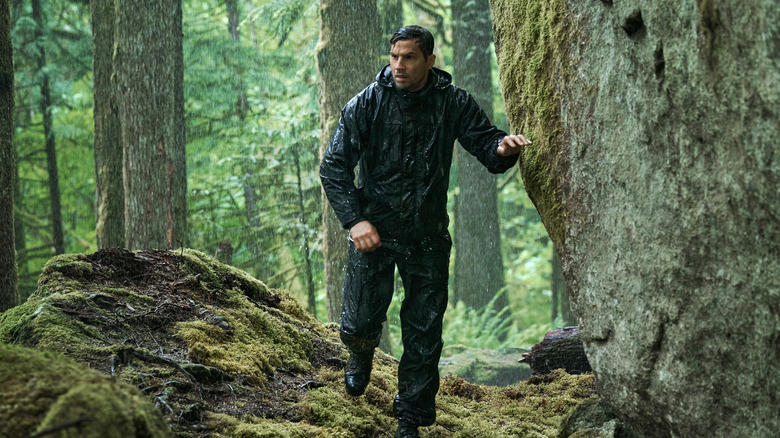 Netflix
Logan Marshall-Green's character in "Lou" is the mysterious Philip, whose presence in the trailer alone suggests he is the story's bad guy. Considering his experience in the horror genre, that is not too far a stretch for this actor. Clearly a fan of the thriller, mystery, and horror genres, Marshall-Green has starred in several creepy films over the past two decades of his acting career.
Fans of M. Night Shyamalan might recognize him from the 2010 film, "Devil," (Shyamalan is the story creator) where he played the "mechanic," one of five occupants stuck in an elevator and who may or may not be the devil himself. Though of course, audiences might find him more familiar with the role of Travis Scott in ABC's mystery-thriller series, "Big Sky." He also earned some chills in 2015's "The Invitation" and 2018's "Upgrade."
However, his most notable role might just be as Charlie Holloway in Ridley Scott's "Alien" origin-story prequel, "Prometheus." The Hollywood horror blockbuster featured an amazing cast, and Marshall-Green starred alongside Noomi Rapace, Michael Fassbender, and Charlize Theron (just to name a few). Fans should remember Charlie Holloway as Elizabeth Shaw's (Noomi Rapace) colleague and lover. No spoilers here, but in true Ridley Scott fashion, Holloway makes a memorable exit in the film.
Greyston Holt (Chris)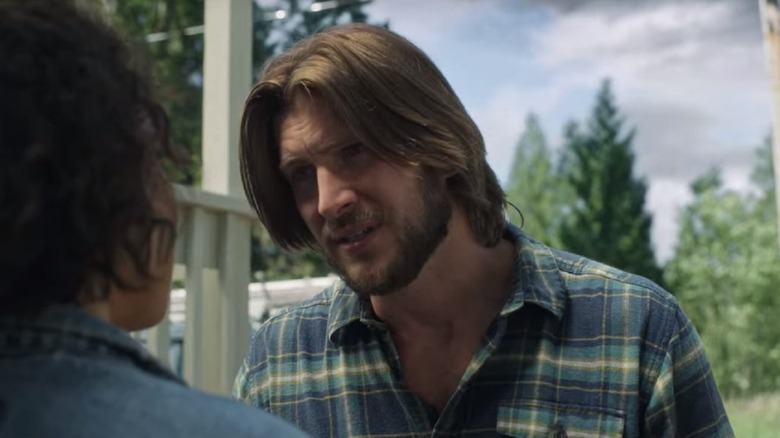 Netflix
Greyston Holt portrays the character Chris in "Lou," but the face of this charismatic Canadian-born actor should be familiar to fans of the Canadian series "Bitten." The fantasy-horror series starred Greyston Holt and Laura Vandervoort as werewolves, navigating the drama of the pack and the supernatural world. While the series only ran for three seasons from 2014 to 2016, Holt managed to draw in a following with his brooding energy.
Meanwhile, for fans of the supernatural and strange, Holt's recurring spot on Season 6 of "Riverdale" as Greg Scot should ring a bell, as well as his role in the short-lived ABC mystery drama "Somewhere Between."
However, if fighting werewolves and a return from the dead aren't really your thing, then there's another genre Holt seems to have an affinity for: the Christmas movie. That's right, audiences might know Holt from the baker-inspired Lifetime TV movie, "A Sweet Christmas Romance." Holt also starred as Zane in 2017's "A Very Country Christmas" TV movie, which features a lonesome country music star moving to a small town and, of course, falling in love with a local single mother. And because one film sometimes just isn't enough, Holt actually reprised his role as Zane in two sequels: "A Very Country Wedding" and "A Very Country Christmas: Homecoming." Sadly, according to an interview with The Harlton Empire, Holt, despite playing a country music singer, doesn't actually sing in real life.
Marci T. House (Agent Lee)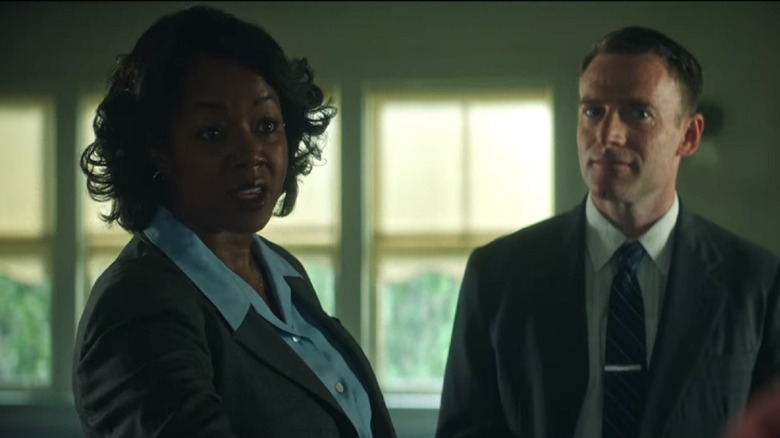 Netflix
Meanwhile, veteran television actress Marci T. House plays the all-too-brief role of Agent Lee in "Lou." Fans should recognize House from a wide range of small screen roles, particularly as she's had roles in several recent Netflix releases. Eagle-eyed viewers will remember House from this year's horror mini-series, "Devil in Ohio," wherein House played a local nurse. And for lovers of the thriller and mystery genre, check out the award-winning Canadian series, "Tribal," in which Marci T. House had a recurring guest role as Victoria Mann in Season 2.
However, for audiences with children in the house, Netflix's delightful "Ivy + Bean" film series, which follows the adventures of two young girls, stars House as Charlotte. Marci T. House has actually guest starred and had smaller roles in dozens of popular TV series, including "Battlestar Galactica," "Supernatural," "Prison Break," and even "Motherland: Fort Salem."
Matt Craven (Sheriff Rankin)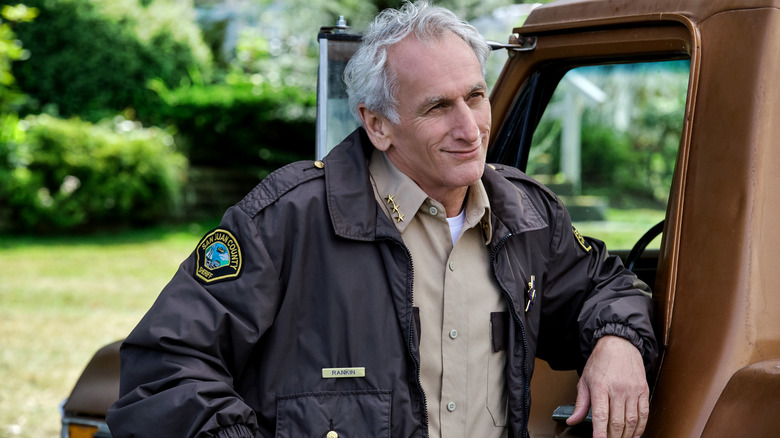 Liane Hentscher/Netflix
Matt Craven plays Sheriff Rankin on "Lou," which is a role he knows well considering he's played a few lawmen in the past. As a character actor with over 90 credits to his name, Craven has been acting since the '70s and had roles in some major blockbusters over the years. For audiences who are all about law enforcement and crime dramas, they'll recognize Craven from "NCIS" where he played Clayton Jarvis, secretary of the Navy, and the FX series, "Justified" where he played U.S. Marshal Dan Grant.
Craven also had a role in "A Few Good Men," which ranks as one of the best courtroom dramas of all time, according to the AFI. His role? The stressed Lt. Dave Spradling, he of the "possession of a condiment" scene. And that's not where his "men in uniform" roles end, viewers can watch him play Sheriff Fred Langston in the ABC TV series "Resurrection," and in the award-winning Southern gothic HBO mini-series, "Sharp Objects" as Chief Bill Vickery.
Daniel Bernhardt (Tony)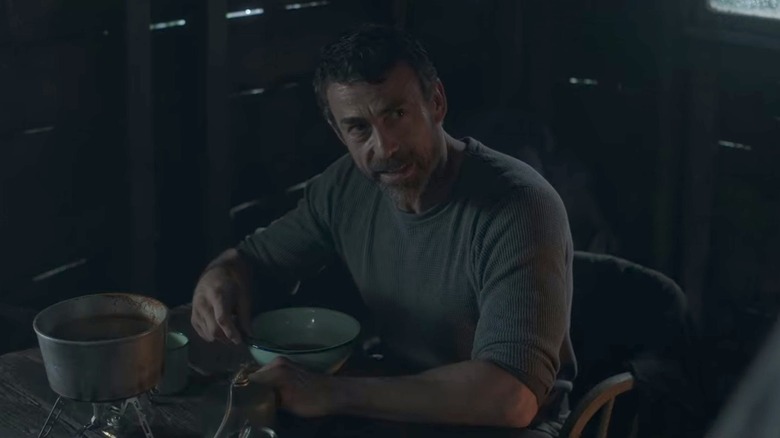 Netflix
Daniel Bernhardt not only plays Tony in "Lou," but he's already been mentioned in this article; that's right, Bernhardt was Allison Janney's fight choreographer and trainer for the film. As a member of the famed 87Eleven action studios, Bernhardt has worked with and trained A-list actors for a number of films, including Halle Berry for "John Wick" and even Charlize Theron for "Atomic Blonde." As a martial arts specialist from Switzerland, Bernhardt has been playing action stars and movie villains for over 20 years.
Fans of action films and kung-fu movies should recognize Bernhardt from "John Wick" where he played antagonist extraordinaire and dangerous bad guy, Kirill. However, Bernhardt is also notable for his role as Agent Johnson in "The Matrix Reloaded" and "The Matrix Revolutions." Imagine fighting Keanu Reeves in not one, but two film series. Audiences can also find Bernhardt showing off his martial arts skills in "Birds of Prey," "Altered Carbon," "Atomic Blond," and "Red Notice."
Toby Levins (Agent Hampton)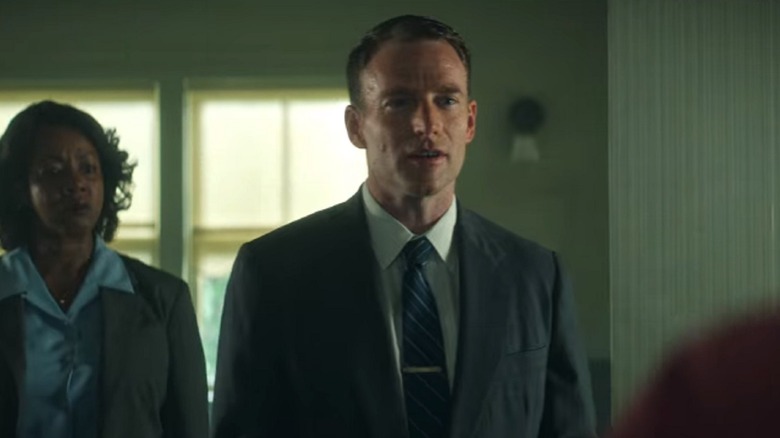 Netflix
Toby Levins plays Agent Hampton in "Lou," Agent Lee's (Marci T. House) apparent partner. This isn't the first time he's played a member of the police as he played "Sheriff Dayton" in the supernatural family drama series, "Beyond." Audiences will also recognize Levins as Lt. Carl Emerson in "The 100." For those that are fans of action films, look for Levins as a fighter pilot in 2014's "Godzilla" and as a recurring guest star in "Van Helsing" as Bosworth. Viewers might also recognize him from a small role as the apartment super in 2015's "The Age of Adaline," the offbeat drama film which starred Blake Lively as a woman who never aged.
While Levins has done his time in the Christmas TV movie genre (find him in "Picture a Perfect Christmas"), Levins is most notable for his role in the award-winning Netflix mini-series, "Maid." The emotional, heart-wrenching drama starred Margaret Qualley and Andie MacDowell as mother and daughter, in film and in real life, struggling with cycles of trauma and domestic violence. Levins portrayed Basil Desmond, a con-man and the sometimes-Australian sounding boyfriend of Paul (fun fact: Levins' Australian accent in "Maid," is his natural accent as the actor was born and raised down under). 
RJ Fetherstonhaugh (Gerry)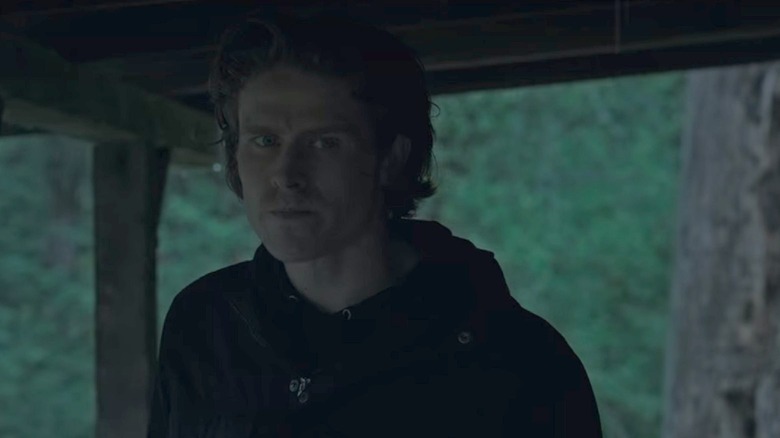 Netflix
Canadian-born RJ Fetherstonhaugh plays Gerry in "Lou," and even though he's only been acting for the past decade, Fetherstonhaugh has managed to nab himself a spot in some great TV series and films. For those that love a good sports series, Fetherstonhaugh should be familiar with his role as Nolan Goddard in the 2018 Netflix miniseries, "21 Thunder." The series, which originally premiered in Canada, follows the young team of an under-21 soccer academy in Montreal. The show became an unexpected hit, garnering positive audience reviews and earning itself a few sports fans.
Prior to that, though, Fetherstonhaugh had a recurring spot on the award-winning 2015 sci-fi thriller, "Wayward Pines" as Sean. While "Wayward "Pines" only lasted for two seasons, the Fox series boasted an impressive pedigree, with the series pilot directed by M. Night Shyamalan. Fans of science-fiction can also watch Fetherstonhaugh in the dystopian series "Snowpiercer" as Jackboot Clifford, a member of the authoritarian military for the train.
Jaycie Dotin (Bank Teller)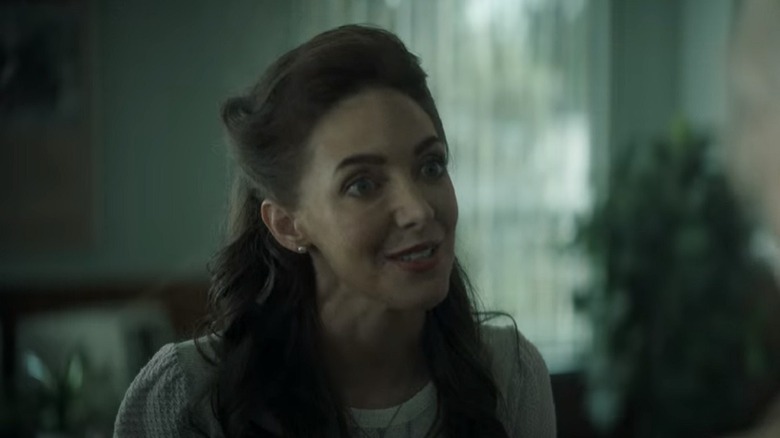 Netflix
While Jaycie Dotin may only have a small role in the thriller "Lou," it is fair to say that this actress has become a regular player in Netflix's original content slate. Dotin is also a familiar actress to many of the film's cast, having appeared in many of the same projects. Audiences of "Big Sky" (in which Logan Marshall-Green acted) may recognize Dotin as Mary Leyendecker in the crime drama and thriller.
She's also worked with Marcie T. House before in the Netflix family films "Ivy + Bean," "Ivy + Bean: Doomed to Dance," and "Ivy + Bean: The Ghost That Had To Go." She also appeared as Mrs. Delaney in Netflix's popular and deeply nostalgic, award-winning series, "The Baby-Sitter's Club." Dotin has had roles in several Hallmark films, including "Marry Go Round," "A Christmas Duet," and "If Only I Had Christmas," alongside Candace Cameron Bure.
Roman Mitichyan (Abductor)
While Roman Mitichyan may only have a blink-and-you'd-miss-it role as the Iranian child abductor in "Lou," his part in the film is much more important — and revelatory about the titular character's mysterious personal history — than his screen time indicates.
As for the actor, Mitichyan, who was born in Armenia, studied martial arts and was actually a contestant on the MMA-fighter reality show "The Ultimate Fighter" in 2007. However, for the past 20 years, Mitichyan has been performing stunts and acting in popular action films and TV series, including "Sons of Anarchy," "CSI: Miami," "24," and even "Agents of S.H.I.E.L.D." Though it's his work on films that audiences will find more memorable, look for Mitichyan in "John Wick" (naturally), the Apple TV series "For All Mankind," and a role on "WandaVision."
Anna Foerster (Director)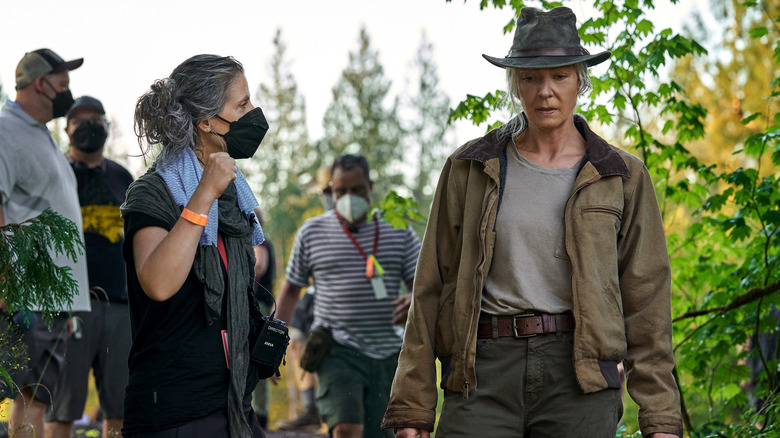 Liane Hentscher/Netflix
Anna Foerster is the director of "Lou," and while this is only her second full-length feature film, Foerster is no stranger to the director's chair (note: "Lou" is her Netflix debut). Vampire fans should recognize Foerster's name as her first feature film was actually 2016's "Underworld: Blood Wars," starring Kate Beckinsale, the fifth (and possibly final) installment of the "Underworld" series. Even though "Underworld: Blood Wars," wasn't positively received by critics, it has amassed a global following that keeps the series popular with fans. And considering that "Underworld," features a tough female lead, we're seeing a theme across Foerster's work that puts women-led projects first — exactly more of what Hollywood needs.
For fans who favor a bit more romance mixed in with their violence, Foerster also directed several episodes of the hit Starz series "Outlander," including Jamie and Claire's wedding. Audiences can also see the results of Foerster's directorial chops in several episodes of "Criminal Minds," "Jessica Jones," HBO's "Westworld," and two episodes of the Amazon series, "Carnival Row" (supposedly a second season should be coming soon).
Foerster also worked as a second unit director on "The Day After Tomorrow," 2004's prescient environmental disaster flick, a credit that surely must have helped when portraying the fierce weather conditions of "Lou."