Exclusive: The Twilight Zone Season 2 Deleted Scene Will Give You Chills
For as intense and captivating as CBS All Access' The Twilight Zone reboot series is, there were some gripping scenes you didn't get to see on screen. 
Ahead of The Twilight Zone season 2's DVD release on Tuesday, January 12, Looper is thrilled to exclusively share a deleted scene from the season's fourth episode, entitled "Ovation." 
Directed by A Girl Walks Home Alone at Night and The Bad Batch filmmaker Ana Lily Amirpour, "Ovation" tells the story of a young woman named Jasmine Delancey (played by Birds of Prey and Selma actress Jurnee Smollett), who receives a medallion from a pop star called Fiji (real-life singer-songwriter Sky Ferreira). After Fiji dies by suicide, street-performer Jasmine channels her pain into writing songs and performing them at the place where Fiji died. She then partakes in Ovation, a singing competition that launches her into fame, with people applauding her everywhere she goes. Things take an even darker turn after Jasmine's sister Zara (Star Trek: Lower Decks' Tawny Newsome) warns her that she'll suffer a terrible fate if she doesn't rid herself of Fiji's medallion. Without spoiling the ending, the episode takes a jaw-dropping turn that ultimately leads to a heartbreaking revelation.
In the deleted scene, shown above, Jasmine is seen sitting at a kitchen table that's littered with old snacks and Tupperware containers of microwavable food. She pours herself a stiff drink, then takes a knife and begins stabbing a magazine on the table. There are voices in Jasmine's head, and the only way she can think to drown them out is by closing herself off from the world and seeking comfort in alcohol. 
Something for everyone in The Twilight Zone season 2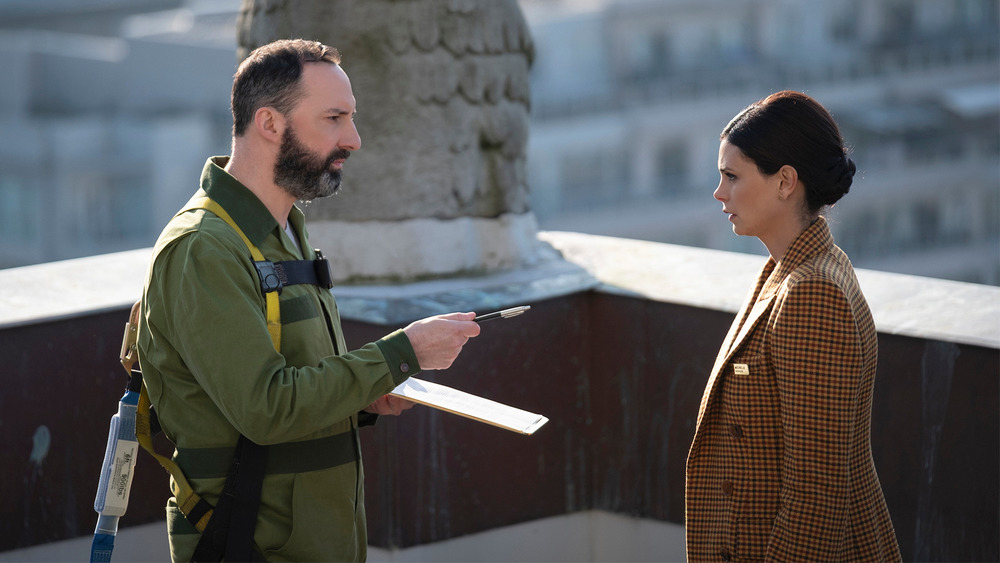 CBS All Access
If "Ovation" sounds like it's right up your alley in the drama-thriller-horror department, you'll be pleased to know that The Twilight Zone season 2 has plenty more episodes that hit similar beats and offer up tons of heart-racing moments. But make no mistake: The series' second season spans a sizable range of themes and swims around in many different genre pools.
The season 2 premiere, "Meet in the Middle," is a dark, twisted exploration into unhappy marriages, deception, and violence — all framed around a man who believes he may be experiencing dissociative identity disorder. The Twilight Zone season 2 then veers into spooky sci-fi thriller territory in the very next episode, "Downtime," which follows a newly promoted hotel manager who comes to question her reality after a strange object appears in the sky. More of that same vibe can be found in the season's sixth episode, "8," starring Joel McHale, Michelle Ang, Nadia Hilker, Brandon Jay McLaren, and Tim Armstrong. "8" finds a group of scientists identifying a species of squid that's both highly intelligent and has the potential to cause great harm to their lives.
Throughout the season, there are also time loops; confessions of love; a miniature model hidden in a church that, when altered, changes its real-life counterpart in the exact same ways; strange eggs, aliens, and body-swapping scenarios; and a teenage girl with psychic abilities. In short, The Twilight Zone season 2 has something for everyone to enjoy.
The Twilight Zone season 2 will be available on DVD on Tuesday, January 12. A Blu-ray release is coming soon.