The New Girl Episode You Likely Forgot Featured Abbott Elementary's Quinta Brunson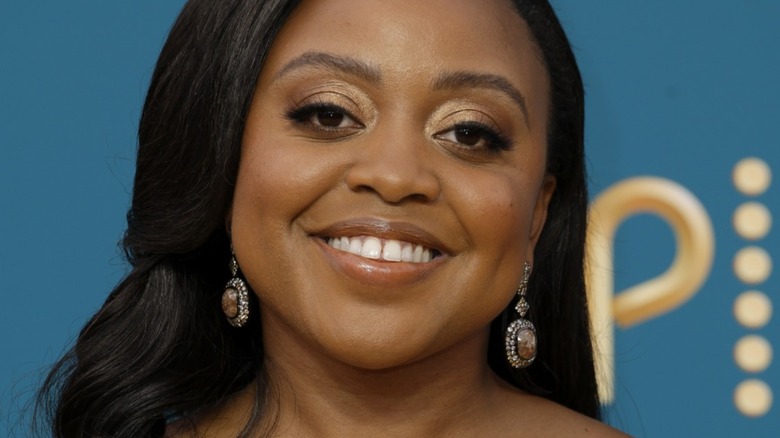 Frazer Harrison/Getty
The 74th Primetime Emmy Awards continued the rise of ABC's "Abbott Elementary" as one of the most crucial shows currently on TV. Following an extraordinarily successful and acclaimed freshman season, the workplace sitcom was able to rack up a well-deserved seven Emmy nominations, ultimately taking home three statuettes, per IMDb: Outstanding Casting for a Comedy Series, Outstanding Supporting Actress in a Comedy Series for the brilliant Sheryl Lee Ralph, and Outstanding Writing for a Comedy Series. And no one was more elated about that victory lap than the recipient of the latter award — series creator, star, and mastermind Quinta Brunson.
Brunson, who plays Janine Teagues on "Abbott Elementary" in addition to serving as showrunner, took to Twitter shortly after her win to post a picture of herself holding her first Emmy statuette with the caption "couldn't be happier," which was followed up by another tweet in which she wrote "actually this makes me happier" in reference to Ralph's win. Both tweets got shared and liked tens of thousands of times, demonstrating both the widespread public affection for "Abbott" and the major media figure that Brunson has built herself into through her recent work. 
As "Abbott Elementary" continues to tell the stories of teachers and staff at the titular fictional Philadelphia school with its newly-premiered second season, it's as good a time as ever to look back on Brunson's trajectory up to this point — which includes, among other things, a guest role on Season 7 of "New Girl."
Quinta Brunson played hostess Annabelle on a Season 7 episode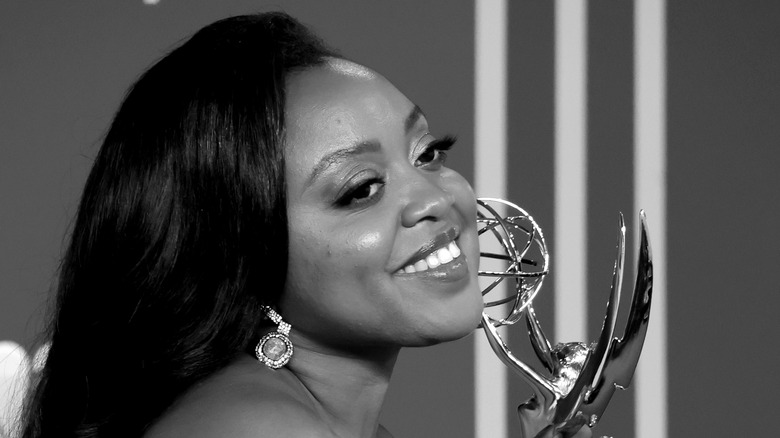 Frazer Harrison/Getty Images
Over the course of its sterling run, Fox's "New Girl" became one of broadcast television's most consistent sources of laughs and romance alike. The quintessential millennial buddy sitcom developed its relationship arcs with patience and sensitivity worthy of the greatest TV love stories, and by the time the characters settled into blissful domesticity at the end of its run, all the happy endings felt earned. In fact, "New Girl" was the kind of show that could afford the luxury of doing a shorter send-off season just to tie up loose ends and put a bow on the overarching story.
It was on that season, namely 2018's Season 7, that Quinta Brunson landed her first official TV acting gig. On the episode "Mario," she played Annabelle, the hostess at the restaurant where Nick (Jake Johnson) is trying to book a table so he can propose to Jess (Zooey Deschanel). "That was the biggest deal to me because I loved 'New Girl,'" Brunson told People Magazine. The role, which came as a result of meeting with "New Girl" creator Elizabeth Meriwether "about developing something," was a small one, but that didn't faze Brunson. "[Meriwether] was like, 'I feel like this is so small. Do you want to do this?' I was like, 'I don't care. I love this show,'" the actress and writer said. "It was the final season. I didn't care how small it was. I wanted to do it."
Brunson's star moment has been a long time coming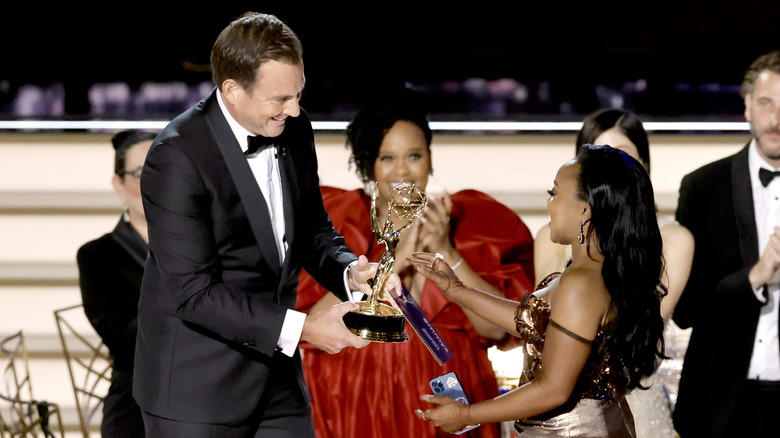 Kevin Winter/Getty Images
"New Girl" may have been Quinta Brunson's first "official" acting job on TV, but it was only one of the many steps she had to take on her way to her newly-confirmed industry superstardom.
In fact, the "New Girl" guest spot was not Brunson's first acting job in a general sense, or even her first role on a scripted series. Prior to breaking out on broadcast television, Brunson made her name on the internet. She first gained notoriety via her Instagram comedy videos, which she self-produced and posted between 2014 and 2018 (via Essence). This led to a job as a writer and actress at Buzzfeed Video, which she then parlayed into the YouTube Red original series "Broke" (via Vogue).
By the time the "New Girl" gig happened in 2018, Brunson was already one of the most established creatives in the world of online content. And, once the Fox sitcom opened up the door, she didn't take long to make a name for herself on traditional TV as well, appearing on shows like The CW's "iZombie" and ABC's "Single Parents" (also created by "New Girl'"s Elizabeth Meriwether), and voicing characters on Adult Swim's "Lazor Wulf" and Netflix's "Big Mouth." Her big break, arguably, came when she joined the ensemble of the acclaimed HBO sketch comedy series "A Black Lady Sketch Show," appearing on all six Season 1 episodes before leaving the show due to scheduling conflicts (via Deadline).