A Mad About You Revival Is In The Works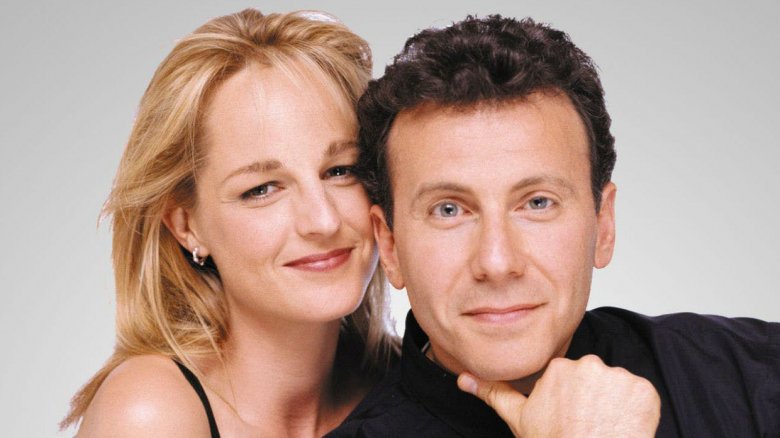 Another TV revival could be headed your way. TVLine reports that Sony is looking to bring back their popular sitcom Mad About You, which originally aired on NBC from 1992 to 1999.
Mad About You starred Paul Reiser and Helen Hunt as a newly married couple getting used to life in New York City. The series was a big hit for NBC, earning 13 Golden Globe nominations including two wins for Hunt and a win for best TV comedy, as well as a slew of Emmy nominations and even a prestigious Peabody Award. 
The series became so popular that, by its seventh season, Hunt and Reiser were each earning $1 million an episode. (via The Hollywood Reporter) It was ultimately canceled after its ratings suffered when NBC moved it to its struggling Monday night comedy block. The finale, which jumped 22 years into the future, will likely be overlooked should the show return, as has been done with the recent Will and Grace revival and the upcoming Roseanne revival.
The revival is still in its early stages, with Reiser and Hunt said to be in informal talks. Reiser, who co-created the show with Danny Jacobson, is said to be gung ho about bringing the series back, with the new episodes reportedly revolving around Paul and Jamie dealing with an empty nest after their daughter Mabel gets into college.
Reiser previously revealed he was "talking" about a Mad About You revival while promoting Stranger Things season two in October. The actor told People, "If we can find the story to tell and anybody's interested, I'd be open to it... For years, I would've said, 'Absolutely no. We never would do it,' because I was very proud of how we ended it really well."
"We even told the future a little bit, so our thinking at the time was, 'Let's make sure we never get tempted to come back. Let's tell them what happens,'" he continued. "Now, because everybody's talking about it, I started to think, 'Maybe if there's a story we could come up with.' To me, it's interesting when I see my kids are growing and leaving the house. It's like, 'Oh.' It's like that moment when you get married. It's like we're in a new world that we don't know the rules of."
There is no word yet on what network could pick up the potential Mad About You revival, although its original home, NBC, is said not to be in talks. The show is not the first classic series to be in talks for a reboot, either– Sony is also pursuing a Party of Five reboot, while many were recently shocked to hear that NBC may be considering a revival of The Office.