The Real-Life Inspiration Behind The Boys And Girls Episode Of The Office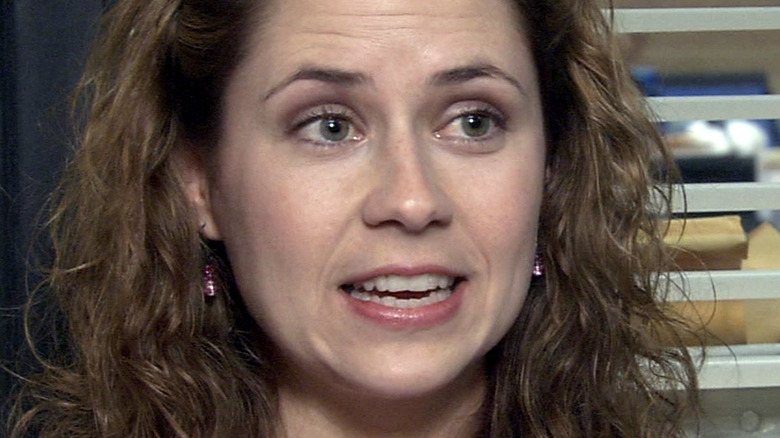 NBC
"The Office" is one of those incredibly rare shows that is still immensely appreciated even nearly a decade after its finale. Throughout its iconic run, the Emmy-winning series created countless memorable moments and stories that came from all sorts of intriguing places in terms of inspiration.
There is no shortage of gut-busting instances in each of the sidesplitting episodes available from all nine wickedly funny seasons. One that arguably stands out as the ultimate laugh-out-loud affair is Season 2, Episode 15 ("Boys and Girls"). In the episode, Jan Levinson (Melora Hardin) separates the men and the ladies by conferencing it up with the female office workers for a "women in the workplace" event. Michael Scott (Steve Carell) is forbidden from participating. Feeling separation anxiety from his office ladies and the loss of control over his domain, Scott decides to take the boys down to the warehouse, which results in union busting, pizza, and the warehouse being left in shambles.
The critically acclaimed series (via Rotten Tomatoes) is known for its outrageously comical narratives, and "Boys and Girls" is most assuredly another excellent example of outstanding humor. Out of all the things fans may not know about "The Office," followers of the show might not be aware that the hilarious concept for this episode came from a somewhat surprising source.
Jenna Fischer and Angela Kinsey were inspired by their time in a real office
The real-life inspiration for Season 2, Episode 15, came from Pam Beesly (Jenna Fischer) and Angela Martin (Angela Kinsey). While the two characters weren't very good friends on the show at times, they were pals off camera, and together they would bring about "Boys and Girls."
Jenna Fischer told TV Guide that during breaks on set, she and Angela Kinsey would have picnics in the latter's trailer, and it was during one of their fun feasts the idea was born. On the podcast Office Ladies, Kinsey recalled how the two came up with the concept while chatting about their old jobs before they were on the path to becoming small-screen stars. "Jen [Fischer] and I were talking about our lives before the show, she was a secretary, and I was an operator, and we were laughing about all the crazy seminars and ridiculous meetings we had to sit through at our old corporate job we sort of had this idea that it would be a funny episode called women in the workplace, we ran into Greg Daniels and told him our little idea," Kinsey said.
Their spontaneous proposal was enough to spark the writers' curiosity, and they successfully helped ignite the idea behind the excellent addition to the show's comedic legacy. The well-crafted episode garnered impressive ratings from outlets like Television Without Pity and IMDb. According to Nielsen TV Ratings (via Ratings Ryan), the entry also drew stellar numbers and was watched by 9.2 million viewers.