Why Supernatural's Composers Alternated Duties Every Other Episode
Suppose one were to poll the legions of "Supernatural" fans around the world about what they liked best about the show. In that case, you'd probably be bombarded with answers like the quippy banter, the beastly villains, the head-spinning narrative twists, the delightful B-movie flourishes, or the dreamy faces of stars Jared Padalecki and Jensen Ackles. You'd probably get a few diehards claiming the sweet '67 Chevy Impala (which had a few emotional scenes at its center) as their favorite. And you may even get a few "Supernatural" fans noting the series' music as the one element they cherish above all else.
That last bit may seem like wishful thinking because music isn't typically among the first things viewers think of when asked about a television series. With "Supernatural," however, it arguably should be as music was regularly taxed with bolstering both the emotional and ominous undercurrents inherent to the demon-slaying madness of the Winchester family saga. You may not realize it, but for the bulk of the series' run on The CW, that music was conjured by two composers, Jay Gruska and Chris Lennertz, alternating episodes throughout. Here's how that unconventional workflow came about on "Supernatural." 
An unexpected behind-the-scenes decision found Supernatural producers hiring two primary composers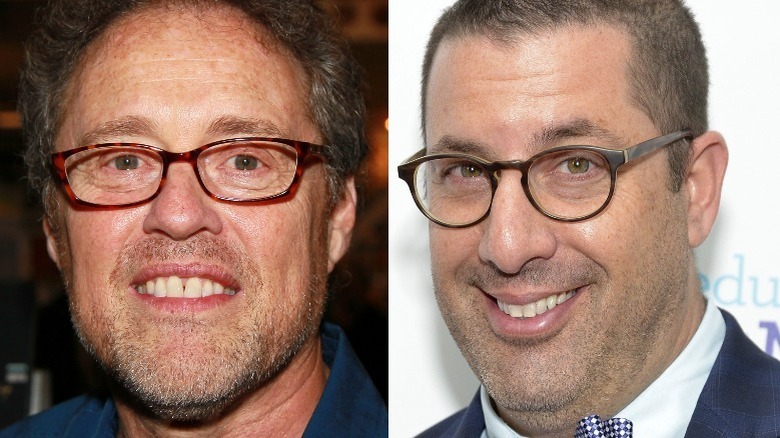 David Livingston/Getty Images - Michael Tullberg/Getty Images
Jay Gruska candidly discussed the less than conventional workload on "Supernatural" in a 2019 interview with the American Society of Composers Authors and Publishers (ASCAP), telling the publication it came about because series' producers liked what both composers brought to the table.
As Gruska notes, Chris Lennertz got his foot in the door on "Supernatural" as he'd been friends with series' creator Eric Kripke since college, adding he was brought in because he'd been working with "Supernatural" producer Bob Singer for a couple of decades. Per Gruska, the pairing initially started as an unofficial competition, "They said 'Let's have Chris do the pilot, and then let's bring Jay in to do episode two,' and the unspoken thing is, whoever we like is going to do the series." It seems the composers each brought their A-games as neither Kripke nor Singer could bring themselves to choose just one of them, with Gruska noting, "Certainly to my thrill, and I think Chris's as well, they liked us both."
As it was, the alternating episodes gig seemingly came about out of the necessity to ensure both composers' contributions were regularly in the mix. "It's unusual to alternate on a gig like that," Gruska admitted. Unusual setup aside, Gruska agrees his and Lennertz's work meshed beautifully, with the two only needing to hash things out regarding specific musical themes. And it's safe to say each left as an indelible a mark on the realm of "Supernatural" as any of the series' regular collaborators.