The Blue Bloods Star Who Was Once A Bon Jovi Icon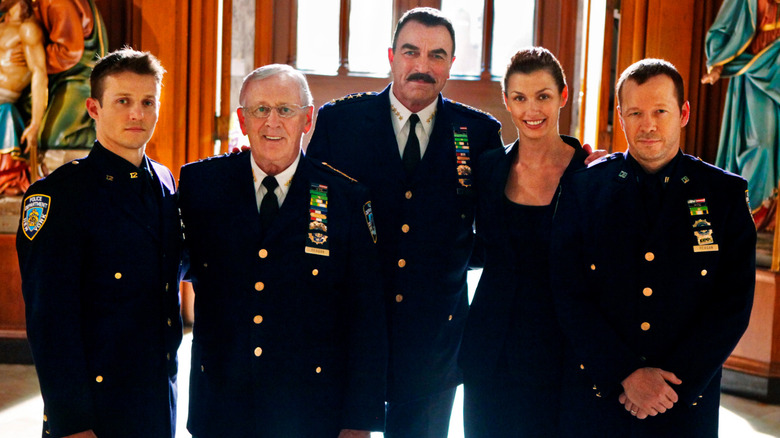 Craig Blankenhorn/CBS
We're not too far from the return of "Blue Bloods," as CBS's hit procedural crime drama is slated to kick off Season 13 on October 7, 2022. For over a decade, fans have become accustomed to the Reagan family cracking some of New York City's brutal criminal cases as well as breaking bread during those traditional Sunday dinners. Having a show that intertwines a family sticking together while also trying to work collectively in law enforcement is a unique premise for a show. And it's successfully bolstered thanks to its talented and seasoned cast.
Before "Blue Bloods," many of the stars on the show traveled distinct roads in the entertainment world. For instance, while Bridget Moynahan convincingly acts as an attorney now, prior to her role in "Blue Bloods," the actress appeared in major projects such as "Sex and the City" and "Coyote Ugly." Tom Selleck's career contains numerous memorable roles. Still, one of his most famous was effortlessly defining '80s cool as Thomas Magnum in "Magnum P.I." Donnie Wahlberg is used to portraying a grizzled detective, but the actor was, of course, once just a New Kid On The Block. Yet, among the cast, only a single actor can claim to be significantly linked to actual Rock and Roll Hall of Famers. One "Blue Bloods" lead starred in Bon Jovi's most iconic music video.
Will Estes starred in the music video for It's My Life
Will Estes plays Jamie, the youngest of the Reagan siblings, who grows from a beat cop into a dependable sergeant. Estes has been on the show since its first season, so it's safe to say that he's definitely a familiar face among fans at this point. But before the role of Jamie, Estes was leaping and running to make it to a coveted Bon Jovi performance in the music video for "It's My Life." That's right, in the 2000 music video, Estes stars as Tommy, who, after taking out the trash for his mother, rushes past dogs and semi-trucks to meet with Gina (Shiri Appleby) to watch Bon Jovi play in a tunnel.
Estes told Wingman Magazine that he got the role after filming with Jon Bon Jovi on the movie "U-571." The lead singer was impressed with Estes' workout routine between filming scenes. In the magazine interview, Estes said he was more than happy to accept the offer, but it was also his most physically demanding role. "... And that music video was physically one of the hardest things I've ever done as an actor because I had to run sprints and jump off high surfaces for three twelve-hour days," Estes told Wingman. "I'm glad I did it when I was 21, and I'm not too sure I could handle doing it again because it was tough." Estes got the type of workout even a CrossFit enthusiast would refuse. But he also got to be a part of Bon Jovi history. With over a billion views, "It's My Life " remains Bon Jovi's most popular music video on YouTube.
Estes also featured in a Meat Loaf music video
Estes' physical toughness might have earned him his role in "It's My Life." Yet the actor also had a little experience on his side before Bon Jovi's music video. In 1994, the actor starred in the music video for Meat Loaf's song, "Objects In The Rear View Mirror May Appear Closer Than They Are." In the video, Estes plays a protagonist who experiences painful incidents, such as witnessing his friend lose control and die in a plane accident. It's a somber video with epic scenes that make it feel more like a dramatic movie. Overall, the visuals fit as the lyrics detail a man still haunted by tragic memories.
"Objects In the Rear View Mirror" also contains some big names attached to it, other than Estes. Alongside Estes, the music video also features actor Robert Patrick (IMVDb), who was only a few years removed from his nightmare-inducing role as the T-1000 in "Terminator 2: Judgment Day." Also, action filmmaker Michael Bay directed the music video. That last fact might seem strange now, as Bay is a household name behind some of the biggest movie blockbusters, but the director got his start in commercial and music videos. In fact, "Object In The Rear View Mirror" is only one of a trilogy of videos Bay directed for Meat Loaf in the '90s (via Forbes).